Train Set Details
InterCity 225 Express Train Set

Years Released: 1991 1992 1993 1994 1995 1996 1997 (Train Set Year pages)
Set released for 7 years.
Train Set:
InterCity 225 Express Train Set
Category:
Train Sets

Model Information:
Contents include: Oval of Track with 2nd radius curves, Power Connecting Clip, Mains Power Controller.
The 225 in the title of the set refers to the BR prototype which has the capacity of running at 225 kilometres per hour (140mph).
(1993 - 1994) Supersound unit included requiring 2 AA 1.5 volt batteries.
Sets Produced:
---
Logo & Box Style:

1991
1992
1993
1994
1995
1996
1997
Model Ranking:
Current: 15 -
October 2023
Previous: 22 -
September 2023
Movement:

(+7)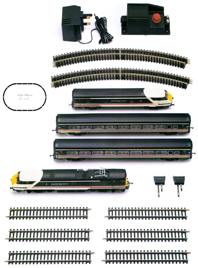 Train Set Year Details
(7)
Train Set Items
(4)
Train Set Photos & Notes
(0)
Train Set Catalogue Information
| YEAR | INFORMATION |
| --- | --- |
| 1991 | Hornby proudly presents this magnificent ultra modern train set. The curved tracks are of the larger 2nd radius type to be in keeping with the sleek, long coaches. The locomotive picks up current, conventionally, from the running rails, the sturdy roof-mounted pantograph being non-operational. |
| 1992 | A magnificent train set representative of the type used on the high speed electric service between London and Edinburgh inaugurated in June 1991. A new record of 3hrs 29mins was set on 26th of September 1991 by locomotive 91012. The model locomotive picks up current from the running rails in the conventional way. Larger radius curved track is supplied to be in keeping with the scale length coaches. |
| 1993 | A splendid replica of the trains that now operate high speed passenger services to Scotland and the North from London. The model picks up current from the running rails in the conventional way. 2nd radius curved track is supplied with this set to be in keeping with the scale length coaches. |
| 1995 | A supurb model depicting a superb modern rail service. Based on the magnificent High Speed Train which operates between London and Edinburgh, the train set boasts two Mk.4 coaches, a DVT and a Class 91 which picks up power from the track only. Second radius curves are included in this set to be in keeping with the scale length coaches. |
| 1996 | A distinctive model representing the sleek trains that can be seen operating between London and Scotland one of which achieved, in June 1995, a speed of 154 mph setting a new British record for a train carrying passengers. |
| 1997 | Experience the sleek speed of the train that holds the British passenger train record - 154mph in June 1995 on the London to Scotland rute that it has made its own. Locomotive, two coaches and the aerodynamic rear Driving Van Trailer capture the wind-cutting profile of the complete train. Hornby detailing includes a roof mounted pantograph to represent the overhead power supply of the original. (The model is powered from the track in the conventional way.) |
Catalogue Images
(7)

R.696 InterCity 225 Express Train Set - 1991


R.696 InterCity 225 Express Train Set - 1992

R.833 InterCity 225 Express Train Set - 1993


R.696 InterCity 225 Express Train Set - 1994


R.696 InterCity 225 Express Train Set - 1995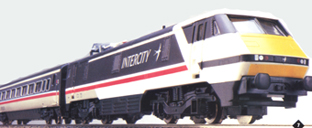 R.824 InterCity 225 Express Train Set - 1996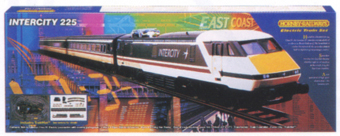 R.824 InterCity 225 Express Train Set - 1997
InterCity 225 Express Train Set on ebay US

Search For: 'hornby 225 set'