Train Set Details
The Marshaller Set


Years Released: 1999 2000 2001 2002 (Train Set Year pages)
Set released for 4 years.
Train Set:
The Marshaller Set
Category:
Train Sets

Model Information:
Track: Stater Oval plus extension Train Pack A (with point and buffer stop).
R.964 Wall Plug Transformer
R.965 Train Controller
R.602 Power Connecting Clip
R.8011 TrakMat
Wagons may differ from those illustrated.
Sets Produced:
---
Logo & Box Style:

1999
2000
2001
2002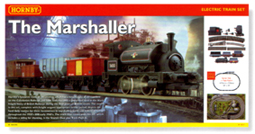 Train Set Year Details
(4)
Train Set Items
(5)
Train Set Photos & Notes
(0)
Train Set Catalogue Information
| YEAR | INFORMATION |
| --- | --- |
| 1999 | Hornbys favourite Class 0F locomotive presented here in the black mixed traffic livery of British Railways, marshalling freight wagons in the closing years of British steam, with freight wagons appropriate to the period. The track that comes with the set is the Starter Oval plus Track Pack A, with siding for shunting. Add extra Track Packs when you are ready for something bigger. |
| 2000 | Hornbys favourite Class 0F locomotive presented here in the black mixed traffic livery of British Railways, marshalling freight wagons in the closing years of British steam, with freight wagons appropriate to the period. The track that comes with the set is the Starter Oval plus Track Pack A, with siding for shunting. Add extra Track Packs when you are ready for something bigger. |
| 2001 | Hornbys favourite Class 0F locomotive presented here in the black mixed traffic livery of British Railways, marshalling freight wagons in the closing years of British steam, with freight wagons appropriate to the period. The track that comes with the set is the Starter Oval plus Track Pack A, with siding for shunting. Add extra Track Packs when you are ready for something bigger. |
| 2002 | Hornbys favourite Class 0F locomotive presented here in the black mixed traffic livery of British Railways, marshalling freight wagons in the closing years of British steam, with freight wagons appropriate to the period. The track that comes with the set is the Starter Oval plus Track Pack A, with siding for shunting. Add extra Track Packs when you are ready for something bigger. |
Catalogue Images
(4)


R.1017 The Marshaller Set - 1999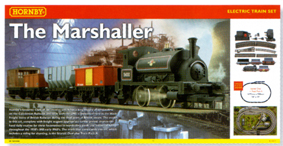 R.1017 The Marshaller Set - 2000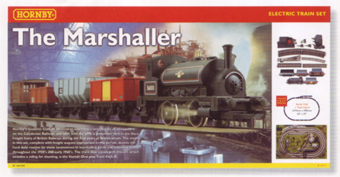 R.1017 The Marshaller Set - 2001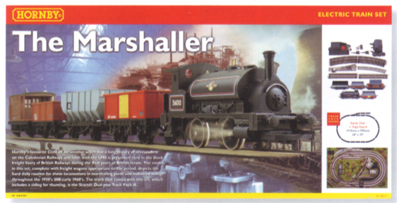 R.1017 The Marshaller Set - 2002
The Marshaller Set on ebay US

Search For: '(hornby, tri-ang, triang) mashaller'