Train Set Details
The Rover Set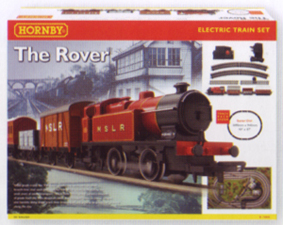 Years Released: 2006 (Train Set Year pages)
Set released for 1 year.
Train Set:
The Rover Set
Category:
Train Sets

Model Information:
Contents:
MSLR 0-4-0T locomotive
6 Plank wagon
Box van
4-wheel coach
Track: Starter Oval
C990 Wall Plug Transformer
R965 Train Controller
R8602 Power Track
R8011 TrakMa
Sets Produced:
---
Logo & Box Style:

2006
Model Ranking:
Current: 3061 -
April 2020
Previous: 2136 -
March 2020
Movement:

(-925)
Train Set Year Details
(1)
Train Set Items
(4)
Train Set Photos & Notes
(0)
Train Set Catalogue Information
| YEAR | INFORMATION |
| --- | --- |
| 2006 | Small goods trains like The Rover would have been seen on small branch lines that used to criss-cross the British countryside during the peak years of steam transport. These little trains would collect a mixture of goods from the main dispatch yards and transport them to towns, villages and hamlets along single track lines dropping off and picking up goods and produce along the way. The starter oval track included with this set provides the basis for a layout which can grow and grow. To extend your layout simply add additional track packs. |
Catalogue Images
(1)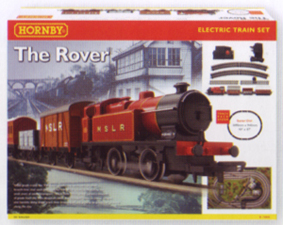 R.1068 The Rover Set - 2006
The Rover Set on ebay UK

Search For: '(hornby, tri-ang, triang) rover set'
Ending Soonest
The Rover Set on ebay US

Search For: '(hornby, tri-ang, triang) rover set'
Ending Soonest
ITEM
DETAILS
No results returned...
The Rover Set on ebay Australia

Search For: '(hornby, tri-ang, triang) rover set'
Ending Soonest
ITEM
DETAILS
Hornby R1211 Western Rover Electric Model Train Set New - Fixed Price

Location: Box Hill, VIC, Australia
Condition: New
Current Price: $179.99 AUD
Time Left: 5d 10h 29m 52s
Bids: 0
37892 HORNBY WESTERN ROVER 00 GAUGE ELECTRIC TRAIN SET MODEL RAILWAY - Store Inventory

Location: Windsor, NSW, Australia
Condition: New
Current Price: $199.99 AUD
Time Left: 5d 10h 34m 8s
Bids: 0
Hornby R1211 Hornby Train Set: Western Rover - Fixed Price

Location: New Zealand
Condition: New
Current Price: $197.23 AUD
Time Left: 12d 11h 13m 10s
Bids: 0
HORNBY R1211 WESTERN ROVER OO GAUGE SCALE TRAIN SET - Store Inventory

Location: Kangaroo Flat, VIC, Australia
Condition: New
Current Price: $205.00 AUD
Time Left: 15d 3h 25m 51s
Bids: 0
Hornby OO Western Rover Electric Train Set - Fixed Price

Location: Broadmeadow, NSW, Australia
Condition: New
Current Price: $179.99 AUD
Time Left: 17d 7h 35m 8s
Bids: 0
NEW HORNBY WESTERN ROVER FREIGHT TRAIN SET 040 w BUILDINGS ACCESSORIES OO R1211 - Store Inventory

Location: Heidelberg Heights, VIC, Australia
Condition: New
Current Price: $179.68 AUD
Time Left: 18d 10h 17m 4s
Bids: 0
Hornby Western Rover Train Set - 42-R1211 - Fixed Price

Location: Sydney, NSW, Australia
Condition: New
Current Price: $189.19 AUD
Time Left: 19d 15h 48m 20s
Bids: 0
Hornby Western Rover Train Set r1211 - Fixed Price

Location: Red Hill, VIC, Australia
Condition: New
Current Price: $209.99 AUD
Time Left: 20d 9h 1m 11s
Bids: 0
NEW Hornby Western Rover Train Set from Mr Toys - Fixed Price

Location: Brisbane, QLD, Australia
Condition: New
Current Price: $199.00 AUD
Time Left: 20d 11h 4m 32s
Bids: 0