Model Note
Fyffes Vans with Different Stickers
Type: Photo
Author: John Faulkner
Location: US
Date: 15 Jun 2010

Note: The Fyffes Vans were never released as solo models. They do show-up in the 1973 catalogue as part of an interesting freight set headed by the Princess Elizabeth in LMS colours.
The Fyffes Vans in the photo have two different stickers.
Although I do not think this is a rare model as a supposed 15,000 sets were made; I am sure that many have not survived.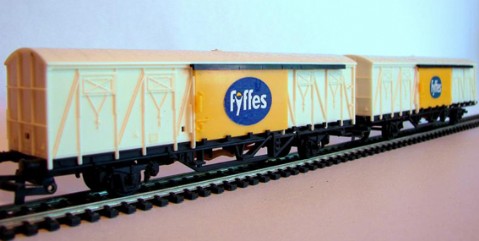 Related Model
Category: Freight Rolling Stock
Model: Fyffes Ferry Van
Years Released: 1973
Livery: Private Owner Goods