Model Details
Two B.R. Mk.2A Open Coaches And B.R. Mk.2A Brake Coach - Flying Scotsman Enterprises

E14090 E5305 E5293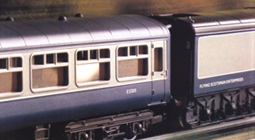 Years Released: 1996 (Model Year pages)
Model released for 1 year.
Model:
Two B.R. Mk.2A Open Coaches And B.R. Mk.2A Brake Coach - Flying Scotsman Enterprises
Running Number:
E14090 E5305 E5293
Category:
Passenger Rolling Stock

Model Information:
Each coach length - 10 7/16 inches - 26.7cm.
Models Produced:
* 980
* Information from
Triang & Hornby, The Story of Rovex, Volumes 1, 2 and 3 - Pat Hammond
Logo & Box Style:

1996
Company:
B.R. -
British Railways
Logo:
B.R. Logo
Logo Years:
1965 - 1997

Livery:
B.R. Blue & Grey

Livery Details:
Rail Blue lower panels with light grey upper panels.
Company Information:
British Railways came into existence in 1948 when the dominating four British railway companies amalgamated. Steam traction on British Railways ended in 1968 and the system was re-branded as British Rail.
Model Ranking:
Current: 2513 -
February 2021
Previous: 1820 -
January 2021
Movement:

(-693)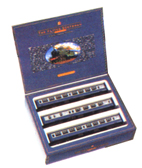 Model Year Details
(1)
Limited Edition
| YEAR | LIMITED |
| --- | --- |
| 1996 | Limited Edition of 5,000 |
Model Photos & Notes
(0)
Model Catalogue Information
| YEAR | INFORMATION |
| --- | --- |
| 1996 | As part of the continuing story of the Flying Scotsman the limited edition model of the locomotive and suitable coaches are each presented in commemorative packaging with a verification certificate included. |
Price List
Catalogue Images
(1)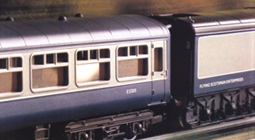 R.089 Two B.R. Mk.2A Open Coaches And B.R. Mk.2A Brake Coach - Flying Scotsman Enterprises - 1996
Two B.R. Mk.2A Open Coaches And B.R. Mk.2A Brake Coach - Flying Scotsman Enterprises on ebay UK

Search For: 'hornby scotsman coach'
Ending Soonest
ITEM
DETAILS
Hornby Flying Scotsman set LNER 4472 Class A3 loco + 4 teak coaches Set - N/A

Location: Dunfermline, United Kingdom
Condition: Used
Current Price: £55.00 GBP
Time Left: 1d 20h 38m 46s
Bids: 0
Hornby locomotive, Flying Scotsman with 4 coaches - Auction

Location: Bacup, United Kingdom
Condition: Used
Current Price: £55.00 GBP
Time Left: 2d 0h 11m 12s
Bids: 0
Display Case For Hornby - Lima - Bachmann - Flying Scotsman & Coach - Fixed Price

Location: Tipton, United Kingdom
Condition: New
Current Price: £82.00 GBP
Time Left: 2d 0h 16m 44s
Bids: 0
HORNBY OO GAUGE CARRIAGE COACH – GNER 'ROUTE OF THE FLYING SCOTSMAN' 42191 - Auction

Location: Widnes, United Kingdom
Condition: Used
Current Price: £23.00 GBP
Time Left: 2d 0h 27m 17s
Bids: 2
Hornby Dublo tin plate D12 B.R corridor coach 32018 L.M.R. - The Flying Scotsman - Fixed Price

Location: United Kingdom
Condition: Used
Current Price: £7.99 GBP
Time Left: 2d 18h 24m 45s
Bids: 0
TRIANG HORNBY R746 LNER THOMPSON 3rd CLASS BRAKE COACH 1870 FLYING SCOTSMAN nt - Store Inventory

Location: Warwick, United Kingdom
Condition: Used
Current Price: £16.50 GBP
Time Left: 2d 19h 23m 49s
Bids: 0
Window tinting pack & blanks for Hornby East Coast Mk4 Coaches Flying Scotsman - Store Inventory

Location: Maidstone, United Kingdom
Condition: New
Current Price: £9.99 GBP
Time Left: 3d 16h 43m 21s
Bids: 0
Hornby GNER Mk 4 Route of The Flying Scotsman Tourist Open Coach 12514 - Auction

Location: Worcester Park, United Kingdom
Condition: Used
Current Price: £15.00 GBP
Time Left: 4d 14h 34m 20s
Bids: 0
Hornby OO Gauge Job Lot Rake Of 4 LNER Teak Coaches For Flying Scotsman/Gresley - Auction

Location: Stowmarket, United Kingdom
Condition: Used
Current Price: £9.70 GBP
Time Left: 4d 21h 34m 31s
Bids: 8
Hornby Railways R356 INTERCITY Class 91 The Scotsman LOCO/DUMM & 2 COACHES - Auction

Location: Hertford, United Kingdom
Condition: Used
Current Price: £79.50 GBP
Time Left: 5d 15h 42m 39s
Bids: 0
Hornby OO Gauge LNER Teak carriages x 4 with lights & passengers Flying Scotsman - Auction

Location: Woodbridge, United Kingdom
Condition: Used
Current Price: £85.00 GBP
Time Left: 5d 19h 57m 13s
Bids: 0
Hornby GNER First Class Coach 41088 Route Of The Flying Scotsman - Auction

Location: Lincoln, United Kingdom
Condition: Used
Current Price: £16.99 GBP
Time Left: 5d 21h 35m 46s
Bids: 0
Hornby R3503 BR (NRM) Flying Scotsman & Support Coach - Auction

Location: Sutton, United Kingdom
Condition: Used
Current Price: £125.00 GBP
Time Left: 5d 22h 39m 50s
Bids: 0
Hornby Mallard, Flying Scotsman other locomotives, Pullman coaches and freight. - Auction

Location: London, United Kingdom
Condition: Used
Current Price: £50.00 GBP
Time Left: 6d 22h 16m 7s
Bids: 0
hornby ex r1255m flying scotsman train set 3x teak coaches only these are new - Store Inventory

Location: Wisbech, United Kingdom
Condition: New
Current Price: £49.99 GBP
Time Left: 8d 2h 49m 32s
Bids: 0
HORNBY DOUBLE O FLYING SCOTSMAN 1st COACH 00 GAUGE MADE OF TIN. - Auction

Location: Eastbourne, United Kingdom
Condition: Used
Current Price: £5.99 GBP
Time Left: 8d 22h 29m 47s
Bids: 0
HORNBY R478 LNER FLYING SCOTSMAN GRESLEY COMPOSITE BRAKE COACH No 4237 nz - Store Inventory

Location: United Kingdom
Condition: Used
Current Price: £14.50 GBP
Time Left: 9d 16h 26m 48s
Bids: 0
HORNBY R477 R435 LNER FLYING SCOTSMAN GRESLEY 1st 3rd COMPOSITE COACH 22357 nz - Store Inventory

Location: United Kingdom
Condition: Used
Current Price: £14.50 GBP
Time Left: 9d 16h 26m 48s
Bids: 0
HORNBY R436 LNER FLYING SCOTSMAN GRESLEY COMPOSITE BRAKE COACH 4237 BOXED nw - Store Inventory

Location: Warwick, United Kingdom
Condition: Used
Current Price: £16.50 GBP
Time Left: 9d 20h 44m 9s
Bids: 0
OO GAUGE TRIANG RAILWAYS LNER TEAK FLYING SCOTSMAN COMPOSITE COACH 1010 HORNBY - Store Inventory

Location: Market Harborough, United Kingdom
Condition: Used
Current Price: £9.99 GBP
Time Left: 11d 1h 8m 32s
Bids: 0
Hornby LNER Teak Coaches - buy individuals - Fixed Price

Location: St. Neots, United Kingdom
Condition: Used
Current Price: £44.72 GBP
Time Left: 11d 14h 29m 3s
Bids: 0
hornby ex r1255m flying scotsman x2 teak coaches only high detail new unused - Store Inventory

Location: Wisbech, United Kingdom
Condition: New
Current Price: £89.99 GBP
Time Left: 12d 2h 25m 38s
Bids: 0
HORNBY 00 GAUGE - R089 - FLYING SCOTSMAN BR BLUE GREY MK2A OPEN COACHES SET OF 3 - Store Inventory

Location: Bradford, United Kingdom
Condition: Used
Current Price: £59.99 GBP
Time Left: 12d 16h 23m 41s
Bids: 0
Hornby OO Gauge 2 x Teak Coaches from R1167 Flying Scotsman Set - New unboxed - Store Inventory

Location: Eastleigh, United Kingdom
Condition: New
Current Price: £34.99 GBP
Time Left: 13d 14h 25m 51s
Bids: 0
HORNBY 00 PAIR OF MODERN CHINA TEAK COACHES - 22357 / 22358 FROM SCOTSMAN SET - Store Inventory

Location: Blackburn, United Kingdom
Condition: Used
Current Price: £29.99 GBP
Time Left: 13d 19h 19m 11s
Bids: 0
HORNBY R089 BR FLYING SCOTSMAN BLUE GREY MK2 COACH SET MINT BOXED nz - Store Inventory

Location: Warwick, United Kingdom
Condition: New
Current Price: £99.50 GBP
Time Left: 13d 22h 45m 33s
Bids: 0
2 HORNBY DUBLO "THE FLYING SCOTSMAN" COACHES - Fixed Price

Location: Manchester, United Kingdom
Condition: Used
Current Price: £13.00 GBP
Time Left: 14d 16h 7m 33s
Bids: 0
HORNBY OO X3 TEAK LNER SCOTSMAN COACHES 1010 1870 GOOD UNBOXED (C712) - Store Inventory

Location: Bexleyheath, United Kingdom
Condition: Used
Current Price: £34.99 GBP
Time Left: 14d 20h 27m 53s
Bids: 0
HORNBY R938 LNER THOMPSON BRAKE 3rd COACH 1870 FLYING SCOTSMAN MINT BOXED nx - Store Inventory

Location: Warwick, United Kingdom
Condition: Used
Current Price: £17.50 GBP
Time Left: 16d 19h 56m 39s
Bids: 0
Hornby Dublo The Flying Scotsman M26133 Coach - Store Inventory

Location: Huntingdon, United Kingdom
Condition: Used
Current Price: £8.00 GBP
Time Left: 16d 20h 52m 46s
Bids: 0
HORNBY R 855 FLYING SCOTSMAN WITH 3 LNER COACHES - Store Inventory

Location: Southport, United Kingdom
Condition: Used
Current Price: £94.95 GBP
Time Left: 17d 14h 49m 7s
Bids: 0
Hornby R089 - OO Gauge - 2 x Scotsman - BR MK.2A Open Coach & E14090 Brake Coach - Store Inventory

Location: Tamworth, United Kingdom
Condition: Used
Current Price: £35.00 GBP
Time Left: 17d 20h 47m 54s
Bids: 0
HORNBY R2888M THE FLYING SCOTSMAN KINGFISHER 4483 & COACH TRAIN PACK NOS(OO1428) - Store Inventory

Location: Bexleyheath, United Kingdom
Condition: New
Current Price: £274.99 GBP
Time Left: 18d 23h 26m 47s
Bids: 0
OO Gauge Hornby R4171 LNER Composite Coach 22356 Flying Scotsman Coach - Fixed Price

Location: Grantham, United Kingdom
Condition: Used
Current Price: £12.00 GBP
Time Left: 19d 1h 9m 32s
Bids: 0
HORNBY R409 R413 R448 R478 RAKE of 5 LNER FLYING SCOTSMAN SLEEPER 1st 2nd COACH - Store Inventory

Location: Warwick, United Kingdom
Condition: Used
Current Price: £74.50 GBP
Time Left: 20d 21h 13m 35s
Bids: 0
HORNBY 00 MODERN CHINA TEAK COACH Number 4237 FROM SCOTSMAN SET - Fixed Price

Location: Hull, United Kingdom
Condition: New
Current Price: £19.95 GBP
Time Left: 21d 14h 24m 17s
Bids: 0
Hornby Flying Scotsman Teak Gresley LNER Coach 22357 - Fixed Price

Location: Holt, United Kingdom
Condition: Used
Current Price: £18.00 GBP
Time Left: 21d 23h 52m 44s
Bids: 0
Hornby Flying Scotsman, Mallard etc LNER TEAK Coaches. 2 x R4332. 1 x R4333 BNIB - Fixed Price

Location: Malpas, United Kingdom
Condition: New
Current Price: £55.00 GBP
Time Left: 22d 12h 26m 40s
Bids: 0
HORNBY RAKE of 4 LNER GRESLEY TEAK FLYING SCOTSMAN COMPOSITE & BRAKE COACH - Store Inventory

Location: Warwick, United Kingdom
Condition: Used
Current Price: £59.50 GBP
Time Left: 22d 21h 24m 9s
Bids: 0
R2888M Flying Scotsman trainpack A4 4483 "Kingfisher +3 coaches NEAR MINT BOXED - Fixed Price

Location: United Kingdom
Condition: Used
Current Price: £259.99 GBP
Time Left: 25d 11h 55m 44s
Bids: 0
TRIANG HORNBY R745 LNER THOMPSON FULL 3rd COACH 1010 FLYING SCOTSMAN MIB ny - Store Inventory

Location: United Kingdom
Condition: New
Current Price: £29.50 GBP
Time Left: 25d 20h 45m 53s
Bids: 0
3 x Hornby Flying Scotsman Set coaches 22357 x 2 & 4237 - Mint in tissue paper - Store Inventory

Location: London, United Kingdom
Condition: Used
Current Price: £42.99 GBP
Time Left: 25d 21h 23m 58s
Bids: 0
Hornby R1255 The Flying Scotsman Train Set (New 2020 Three Coach Version) - Store Inventory

Location: North Berwick, United Kingdom
Condition: New
Current Price: £172.50 GBP
Time Left: 27d 15h 9m 55s
Bids: 0
3 HORNBY TEAK COACHES MALLARD FLYING SCOTSMAN LNER etc BRAKE & COMPOSITES - Fixed Price

Location: Liskeard, United Kingdom
Condition: Used
Current Price: £34.99 GBP
Time Left: 28d 18h 20m 31s
Bids: 0
HORNBY R4333 LNER TEAK GRESLEY 3rd CLASS BRAKE COACH 4237 FLYING SCOTSMAN nv - Fixed Price

Location: Liverpool, United Kingdom
Condition: New
Current Price: £39.99 GBP
Time Left: 28d 21h 49m 50s
Bids: 0
TRIANG HORNBY FLYING SCOTSMAN TRAIN TENDER WEIGHT AND COACH WEIGHT TRAIN SPARES - Fixed Price

Location: Bristol, United Kingdom
Condition: Used
Current Price: £1.49 GBP
Time Left: 29d 17h 48m 23s
Bids: 0
Two B.R. Mk.2A Open Coaches And B.R. Mk.2A Brake Coach - Flying Scotsman Enterprises on ebay US

Search For: 'hornby scotsman coach'
Ending Soonest
Two B.R. Mk.2A Open Coaches And B.R. Mk.2A Brake Coach - Flying Scotsman Enterprises on ebay Australia

Search For: 'hornby scotsman coach'
Ending Soonest