Train Set Details
Express Passenger Set


Years Released: 1974 (Train Set Year pages)
Set released for 1 year.
Train Set:
Express Passenger Set
Category:
Train Sets

Model Information:
Without Power Controller. Stop at the station to change passengers - then on to the destination, making sure the level crossing gates allow right of way to the train. A Hornby Power Unit is recommended for this set.
Sets Produced:
* 12,200
* Information from
Triang & Hornby, The Story of Rovex, Volumes 1, 2 and 3 - Pat Hammond
Logo & Box Style:

1974
Model Ranking:
Current: 2624 -
March 2021
Previous: 3083 -
February 2021
Movement:

(+459)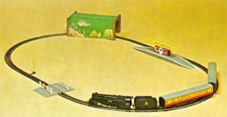 Train Set Year Details
(1)
Train Set Items
(3)
Train Set Photos & Notes
(0)
Train Set Catalogue Information
| YEAR | INFORMATION |
| --- | --- |
| 1974 | Contains Power Clip, Tunnel, Station, Level Crossing, Large Oval of System 6 Track and Uncoupling Ramp. |
Price List
Catalogue Images
(1)


R.543 Express Passenger Set - 1974
Express Passenger Set on ebay UK

Search For: 'hornby passenger set'
Ending Soonest
ITEM
DETAILS
TRIANG HORNBY SET of TRAIN FIGURES DRIVER FIREMAN GUARD PASSENGERS nz - Store Inventory

Location: Warwick, United Kingdom
Condition: Used
Current Price: £17.50 GBP
Time Left: 0d 0h 32m 23s
Bids: 0
Hornby Tinplate Clockwork O Gauge Passenger Set 51 and Goods Set 30 Job Lot - Fixed Price

Location: Beckermet, United Kingdom
Condition: Used
Current Price: £195.00 GBP
Time Left: 0d 3h 39m 7s
Bids: 0
HORNBY MODEL No.R9009 "THOMAS" PASSENGER CLOCKWORK TRAIN SET VN MIB - Store Inventory

Location: Grange-Over-Sands, United Kingdom
Condition: Used
Current Price: £79.95 GBP
Time Left: 0d 4h 10m 12s
Bids: 0
HORNBY MODEL No.R9271M "THOMAS & FRIENDS" PASSENGER / FREIGHT TRAIN SET MIB - Store Inventory

Location: Grange-Over-Sands, United Kingdom
Condition: Used
Current Price: £115.00 GBP
Time Left: 0d 4h 12m 32s
Bids: 0
Hornby OO SR BULLEID COACH SET with lights and passengers - Auction

Location: Stoke-on-Trent, United Kingdom
Condition: New
Current Price: £120.00 GBP
Time Left: 0d 17h 36m 53s
Bids: 0
HORNBY DUBLO EDP10 PASSENGER 3 RAIL TRAIN SET BOXED - Auction

Location: Harrow, United Kingdom
Condition: Used
Current Price: £35.00 GBP
Time Left: 0d 21h 45m 49s
Bids: 4
HST INTERCITY 125 3 CAR SET DCC VALENTA SOUND LIGHTS PASSENGERS CORPORATE LIV - Auction

Location: Woodbridge, United Kingdom
Condition: Used
Current Price: £155.00 GBP
Time Left: 1d 0h 30m 58s
Bids: 0
Hornby R9271 Thomas Passenger and Goods Complete Train Set Never Been Used - Store Inventory

Location: Uxbridge, United Kingdom
Condition: Used
Current Price: £199.00 GBP
Time Left: 1d 1h 23m 4s
Bids: 0
Hornby R3873 Class 370 003/004 BR Advanced Passenger Train 5 Car Set - Fixed Price

Location: Arundel, United Kingdom
Condition: New
Current Price: £360.00 GBP
Time Left: 1d 19h 43m 35s
Bids: 0
Hornby R3874 Class 370 001/002 BR Advanced Passenger Train 7 Car Set - Fixed Price

Location: Arundel, United Kingdom
Condition: New
Current Price: £440.00 GBP
Time Left: 1d 19h 43m 35s
Bids: 0
METAL MAN DINKY TOYS / HORNBY SERIES O GAUGE RAILWAY PASSENGER ex SET No 3 - Auction

Location: Derby, United Kingdom
Condition: Used
Current Price: £4.95 GBP
Time Left: 1d 21h 50m 33s
Bids: 1
Vintage Boxed HORNBY 6201 Loco Express Passenger Train Set RS.609 00 Gauge - Auction

Location: Leeds, United Kingdom
Condition: Used
Current Price: £36.00 GBP
Time Left: 2d 3h 31m 39s
Bids: 10
HORNBY DUBLO ACHO 6135 SNCF CLASS BB 8144 ELECTRIC LOCO PASSENGER SET MIB ae - Store Inventory

Location: Warwick, United Kingdom
Condition: Used
Current Price: £224.50 GBP
Time Left: 2d 3h 54m 49s
Bids: 0
Hornby RS.607 Local Passenger Set SR Green Tank Loco 328 + 2 Coaches 4351, 5015 - Auction

Location: London, United Kingdom
Condition: Used
Current Price: £85.00 GBP
Time Left: 3d 0h 59m 33s
Bids: 0
Hornby OO gauge Highland passenger train set with tank loco, coaches & track - Auction

Location: Carnforth, United Kingdom
Condition: Used
Current Price: £14.00 GBP
Time Left: 3d 1h 36m 2s
Bids: 7
Hornby Dublo Suburban Passenger Set Box Only - Poor Cndtn for Spares/Restoration - Auction

Location: Hove, United Kingdom
Condition: Used
Current Price: £2.95 GBP
Time Left: 3d 1h 49m 58s
Bids: 0
Hornby R1103 The Mallard Passenger Train Set - Auction

Location: Coalville, United Kingdom
Condition: Used
Current Price: £110.00 GBP
Time Left: 3d 2h 0m 2s
Bids: 0
VINTAGE HORNBY 00 GAUGE SET OF PASSENGER LOCOMOTIVES + COCHES - 370 001 - Auction

Location: Ipswich, United Kingdom
Condition: Used
Current Price: £50.00 GBP
Time Left: 3d 2h 9m 18s
Bids: 0
HORNBY DUBLO EDP2 PASSENGER SET - DUCHESS OF ATHOLL BOXED - Auction

Location: Stafford, United Kingdom
Condition: Used
Current Price: £21.09 GBP
Time Left: 3d 3h 1m 11s
Bids: 5
Hornby Trains 501 Passenger Set - N/A

Location: Horsham, United Kingdom
Condition: Used
Current Price: £40.00 GBP
Time Left: 3d 3h 19m 45s
Bids: 0
Hornby OO Gauge Class 370 APT Advanced Passenger Train Bogie Weight & Wheel Sets - Store Inventory

Location: Stourbridge, United Kingdom
Condition: Used
Current Price: £8.99 GBP
Time Left: 4d 18h 23m 47s
Bids: 0
Hornby O Gauge No.41 PASSENGER COACHES & BRAKE VAN SET x 3 Circa 1959 Gauge 0 - Fixed Price

Location: Huddersfield, United Kingdom
Condition: Used
Current Price: £45.00 GBP
Time Left: 5d 10h 33m 15s
Bids: 0
HORNBY O Gauge No.601 L.M.S. PASSENGER SET C. 1952 Excellent + Key & Paperwork - Fixed Price

Location: Huddersfield, United Kingdom
Condition: Used
Current Price: £325.00 GBP
Time Left: 5d 10h 49m 14s
Bids: 0
Hornby Dublo EDP2 Duchess of Atholl Passenger Train Set Boxed, 3 Rail - Auction

Location: Ilminster, United Kingdom
Condition: Used
Current Price: £149.99 GBP
Time Left: 5d 16h 20m 20s
Bids: 0
HORNBY R1048 THE WESTERN PULLMAN PASSENGER TRAIN SET - Fixed Price

Location: Darwen, United Kingdom
Condition: New
Current Price: £170.00 GBP
Time Left: 5d 17h 4m 1s
Bids: 0
Hornby clockwork O gauge No. 601 Passenger Set, boxed. #3 - Store Inventory

Location: Watford, United Kingdom
Condition: Used
Current Price: £265.00 GBP
Time Left: 7d 1h 51m 54s
Bids: 0
Hornby clockwork O gauge No. 501 Passenger Set, boxed. #2 - Store Inventory

Location: Watford, United Kingdom
Condition: Used
Current Price: £265.00 GBP
Time Left: 7d 1h 51m 54s
Bids: 0
HORNBY GWR PASSENGER FREIGHT 00 GAUGE TRAIN SET R1138 - Auction

Location: Waltham Cross, United Kingdom
Condition: Used
Current Price: £29.99 GBP
Time Left: 7d 1h 57m 51s
Bids: 1
HORNBY DUBLO Duchess of Montrose Passenger Train Set EDP12 *secondhand* - Fixed Price

Location: Trowbridge, United Kingdom
Condition: Used
Current Price: £65.00 GBP
Time Left: 7d 17h 45m 41s
Bids: 0
Thomas The Tank Engine Hornby Railway - James The Passenger Train Set - Auction

Location: Manchester, United Kingdom
Condition: Used
Current Price: £150.00 GBP
Time Left: 7d 22h 25m 16s
Bids: 0
HORNBY DUBLO P22--ROYAL SCOT PASSENGER SET THREE RAIL - Fixed Price

Location: Penzance, United Kingdom
Condition: Used
Current Price: £155.00 GBP
Time Left: 8d 0h 9m 17s
Bids: 0
Hornby clockwork LNER Passenger Set Boxed O Gauge No 501 - Fixed Price

Location: Telford, United Kingdom
Condition: Used
Current Price: £125.00 GBP
Time Left: 8d 22h 35m 19s
Bids: 0
Hornby 0 Gauge 101 Tank Passenger Train Set Boxed And Working - Store Inventory

Location: Marlborough, United Kingdom
Condition: Used
Current Price: £59.00 GBP
Time Left: 9d 21h 48m 5s
Bids: 0
RETRO HORNBY DUBLO NOSTALGIA ADVERT PASSENGER SETS ADVERT JUMBO FRIDGE MAGNET - Fixed Price

Location: Gillingham, United Kingdom
Condition: New
Current Price: £1.99 GBP
Time Left: 9d 23h 35m 56s
Bids: 0
Hornby RS.607 Local Passenger Set SR Green Tank Loco 328 + 2 Coaches 4351, 5015 - Store Inventory

Location: Cheltenham, United Kingdom
Condition: Used
Current Price: £74.99 GBP
Time Left: 11d 18h 41m 3s
Bids: 0
TRI-ANG RAILWAYS MODELS No.R747 / R748 LMS "ex-CALEDONIAN" PASSENGER COACH SET - Store Inventory

Location: Grange-Over-Sands, United Kingdom
Condition: Used
Current Price: £50.00 GBP
Time Left: 12d 5h 40m 37s
Bids: 0
Hornby Caledonian Passenger Set - Fixed Price

Location: Portsmouth, United Kingdom
Condition: Used
Current Price: £95.00 GBP
Time Left: 12d 18h 58m 20s
Bids: 0
HORNBY DUBLO EDP11 " SILVER KING " PASSENGER SET - 3 RAIL - Fixed Price

Location: Bristol, United Kingdom
Condition: Used
Current Price: £145.00 GBP
Time Left: 13d 3h 3m 41s
Bids: 0
Hornby Thomas Passenger & Goods Train Set 00 Gauge Electric Train Set (R9271) - Store Inventory

Location: Romford, United Kingdom
Condition: Used
Current Price: £80.00 GBP
Time Left: 13d 15h 3m 32s
Bids: 0
HORNBY R791-9146 L.M.S. EXPRESS PASSENGER SET 'DUCHESS OF SUTHERLAND' - Fixed Price

Location: Darwen, United Kingdom
Condition: Used
Current Price: £130.00 GBP
Time Left: 13d 16h 35m 2s
Bids: 0
Tri-ang Hornby / RS.609 LMS Express Passenger Set / Boxed - Store Inventory

Location: Darwen, United Kingdom
Condition: Used
Current Price: £99.99 GBP
Time Left: 13d 18h 48m 18s
Bids: 0
HORNBY RAILWAYS MODEL No.778 LNER "FLYING SCOTSMAN" PASSENGER TRAIN SET VN MIB - Store Inventory

Location: Grange-Over-Sands, United Kingdom
Condition: Used
Current Price: £165.00 GBP
Time Left: 14d 4h 59m 4s
Bids: 0
HORNBY RAILWAY MODEL No. R.157C BR CLASS LOCAL PASSENGER SET" MIB - Store Inventory

Location: Grange-Over-Sands, United Kingdom
Condition: Used
Current Price: £150.00 GBP
Time Left: 14d 5h 48m 58s
Bids: 0
Hornby 0 gauge clockwork Tinplate Passenger No 51 Train Set  - Fixed Price

Location: Stonehouse, United Kingdom
Condition: Used
Current Price: £315.00 GBP
Time Left: 14d 23h 57m 59s
Bids: 0
hornby dublo Station Staff Set/passenger Set - Fixed Price

Location: Doncaster, United Kingdom
Condition: Used
Current Price: £25.00 GBP
Time Left: 15d 0h 55m 8s
Bids: 0
HORNBY DUBLO 3 RAIL - PASSENGER SET 'THE BRISTOLIAN' - Fixed Price

Location: Darwen, United Kingdom
Condition: Used
Current Price: £100.00 GBP
Time Left: 15d 0h 57m 28s
Bids: 0
Hornby Dublo 3-Rail EDP12 LMR Duchess of Montrose Passenger Train Set Blue Base - Fixed Price

Location: Kettering, United Kingdom
Condition: Used
Current Price: £145.00 GBP
Time Left: 15d 2h 58m 59s
Bids: 0
Hornby Dublo 3-Rail P22 The Royal Scot Passenger Train Set Rare Cover Strip - Fixed Price

Location: Kettering, United Kingdom
Condition: Used
Current Price: £195.00 GBP
Time Left: 15d 3h 0m 51s
Bids: 0
Hornby Dublo 3-Rail EDP12 Duchess of Montrose Passenger Train Set - Yellow Base - Fixed Price

Location: Kettering, United Kingdom
Condition: Used
Current Price: £175.00 GBP
Time Left: 15d 3h 2m 45s
Bids: 0
VINTAGE HORNBY "0" GAUGE MODEL No."M1" PASSENGER TRAIN SET VN MIB - Store Inventory

Location: Grange-Over-Sands, United Kingdom
Condition: Used
Current Price: £195.00 GBP
Time Left: 15d 5h 7m 42s
Bids: 0
VINTAGE HORNBY "0" No."M1 " PASSENGER SET ( OVERPRINTED FRENCH BOX ) VN MIB - Store Inventory

Location: Grange-Over-Sands, United Kingdom
Condition: Used
Current Price: £210.00 GBP
Time Left: 15d 5h 9m 16s
Bids: 0
Hornby R9282 Thomas Tank & Friends Passenger & Goods Complete Train Set Boxed - Fixed Price

Location: Rossendale, United Kingdom
Condition: Used
Current Price: £99.99 GBP
Time Left: 16d 3h 31m 24s
Bids: 0
Hornby R9271 Thomas Passenger and Goods Complete Train Set Boxed - Fixed Price

Location: Ellesmere Port, United Kingdom
Condition: Used
Current Price: £99.95 GBP
Time Left: 16d 21h 35m 13s
Bids: 0
Hornby Arnold N Gauge HN4265 4 piece Set DB Passenger Coaches Era IV NEW - Store Inventory

Location: Eastleigh, United Kingdom
Condition: New
Current Price: £113.00 GBP
Time Left: 17d 15h 59m 24s
Bids: 0
Hornby Arnold N Gauge HN4202 3 piece Set DB Passenger Coaches Era IV NEW - Store Inventory

Location: Eastleigh, United Kingdom
Condition: New
Current Price: £105.00 GBP
Time Left: 17d 16h 31m 1s
Bids: 0
Hornby Arnold N Gauge HN4246 3 piece Set Passenger Coaches "Lowa E5" Era IV NEW - Store Inventory

Location: Eastleigh, United Kingdom
Condition: New
Current Price: £107.00 GBP
Time Left: 17d 16h 41m 56s
Bids: 0
Hornby Train Set Number 41. O Gauge Tank Passenger Set. Clockwork. Parts Spares - Fixed Price

Location: London, United Kingdom
Condition: Used
Current Price: £86.00 GBP
Time Left: 17d 21h 2m 31s
Bids: 0
VINTAGE HORNBY "0" GAUGE MODEL PASSENGER TRAIN SET AND ACCESSORIES - Fixed Price

Location: Glossop, United Kingdom
Condition: Used
Current Price: £225.00 GBP
Time Left: 17d 23h 55m 42s
Bids: 0
O Gauge HORNBY Wheels Set for No 2 Passenger Coach Fitted to Scratch Built Coach - Fixed Price

Location: Luton, United Kingdom
Condition: Used
Current Price: £29.95 GBP
Time Left: 18d 19h 15m 27s
Bids: 0
HORNBY R794 BR APT ADVANCED PASSENGER TRAIN PROTOTYPE 5 CAR CITY of DERBY SET ny - Store Inventory

Location: Warwick, United Kingdom
Condition: Used
Current Price: £224.50 GBP
Time Left: 18d 23h 46m 56s
Bids: 0
Hornby Dublo 0-6-0 Tank Goods & Passenger Train Sets Print AD - 1959 Toy ADVERT - Fixed Price

Location: Sidcup, United Kingdom
Condition: Used
Current Price: £2.97 GBP
Time Left: 19d 1h 41m 6s
Bids: 0
Hornby No. 501 Passenger Train Set - Fixed Price

Location: Farnham, United Kingdom
Condition: Used
Current Price: £270.00 GBP
Time Left: 19d 4h 43m 14s
Bids: 0
Hornby R9271 Thomas Passenger and Goods Complete Train Set Boxed & Fully Tested - Fixed Price

Location: Cheltenham, United Kingdom
Condition: Used
Current Price: £200.00 GBP
Time Left: 19d 21h 25m 7s
Bids: 0
People and Animals for Hornby OO/HO Gauge Train Sets - Scenery by Bachmann #1 - Store Inventory

Location: North Berwick, United Kingdom
Condition: New
Current Price: £9.99 GBP
Time Left: 20d 21h 45m 6s
Bids: 0
People and Animals for Hornby OO/HO Gauge Train Sets - Scenery by Bachmann #1 - Store Inventory

Location: North Berwick, United Kingdom
Condition: New
Current Price: £9.99 GBP
Time Left: 20d 21h 45m 6s
Bids: 0
People and Animals for Hornby OO/HO Gauge Train Sets - Scenery by Bachmann #1 - Store Inventory

Location: North Berwick, United Kingdom
Condition: New
Current Price: £9.99 GBP
Time Left: 20d 21h 45m 6s
Bids: 0
People and Animals for Hornby OO/HO Gauge Train Sets - Scenery by Bachmann #1 - Store Inventory

Location: North Berwick, United Kingdom
Condition: New
Current Price: £13.97 GBP
Time Left: 20d 21h 45m 6s
Bids: 0
People and Animals for Hornby OO/HO Gauge Train Sets - Scenery by Bachmann #1 - Store Inventory

Location: North Berwick, United Kingdom
Condition: New
Current Price: £9.30 GBP
Time Left: 20d 21h 45m 6s
Bids: 0
HORNBY R791-9146 L.M.S. EXPRESS PASSENGER SET 'DUCHESS OF SUTHERLAND' - Fixed Price

Location: Kirkcaldy, United Kingdom
Condition: Used
Current Price: £119.99 GBP
Time Left: 21d 0h 26m 29s
Bids: 0
HORNBY RAILWAYS MODEL No.R 1016 CALEDONIAN PASSENGER TRAIN SET TRAIN SET MIB - Store Inventory

Location: Grange-Over-Sands, United Kingdom
Condition: New
Current Price: £95.00 GBP
Time Left: 21d 1h 38m 10s
Bids: 0
HORNBY RAILWAYS MODEL No.R 1016 CALEDONIAN PASSENGER TRAIN SET TRAIN SET CODE 3 - Store Inventory

Location: Grange-Over-Sands, United Kingdom
Condition: New
Current Price: £95.00 GBP
Time Left: 21d 1h 39m 44s
Bids: 0
Hornby O Gauge 101 Tank Passenger Set LMS 2270 Clockwork Train Set - Fixed Price

Location: Telford, United Kingdom
Condition: Used
Current Price: £69.99 GBP
Time Left: 21d 17h 32m 39s
Bids: 0
Vintage Hornby O Gauge M3 Tank Passenger Set, LMS, Restored Box, 1935 - 1936 - Store Inventory

Location: Sheerness, United Kingdom
Condition: Used
Current Price: £199.99 GBP
Time Left: 21d 18h 21m 6s
Bids: 0
Rare Set of 5 Vintage master models Metal Railway Passengers for Model Rail OO - Fixed Price

Location: Bognor Regis, United Kingdom
Condition: Used
Current Price: £39.99 GBP
Time Left: 23d 8h 52m 34s
Bids: 0
HORNBY THOMAS COMPLETE GORDON PASSENGER SET BOXED VERY RARE R137 1984 3 COACHES - Fixed Price

Location: Tunbridge Wells, United Kingdom
Condition: Used
Current Price: £250.00 GBP
Time Left: 24d 7h 36m 12s
Bids: 0
HORNBY 'OO' GAUGE SET OF 3 PULLMAN PASSENGER CARS - Fixed Price

Location: Sheffield, United Kingdom
Condition: Used
Current Price: £99.50 GBP
Time Left: 24d 22h 32m 44s
Bids: 0
CLASSIC VINTAGE TOY ATTIC BARN FIND HORNBY TRAIN M1 PASSENGER SET - O GAUGE - Fixed Price

Location: Derby, United Kingdom
Condition: Used
Current Price: £60.00 GBP
Time Left: 24d 22h 59m 50s
Bids: 0
HORNBY DUBLO TWO RAIL 2015 'THE TALISMAN' PASSENGER TRAIN SET - Fixed Price

Location: Cirencester, United Kingdom
Condition: Used
Current Price: £149.95 GBP
Time Left: 25d 16h 5m 21s
Bids: 0
HORNBY SERIES O GAUGE No O PASSENGER SET IN GWR GREEN LIVERY 1920's - Fixed Price

Location: Cirencester, United Kingdom
Condition: Used
Current Price: £249.95 GBP
Time Left: 25d 16h 5m 21s
Bids: 0
Hornby Thomas Passenger Electric Train Set (R9020) - Fixed Price

Location: Ellesmere Port, United Kingdom
Condition: Used
Current Price: £95.00 GBP
Time Left: 25d 22h 36m 48s
Bids: 0
Hornby Thomas And Friends Passenger And Goods Train Set - Fixed Price

Location: Canterbury, United Kingdom
Condition: Used
Current Price: £69.95 GBP
Time Left: 26d 2h 12m 27s
Bids: 0
Hornby R9271 Thomas Passenger and Goods Complete Train Set Boxed - Fixed Price

Location: Stoke-on-Trent, United Kingdom
Condition: Used
Current Price: £99.99 GBP
Time Left: 26d 5h 7m 21s
Bids: 0
Hornby OO Gauge Thomas Passenger & Goods Train Set Boxed VGC Rare - Store Inventory

Location: Tipton, United Kingdom
Condition: Used
Current Price: £99.99 GBP
Time Left: 26d 14h 53m 19s
Bids: 0
Hornby Dublo 3Rail EDP12 "Duchess of Montrose" Passenger Train Set - VGC for age - Fixed Price

Location: Thurso, United Kingdom
Condition: Used
Current Price: £175.00 GBP
Time Left: 26d 18h 6m 15s
Bids: 0
Hornby R9282 Thomas passenger and goods complete set - Fixed Price

Location: Scunthorpe, United Kingdom
Condition: Used
Current Price: £80.00 GBP
Time Left: 26d 20h 13m 56s
Bids: 0
Hornby Thomas Passenger & Goods Train Set - Fixed Price

Location: Bedford, United Kingdom
Condition: Used
Current Price: £64.95 GBP
Time Left: 26d 21h 3m 33s
Bids: 0
Hornby (Thomas Series) R9003 James Passenger Electric Train set, Boxed, mint? - Store Inventory

Location: Poole, United Kingdom
Condition: Used
Current Price: £280.00 GBP
Time Left: 26d 21h 42m 43s
Bids: 0
Vintage Hornby 0 Gauge 101 Passenger Train Set - Fixed Price

Location: Bromley, United Kingdom
Condition: Used
Current Price: £74.99 GBP
Time Left: 27d 0h 1m 23s
Bids: 0
FRENCH " HORNBY "0" RAILWAY ACCESSORIES MODEL No10 PASSENGER SET " MIB - Store Inventory

Location: Grange-Over-Sands, United Kingdom
Condition: Used
Current Price: £160.00 GBP
Time Left: 27d 3h 36m 3s
Bids: 0
HORNBY THOMAS THE TANK'S JAMES PASSENGER TRAIN SET R094 1984 - Fixed Price

Location: Erith, United Kingdom
Condition: Used
Current Price: £250.00 GBP
Time Left: 28d 0h 37m 18s
Bids: 0
Hornby Train Passenger Set No.1 Clockwork Gauge O - Fixed Price

Location: Kettering, United Kingdom
Condition: Used
Current Price: £154.99 GBP
Time Left: 28d 3h 26m 4s
Bids: 0
HORNBY DUBLO EDP13 TANK LOCO PASSENGER TRAIN SET IN BOX IN V.G.C.& WORKING - Store Inventory

Location: Coleford, United Kingdom
Condition: Used
Current Price: £99.99 GBP
Time Left: 28d 23h 41m 1s
Bids: 0
Hornby R816 Eurostar Class 343 power driving unit set 2 passenger saloons .1988 - Fixed Price

Location: Newry, United Kingdom
Condition: Used
Current Price: £150.00 GBP
Time Left: 29d 1h 9m 45s
Bids: 0
Hornby Vintage M1 Passenger Set Cardboard Storage Box - BOX ONLY - Fixed Price

Location: Loughborough, United Kingdom
Condition: Used
Current Price: £12.75 GBP
Time Left: 29d 2h 23m 40s
Bids: 0
Boxed Hornby Dublo EDP13 2-6-4 Tank Engine Passenger E!ectric Train Set 3-Rail - Fixed Price

Location: Cullompton, United Kingdom
Condition: Used
Current Price: £99.00 GBP
Time Left: 29d 18h 22m 4s
Bids: 0
TRIANG HORNBY R283 SET of PLATFORM FIGURES PORTER SEATED PASSENGER SEALED ny - Store Inventory

Location: Warwick, United Kingdom
Condition: New
Current Price: £13.99 GBP
Time Left: 29d 23h 23m 24s
Bids: 0
Express Passenger Set on ebay US

Search For: 'hornby passenger set'
Ending Soonest
Express Passenger Set on ebay Australia

Search For: 'hornby passenger set'
Ending Soonest
ITEM
DETAILS
VINTAGE HORNBY TRAIN SET M1 PASSENGER O GAUGE - IN BOX C/1950's #53505 - Fixed Price

Location: Fortitude Valley, QLD, Australia
Condition: Used
Current Price: $325.00 AUD
Time Left: 1d 5h 30m 34s
Bids: 0
Antique Hornby Train Set 501 Passenger Set - Auction

Location: Keysborough, VIC, Australia
Condition: Used
Current Price: $550.00 AUD
Time Left: 2d 6h 25m 11s
Bids: 0
HORNBY Clockwork Train Gauge '0' No. 21 Passenger Set by Meccano - Auction

Location: Roxby Downs, SA, Australia
Condition: Used
Current Price: $120.00 AUD
Time Left: 2d 21h 28m 14s
Bids: 0
OO Scale Set of 5 Great Western Railway Passenger cars, various types,  - Auction

Location: Dorrigo, NSW, Australia
Condition: Used
Current Price: $75.00 AUD
Time Left: 5d 9h 5m 35s
Bids: 0
OO Hornby GWR set of 7 Third Class Passenger Cars plus 2 luggage/guards cars - Auction

Location: Dorrigo, NSW, Australia
Condition: Used
Current Price: $75.00 AUD
Time Left: 6d 14h 41m 25s
Bids: 1
Train Set Hornby #501 Passenger Set - Fixed Price

Location: Jindalee, QLD, Australia
Condition: Used
Current Price: $600.00 AUD
Time Left: 11d 4h 38m 2s
Bids: 0
Hornby Playtrains R807 Thomas Clockwork Passenger Train Set - Fixed Price

Location: Melbourne, VIC, Australia
Condition: New
Current Price: $195.00 AUD
Time Left: 21d 5h 21m 18s
Bids: 0
VINTAGE HORNBY TRAIN SET M1 PASSENGER O GAUGE - IN BOX C/1950's - Fixed Price

Location: Dimboola, VIC, Australia
Condition: Used
Current Price: $450.00 AUD
Time Left: 26d 17h 15m 35s
Bids: 0