Model Year Details
1996 - Coronation Class Locomotive - City Of Saint Albans (Royal Doulton)

6253
Model:
Coronation Class Locomotive - City Of Saint Albans (Royal Doulton)
(Overall Model page)
Running Number:
6253
Category:
Steam Locomotives

Locomotive Class:
8P Duchess Class

Designer:
Sir William Stanier
Class Information:
Introduced by the LMS in 1937, the Coronation / Duchess Class remains the most powerful steam locomotives built in Britain. Early locomotives in the class were built with streamlined casings that were later removed; while later built locomotives never received the distinctive casings.
More...
Weight:
161 tons (including tender)
Purpose:
Heavy Express Passenger
Wheel Arrangement:
4-6-2
Wheel Arrangement Name:
Pacific

Model Information:
1946 - Time For A Change - 50th Anniversary Collection A commemorative limited edition of plates and locomotives commissioned by Hornby Railways in association with the Royal Doulton Company. By the end of the Second World War the four major railway companies were near to bankruptcy with their resources virtually exhausted. However the end of the war was a time for celebration and new beginnings. The austerity years were now behind them and it was time for change. A fresh look and a revitalisation plan were the orders of the day and as a first step in this process each of the railway companies, in their own way, set about the task of reliverying their locomotive stock. Each locomotive and plate set is limited to a 3000 production run. A numbered certificate corresponding to the hand applied number on the reverse of each plate is also included.
Length - 11 3/4 inches - 29.9cm.
Models Produced:
* 2,900
* Information from
Triang & Hornby, The Story of Rovex, Volumes 1, 2 and 3 - Pat Hammond
Company:
L.M.S. -
London Midland & Scottish Railway
Logo:
L.M.S. Crest
Logo Years:
1923 - 1947

Livery:
L.M.S. Black

Livery Details:
Black with yellow lettering and red lining.
Company Information:
The biggest of Britains big four post grouping railway companies formed in 1923. Made up from 34 company lines including the Caledonian, Midland and Somerset & Dorset Joint Railways. Express trains from London to Glasgow were a feature of this company.
Year:
1996
Catalogue Number:
R.459
Year Information:
Built: Crewe September 1946
Withdrawn: January 1963
The fully lined black was applied in 1946 which remained until the locomotive was reliveried in BR green in 1954.
Model Motor:
---
Publication:
Hornby Railways - 42nd Edition
Publication Type:
Catalogue
Publication Edition:
42nd Edition

Logo & Box Design:


Limited Edition:
Limited to 3,000
UK Price List:
£99.99
Aust Price List:
---
Can Price List:
---
Model Ranking:
Current: 2764 -
December 2020
Previous: 3236 -
November 2020
Movement:

(+472)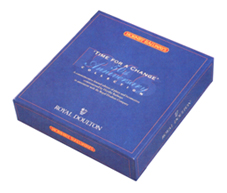 Model Year Details
(1)
Related Service Sheets
(2)
| NO | SERVICE SHEET NAME | ISSUE DATE |
| --- | --- | --- |
| 111A | 4-6-2 Coronation Class | June 1992 |
| 111A (Back) | 4-6-2 Coronation Class - Back | June 1992 |
Model Photos & Notes
(0)
Coronation Class Locomotive - City Of Saint Albans (Royal Doulton) on ebay UK

Search For: 'hornby doulton'
Ending Soonest
ITEM
DETAILS
Hornby R649 Sir Ronald Matthews LNER OO Gauge Royal Doulton plate gift set - Auction

Location: Andover, United Kingdom
Condition: Used
Current Price: £85.00 GBP
Time Left: 0d 9h 41m 15s
Bids: 0
Hornby - R459 - LMS 4-6-2 Coronation 'City of St Albans' Ltd Ed Royal Doulton - Fixed Price

Location: Poole, United Kingdom
Condition: New
Current Price: £129.99 GBP
Time Left: 0d 11h 8m 23s
Bids: 0
Hornby R650 GWR 4-6-0 King Henry VI - Royal Doulton Edition - Fixed Price

Location: Kidderminster, United Kingdom
Condition: Used
Current Price: £84.95 GBP
Time Left: 1d 7h 13m 48s
Bids: 0
Hornby R650 GWR 4-6-0 King Henry V1 Loco No 6018 & Royal Doulton Plate Set - Auction

Location: Durham, United Kingdom
Condition: Used
Current Price: £26.00 GBP
Time Left: 2d 7h 50m 16s
Bids: 2
R648 Hornby OO Gauge Schools Class 4-4-0 Tonbridge + Royal Doulton Plate Boxed - Auction

Location: Durham, United Kingdom
Condition: Used
Current Price: £26.00 GBP
Time Left: 2d 7h 53m 28s
Bids: 2
Hornby OO 4 x Royal Doulton Ltd Ed Sets Inc R649, R459, R650 + R648 - Store Inventory

Location: Skipton, United Kingdom
Condition: Used
Current Price: £300.00 GBP
Time Left: 6d 4h 7m 51s
Bids: 0
Hornby R650 GWR 4-6-0 King Henry V1 Loco No 6018 & Royal Doulton Plate Set - Store Inventory

Location: Thatcham, United Kingdom
Condition: Used
Current Price: £98.85 GBP
Time Left: 9d 1h 17m 28s
Bids: 0
Hornby Set of 4 Royal Doulton Steam Locomotives NEW - Fixed Price

Location: Newcastle upon Tyne, United Kingdom
Condition: New
Current Price: £575.00 GBP
Time Left: 9d 6h 57m 43s
Bids: 0
Hornby - R459 - LMS 4-6-2 Coronation 'City of St Albans' Ltd Ed Royal Doulton - Fixed Price

Location: Brighouse, United Kingdom
Condition: New
Current Price: £120.00 GBP
Time Left: 12d 9h 51m 39s
Bids: 0
Hornby R650 King Henry V1 GWR 6018 OO Gauge Royal Doulton plate gift set - Store Inventory

Location: Lytham St. Annes, United Kingdom
Condition: Used
Current Price: £104.47 GBP
Time Left: 12d 21h 26m 46s
Bids: 0
Hornby R648 Tonbridge schools class OO Gauge Royal Doulton plate gift set - Store Inventory

Location: Lytham St. Annes, United Kingdom
Condition: Used
Current Price: £99.97 GBP
Time Left: 12d 21h 30m 50s
Bids: 0
Hornby R459 City of St Albans LMS OO Gauge Royal Doulton plate gift set - Store Inventory

Location: Lytham St. Annes, United Kingdom
Condition: Used
Current Price: £99.97 GBP
Time Left: 12d 21h 37m 27s
Bids: 0
HORNBY (LOT 2) ROYAL DOULTON LTD EDITION TIME FOR CHANGE 50TH ANNIVERSARY R459 - Fixed Price

Location: Milton Keynes, United Kingdom
Condition: New
Current Price: £79.95 GBP
Time Left: 14d 8h 24m 29s
Bids: 0
199 Hornby R459 Royal Doulton Ltd Edition LMS City of St Albans 6253 Boxed Mint - Fixed Price

Location: Rickmansworth, United Kingdom
Condition: Used
Current Price: £139.75 GBP
Time Left: 19d 13h 49m 24s
Bids: 0
OO Hornby boxed R650 King Henry V1 tender loco & Royal Doulton plate - Fixed Price

Location: Havant, United Kingdom
Condition: Used
Current Price: £60.00 GBP
Time Left: 27d 1h 44m 10s
Bids: 0
Hornby R459 Royal Doulton Ltd Edition LMS City of St Albans 6253 Boxed - Store Inventory

Location: Alness, United Kingdom
Condition: Used
Current Price: £159.99 GBP
Time Left: 27d 6h 2m 6s
Bids: 0
Hornby R650 GWR 4-6-0 King Henry V1 Loco No 6018 & Royal Doulton Plate Set - Fixed Price

Location: Wednesbury, United Kingdom
Condition: Used
Current Price: £69.99 GBP
Time Left: 28d 1h 50m 1s
Bids: 0
Hornby GWR King Henry VI Loco and Royal Doulton Plate Collectors Item Ltd Editn - Fixed Price

Location: Doncaster, United Kingdom
Condition: Used
Current Price: £99.00 GBP
Time Left: 28d 7h 18m 55s
Bids: 0
Hornby LNER A4 Sir Ronald Matthews No 1 with Royal Doulton plate. Excellent - Fixed Price

Location: Twickenham, United Kingdom
Condition: Used
Current Price: £95.00 GBP
Time Left: 29d 12h 10m 0s
Bids: 0
Hornby GWR King Edward VI 6018 Royal Doulton plate. Excellent condition - Fixed Price

Location: Twickenham, United Kingdom
Condition: Used
Current Price: £95.00 GBP
Time Left: 29d 12h 10m 1s
Bids: 0
Hornby Schools Tonbridge with Royal Doulton plate Southern Malachite green - Fixed Price

Location: Twickenham, United Kingdom
Condition: Used
Current Price: £95.00 GBP
Time Left: 29d 12h 10m 2s
Bids: 0
Hornby R650 GWR 4-6-0 King Henry V1 Loco No 6018 & Royal Doulton Plate Set - Fixed Price

Location: Lincoln, United Kingdom
Condition: Used
Current Price: £80.00 GBP
Time Left: 29d 12h 37m 44s
Bids: 0
Hornby R649 OO Gauge Royal Doulton LNER Class A4 Sir Ronald Matthews - Fixed Price

Location: Lincoln, United Kingdom
Condition: Used
Current Price: £80.00 GBP
Time Left: 29d 13h 34m 42s
Bids: 0
Hornby - R459 - LMS 4-6-2 Coronation 'City of St Albans' - Royal Doulton -Boxed - Fixed Price

Location: Lincoln, United Kingdom
Condition: Used
Current Price: £80.00 GBP
Time Left: 29d 13h 37m 20s
Bids: 0
HORNBY R648 ROYAL DOULTON SR 4-4-0 SCHOOLS CLASS LOCO 905 TONBRIDGE 00 gauge - Fixed Price

Location: Lincoln, United Kingdom
Condition: New
Current Price: £80.00 GBP
Time Left: 29d 13h 40m 18s
Bids: 0
Hornby R650 GWR 4-6-0 King Henry V1 Loco No 6018 & Royal Doulton Plate Set - Fixed Price

Location: Lincoln, United Kingdom
Condition: Used
Current Price: £80.00 GBP
Time Left: 29d 14h 13m 14s
Bids: 0
Coronation Class Locomotive - City Of Saint Albans (Royal Doulton) on ebay US

Search For: 'hornby doulton'
Ending Soonest
ITEM
DETAILS
ROYAL DOULTON COLLECTORS PLATE ROUNDING THE HORN BY JOHN STOBART 1978 - Store Inventory

Location: Morganville, NJ, USA
Condition: Used
Current Price: $75.00 USD
Time Left: 3d 4h 40m 54s
Bids: 0
VINTAGE ROYAL DOULTON COLLECTORS PLATE ROUNDING THE HORN BY JOHN STOBART 1978 - Store Inventory

Location: Stroudsburg, PA, USA
Condition: New
Current Price: $75.00 USD
Time Left: 10d 3h 39m 41s
Bids: 0
1978 Royal Doulton collector plate "Rounding the Horn" by John Stobart - Fixed Price

Location: Inverness, FL, USA
Condition: Used
Current Price: $34.98 USD
Time Left: 20d 14h 4m 40s
Bids: 0
1978 Royal Doulton collector plate "Rounding the Horn" by John Stobart - Store Inventory

Location: Boynton Beach, FL, USA
Condition: Used
Current Price: $44.99 USD
Time Left: 22d 3h 33m 29s
Bids: 0
HORNBY Railways ROYAL DOULTON "Time For A Change" Plate and train cars R650 - Store Inventory

Location: Austin, TX, USA
Condition: Used
Current Price: $85.00 USD
Time Left: 25d 17h 10m 35s
Bids: 0
Coronation Class Locomotive - City Of Saint Albans (Royal Doulton) on ebay Australia

Search For: 'hornby doulton'
Ending Soonest