Model Note
The R357 Brush Type 2 Collection 1962-1967
Type: Photo
Author: K9-70
Location: N.Ireland
Date: 28 Oct 2007

Note: Examples of the Tri-ang, later Triang Hornby Brush Type 2 locomotives.
A) 1962 D5578 Electric Blue with Duck Egg Blue window surrounds no Yellow warning panel.
B) 1963-67 D5572 Brunswick Green with Duck Egg Green body stripes and Yellow warning panel.
C) 1965-67 Experimental XP64 Livery, Electric Blue with White body stripes and a White roof. Yellow Warning panel.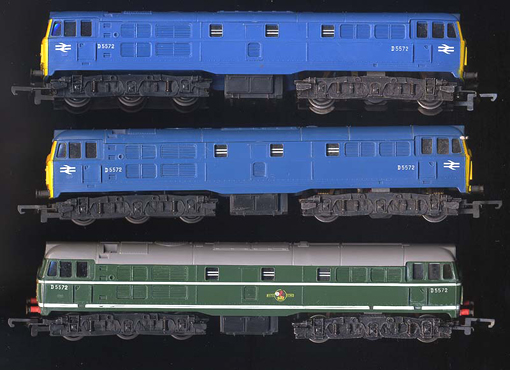 Related Model
Category: Diesel Electric Locomotives
Model: Class 31 Brush (Type 2) Locomotive
Years Released: 1963 1964 1965 1966 1967 1972 1973 1974 1975 1976
Class: Class 31
Livery: B.R. Green