Model Details
B.R. Class 370 Advanced Passenger Train Pack

370001 370002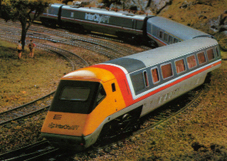 Years Released: 1981 1982 1983 1984 1985 (Model Year pages)
Model released for 5 years.
Model:
B.R. Class 370 Advanced Passenger Train Pack
Running Number:
370001 370002
Category:
Train Packs

Locomotive Class:
Class 370 APT

Designer:
Alan Wickens for British Rail
Class Information:
Advanced Passenger Train technology was the way of the future on British Rail during the late 1970ís and early 1980ís. Since the Modernisation Plan was implemented during the late 1950ís, it was intended that eventually high speed rail travel in Britain would be via over-head electrical propulsion. The APT train proved a commercial and political failure resulting in the interim designed HST formations still being in daily use 30-years on.
More...
Weight:
427 tons
Purpose:
Express Passenger
Wheel Arrangement:
BO-BO

Model Information:
* The amount produced of this model below is the combined figure of sets and train packs. There were 15,000 models produced with the yellow front and 13,700 models produced with the black and yellow front. The APT Power Car was named City Of Derby. The two Van Trailers were numbered 48601 and 48602.
Models Produced:
* 28,700
* Information from
Triang & Hornby, The Story of Rovex, Volumes 1, 2 and 3 - Pat Hammond
Logo & Box Style:

1981

1982
1983

1984
1985
Company:
B.R. -
British Railways
Logo:
B.R. Logo
Logo Years:
1965 - 1997

Livery:
B.R. Inter City

Livery Details:
Grey and blue with red and white lining and yellow cab ends.
Company Information:
British Railways came into existence in 1948 when the dominating four British railway companies amalgamated. Steam traction on British Railways ended in 1968 and the system was re-branded as British Rail.
Model Ranking:
Current: 256 -
July 2022
Previous: 237 -
June 2022
Movement:

(-19)
Model Year Details
(5)
Train Sets Included In
(1)
Related Service Sheets
(2)
| NO | SERVICE SHEET NAME | ISSUE DATE |
| --- | --- | --- |
| 121 | B.R. APT Power Car - R.704 | March 1981 |
| 121 (Back) | B.R. APT Power Car - R.704 - Back | March 1981 |
Model Photos & Notes
(0)
Model Catalogue Information
| YEAR | INFORMATION |
| --- | --- |
| 1981 | R.702 and R.706 driving trailers, R.703 and R.707 van trailers and R.704 power car. Headlamps that light up in the direction of travel. City Of Derby name panels. Only available as a set, not available separately. |
| 1982 | Headlights which operate in the direction of travel, non-operating pantograph. Sideways tilting action when cornering at speed. |
| 1983 | R.702 and R.706 driving trailers, R.703 and R.707 van trailers and R.704 power car. Features the famous tilt action. |
| 1984 | Model features coach tilt action. Contents: R.702 and R.706 Driving Trailers, R.703 and R.707 Van Trailers, R.704 Power Car (Vehicles not available separately). |
| 1985 | Model features coach tilt action. Contents: R.702 and R.706 Driving Trailers, R.703 and R.707 Van Trailers, R.704 Power Car (Vehicles not available separately). |
Motor Information
Price List
Catalogue Images
(5)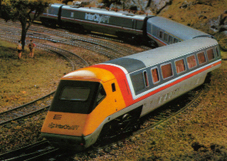 R.794 B.R. Class 370 Advanced Passenger Train Pack - 1981


R.794 B.R. Class 370 Advanced Passenger Train Pack - 1982


R.794 B.R. Class 370 Advanced Passenger Train Pack - 1983


R.794 B.R. Class 370 Advanced Passenger Train Pack - 1984


R.794 B.R. Class 370 Advanced Passenger Train Pack - 1985
B.R. Class 370 Advanced Passenger Train Pack on ebay US

Search For: 'hornby apt'