Train Set Year Details
2007 - The Royal Scot

Train Set:
The Royal Scot
(Overall Train Set page)
Category:
Train Sets

Model Information:
Contents:
BR 4-6-2 "City of Bristol" Princess Coronation
Class locomotive
Two BR (exLMS) Composite coaches
Two BR (exLMS) Brake coaches
Accessory Pack C
Track: 3rd Radius Starter Oval
Track Pack A and B (with two points and two buffer stops)
C990 Wall Plug Transformer
R965 Train Controller
R8206 Power Track
R8217 Hornby TrakMat (1575 x 1143mm)
Sets Produced:
---
Year:
2007
Catalogue Number:
R.1094
Year Information:
This is truly a magnificent set and one that will get the lucky recipient well on the way to building a model railway that they can be proud of! The famous "Royal Scot" train included with this set is representative of the famous London to Scotland service of the late '40s / early '50s and was a rival to the "Flying Scotsman" which ran on the East Coast Mainline. The awesome power of the full size Duchess locomotive is ably replicated by the model in the set which is powered by a 5 pole skew wound motor housed underneath the locomotive's body, with the superb liveries on both the locomotive and the four coaches being representative of the period. The "Royal Scot" set includes a large oval of track with two sidings and a station which fits easily onto the Hornby TrakMat. Additional Hornby Track and Accessory Packs will complete the main infrastructure of the TrakMat leaving any additional details for the operator to complete. The "City of Bristol" locomotive is DCC Ready.
Publication:
Hornby
Publication Type:
Catalogue
Publication Edition:
53rd Edition

Logo & Box Design:


UK Price List:
---
Aust Price List:
---
Can Price List:
---
Model Ranking:
Current: 475 -
September 2020
Previous: 513 -
August 2020
Movement:

(+38)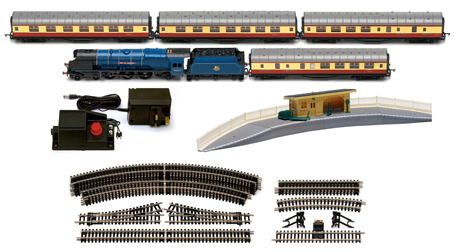 Train Set Year Details
(3)
Train Set Items
(5)
Train Set Photos & Notes
(0)
The Royal Scot on ebay UK

Search For: 'hornby royal scot set'
Ending Soonest
ITEM
DETAILS
Hornby X9744 Driving Wheel Set For Royal Scot Loco - Store Inventory

Location: Middlesbrough, United Kingdom
Condition: New
Current Price: £9.15 GBP
Time Left: 1d 20h 54m 33s
Bids: 0
Hornby R3557 LMS 4-6-0 Royal Army Service Corps Scot Class Train Model Set - Fixed Price

Location: United Kingdom
Condition: New
Current Price: £191.31 GBP
Time Left: 1d 23h 27m 23s
Bids: 0
Hornby R3558 4-6-0 The Ranger 46165 Royal Scot Class/Late BR Train Model Set - Fixed Price

Location: United Kingdom
Condition: New
Current Price: £184.12 GBP
Time Left: 1d 23h 29m 16s
Bids: 0
Hornby R1094 USED The Royal Scot Unopened Train Set OO Gauge - Store Inventory

Location: Middlesbrough, United Kingdom
Condition: Used
Current Price: £199.99 GBP
Time Left: 2d 22h 47m 46s
Bids: 0
HORNBY DUBLO P22--ROYAL SCOT PASSENGER SET THREE RAIL - Fixed Price

Location: Penzance, United Kingdom
Condition: Used
Current Price: £155.00 GBP
Time Left: 5d 2h 11m 58s
Bids: 0
Hornby R3558 4-6-0 The Ranger 46165 Royal Scot Class/Late BR Train Model Set - Fixed Price

Location: United Kingdom
Condition: New
Current Price: £219.99 GBP
Time Left: 10d 3h 24m 5s
Bids: 0
Large Hornby O gauge Royal Scot set box - Fixed Price

Location: United Kingdom
Condition: Used
Current Price: £48.00 GBP
Time Left: 11d 5h 17m 37s
Bids: 0
HORNBY DUBLO SET P22 THE ROYAL SCOT----THREE RAIL - Fixed Price

Location: Penzance, United Kingdom
Condition: Used
Current Price: £95.00 GBP
Time Left: 12d 22h 13m 10s
Bids: 0
Hornby R3558 4-6-0 The Ranger 46165 Royal Scot Class/Late BR Train Model Set - Fixed Price

Location: Leicester, United Kingdom
Condition: New
Current Price: £204.09 GBP
Time Left: 13d 6h 53m 27s
Bids: 0
Hornby R3557 LMS 4-6-0 Royal Army Service Corps Scot Class Train Model Set - Fixed Price

Location: Leicester, United Kingdom
Condition: New
Current Price: £212.07 GBP
Time Left: 13d 6h 53m 27s
Bids: 0
HORNBY DUBLO 2-RAIL MODEL No.2034 "THE ROYAL SCOT" SET VN MIB - Store Inventory

Location: Grange-Over-Sands, United Kingdom
Condition: Used
Current Price: £295.00 GBP
Time Left: 17d 6h 45m 10s
Bids: 0
Hornby X9745 Driving Wheel Set For Royal Scot Black - Store Inventory

Location: Middlesbrough, United Kingdom
Condition: New
Current Price: £9.10 GBP
Time Left: 18d 2h 57m 29s
Bids: 0
BACHMANN HORNBY ETC MOTORISED CHASSIS BOGIES WHEEL SETS VALVE GEAR SPARES/REPAIR - Fixed Price

Location: Edinburgh, United Kingdom
Condition: Used
Current Price: £69.95 GBP
Time Left: 18d 21h 37m 52s
Bids: 0
Hornby The Royal Scot Limited Edition set 159 of 1500 R2303 - Fixed Price

Location: Ferryhill, United Kingdom
Condition: New
Current Price: £190.00 GBP
Time Left: 19d 0h 32m 31s
Bids: 0
Hornby R3558 4-6-0 The Ranger 46165 Royal Scot Class/Late BR Train Model Set - Fixed Price

Location: London, United Kingdom
Condition: New
Current Price: £189.16 GBP
Time Left: 22d 20h 3m 33s
Bids: 0
Hornby O Gauge Electric Royal Scot passenger Set with Pullman Coaches - Fixed Price

Location: Kidderminster, United Kingdom
Condition: Used
Current Price: £575.00 GBP
Time Left: 24d 2h 16m 15s
Bids: 0
New Genuine Hornby Spares X9745 Royal Scot Loco Wheels & Axles Set In Black - Store Inventory

Location: Birchington, United Kingdom
Condition: New
Current Price: £9.99 GBP
Time Left: 27d 2h 23m 4s
Bids: 0
Hornby X9744W Wheel Set For Royal Scot Weathered Green - Store Inventory

Location: Middlesbrough, United Kingdom
Condition: New
Current Price: £8.60 GBP
Time Left: 28d 19h 52m 44s
Bids: 0
Hornby X9743 OO Gauge Coupling Rods & Screws Set Royal Scot - Fixed Price

Location: Basingstoke, United Kingdom
Condition: New
Current Price: £5.45 GBP
Time Left: 30d 6h 20m 16s
Bids: 0
The Royal Scot on ebay US

Search For: 'hornby royal scot set'
Ending Soonest
The Royal Scot on ebay Australia

Search For: 'hornby royal scot set'
Ending Soonest