Train Set Year Details
1981 - Caledonian Passenger Set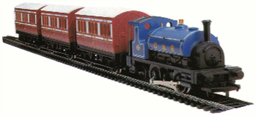 Train Set:
Caledonian Passenger Set
(Overall Train Set page)
Category:
Train Sets

Model Information:
A colourful scene typical of many rural branch lines is captured by the authentic saddle tank and its train of 4-wheel coaches. All are decorated in the attractive Caledonian livery of the 1920s.
Sets Produced:
* 16,325
* Information from
Triang & Hornby, The Story of Rovex, Volumes 1, 2 and 3 - Pat Hammond
Year:
1981
Catalogue Number:
R.540
Year Information:
Contains Oval of 1st Radius Track and Power Controller.
Publication:
Hornby Railways Ticket to ride - OO Gauge Catalogue 1981
Publication Type:
Catalogue
Publication Edition:
27th Edition

Logo & Box Design:


UK Price List:
£26.95
Aust Price List:
---
Can Price List:
---
Model Ranking:
Current: 816 -
September 2020
Previous: 602 -
August 2020
Movement:

(-214)
Train Set Year Details
(2)
Train Set Items
(4)
Train Set Photos & Notes
(0)
Caledonian Passenger Set on ebay UK

Search For: 'hornby caledonian'
Ending Soonest
ITEM
DETAILS
HORNBY R1151 CALEDONIAN BELLE 00 GAUGE TRAIN SET. Brand New - Auction

Location: Leicester, United Kingdom
Condition: New
Current Price: £48.00 GBP
Time Left: 0d 1h 24m 42s
Bids: 0
Hornby OO R763 Ex-Caledonian 4-2-2 Single 14010 Maroon in Presentation Pack - Auction

Location: United Kingdom
Condition: Used
Current Price: £80.00 GBP
Time Left: 0d 6h 38m 16s
Bids: 0
Tri-ang Hornby R749: 'Caledonian' composite, SR olive green no.1750, boxed! - Auction

Location: Alness, United Kingdom
Condition: Used
Current Price: £9.99 GBP
Time Left: 0d 6h 42m 11s
Bids: 0
Hornby dublo 2 or 3 rail EDL17 0-6-2N2 Caledonian No 287 - Auction

Location: Barnstaple, United Kingdom
Condition: Used
Current Price: £23.50 GBP
Time Left: 0d 8h 40m 8s
Bids: 1
HORNBY DUBLO MECCANO LTD. 2 x CALEDONIAN CARRIAGES. OO scale - Auction

Location: Lytham St. Annes, United Kingdom
Condition: Used
Current Price: £15.00 GBP
Time Left: 1d 1h 20m 55s
Bids: 0
Hornby 00 Caledonian Railway Engine Train Toy - Auction

Location: Cwmbran, United Kingdom
Condition: Used
Current Price: £10.10 GBP
Time Left: 1d 5h 18m 51s
Bids: 0
TRIANG HORNBY R747 LMS MAROON CALEDONIAN COMPOSITE BRAKE COACH 2640 BOXED nx - Store Inventory

Location: United Kingdom
Condition: Used
Current Price: £19.50 GBP
Time Left: 1d 5h 21m 30s
Bids: 0
Hornby Caledonian Short Blue Coaches X 3 All Near Mint - Auction

Location: Stourbridge, United Kingdom
Condition: Used
Current Price: £18.99 GBP
Time Left: 1d 6h 40m 33s
Bids: 0
Hornby/triang collectors Rare MkI Caledonian Coach For Single Wheeler. V.G.C. - Auction

Location: Jarrow, United Kingdom
Condition: Used
Current Price: £19.50 GBP
Time Left: 1d 7h 19m 10s
Bids: 0
HORNBY 3 x 4 WHEELED CALEDONIAN COACHES - Auction

Location: North Shields, United Kingdom
Condition: Used
Current Price: £16.00 GBP
Time Left: 1d 7h 23m 43s
Bids: 5
Hornby R553 Caledonian Railway 4-2-2 Locomotive 1973 - Auction

Location: Leicester, United Kingdom
Condition: Used
Current Price: £69.25 GBP
Time Left: 1d 23h 28m 48s
Bids: 0
Hornby Caledonian Blue 0-4-0 Saddle Tank Locomotive 176, not boxed - Store Inventory

Location: Poole, United Kingdom
Condition: Used
Current Price: £23.00 GBP
Time Left: 2d 0h 31m 30s
Bids: 0
TRIANG HORNBY R747 +R748 LMS EX CALEDONIAN COMP & BRAKE COACHES EXCELLENT BOXED - Store Inventory

Location: Wisbech, United Kingdom
Condition: Used
Current Price: £38.50 GBP
Time Left: 2d 0h 59m 21s
Bids: 0
S5931 # HORNBY TRIANG SAFETY VALVE COVER LORD OF THE ISLES/CALEDONIAN T5A - Fixed Price

Location: Bristol, United Kingdom
Condition: New
Current Price: £1.25 GBP
Time Left: 2d 1h 52m 57s
Bids: 0
Hornby Caledonian Railways R2672 0-4-0 272 Locomotive 00 Gauge - Auction

Location: Burgess Hill, United Kingdom
Condition: New
Current Price: £32.00 GBP
Time Left: 2d 2h 6m 12s
Bids: 0
Hornby OO Gauge R2131 Caledonian 0-4-0 Loco 1203 Near Mint - Auction

Location: Stourbridge, United Kingdom
Condition: Used
Current Price: £13.99 GBP
Time Left: 2d 6h 41m 17s
Bids: 0
Hornby Railways R.553 Caledonian Railway 4-2-2 OO Gauge Locomotive Boxed - Auction

Location: Basingstoke, United Kingdom
Condition: Used
Current Price: £55.00 GBP
Time Left: 2d 7h 20m 54s
Bids: 1
HORNBY RAILWAYS MODEL No.R057 " CALEDONIAN 0-4-0ST LOCO " - Store Inventory

Location: Grange-Over-Sands, United Kingdom
Condition: Used
Current Price: £35.00 GBP
Time Left: 2d 8h 36m 39s
Bids: 0
HORNBY RAILWAYS MODEL No.R057 CALEDONIAN 0-4-0ST LOCO VN MIB - Store Inventory

Location: Grange-Over-Sands, United Kingdom
Condition: Used
Current Price: £39.95 GBP
Time Left: 2d 8h 37m 12s
Bids: 0
HORNBY RAILWAYS MODEL No.R057 CALEDONIAN 0-4-0ST LOCO VN MIB - Store Inventory

Location: Grange-Over-Sands, United Kingdom
Condition: Used
Current Price: £47.95 GBP
Time Left: 2d 8h 37m 37s
Bids: 0
HORNBY RAILWAYS MODEL No.R2361 CALEDONIAN 0-4-0ST SADDLE TANK LOCO MIB - Store Inventory

Location: Grange-Over-Sands, United Kingdom
Condition: Used
Current Price: £47.95 GBP
Time Left: 2d 8h 38m 3s
Bids: 0
Hornby Caledonian set R775 - Auction

Location: Sidmouth, United Kingdom
Condition: Used
Current Price: £40.00 GBP
Time Left: 2d 9h 32m 22s
Bids: 0
Hornby Caledonian Sleeper Class 87 Bo-Bo 87002 'Royal Sovereign' Era 10 Model... - Fixed Price

Location: Sheffield, United Kingdom
Condition: New
Current Price: £150.99 GBP
Time Left: 2d 11h 9m 54s
Bids: 0
Hornby Caledonian Local - Starter Oval - Auction

Location: Sevenoaks, United Kingdom
Condition: Used
Current Price: £20.00 GBP
Time Left: 2d 23h 16m 37s
Bids: 1
TRIANG HORNBY GWR CALEDONIAN R26,R26 BRAKE AND COACH MIB. - Auction

Location: Amlwch, United Kingdom
Condition: New
Current Price: £39.99 GBP
Time Left: 3d 0h 41m 18s
Bids: 0
Hornby Caledonian TRAIN SET "CITY OF CHESTER LOCO" GOOD BOX - Auction

Location: Hertford, United Kingdom
Condition: Used
Current Price: £76.50 GBP
Time Left: 3d 0h 59m 31s
Bids: 0
Hornby R.27 'Caledonian' GWR composite brake coach - Auction

Location: Great Yarmouth, United Kingdom
Condition: Used
Current Price: £19.99 GBP
Time Left: 3d 2h 44m 7s
Bids: 0
Hornby train pack- Great North Eastern rail- First Scotrail- Caledonian Sleeper - Auction

Location: Nottingham, United Kingdom
Condition: Used
Current Price: £88.00 GBP
Time Left: 3d 4h 56m 20s
Bids: 4
Hornby R3388TTS Caledonian Sleeper Class 67 'Cairn Gorm' with SOUND - Auction

Location: Duns, United Kingdom
Condition: Used
Current Price: £86.89 GBP
Time Left: 3d 5h 49m 11s
Bids: 13
HORNBY R219 CR 4-WHEEL 1st/3rd COACH No 12 in CALEDONIAN RAILWAY - VERY GOOD - Auction

Location: Stowmarket, United Kingdom
Condition: Used
Current Price: £6.50 GBP
Time Left: 3d 5h 50m 39s
Bids: 3
Hornby No.86245 ' Caledonian ' Electric Locomotive OO Gauge Boxed - Auction

Location: Basingstoke, United Kingdom
Condition: Used
Current Price: £45.00 GBP
Time Left: 3d 5h 54m 54s
Bids: 0
Hornby OO 00 Gauge Model Railway 4 Wheel Blue Caledonian Coach For Train sets - Auction

Location: Leeds, United Kingdom
Condition: Used
Current Price: £3.05 GBP
Time Left: 3d 5h 58m 21s
Bids: 1
HORNBY R553 CALEDONIAN SINGLE FRONT BLUE 4 WHEEL BOGIE - Auction

Location: Spalding, United Kingdom
Condition: Used
Current Price: £8.99 GBP
Time Left: 3d 6h 36m 3s
Bids: 0
Hornby Caledonian TRAIN SET "CITY OF CHESTER LOCO"  - Auction

Location: Petersfield, United Kingdom
Condition: Used
Current Price: £19.00 GBP
Time Left: 3d 7h 8m 58s
Bids: 4
S5871 # HORNBY TRIANG SPRING PICKUP LORD OF THE ISLES/CALEDONIAN U6D - Fixed Price

Location: Bristol, United Kingdom
Condition: New
Current Price: £1.55 GBP
Time Left: 3d 8h 3m 26s
Bids: 0
TRIANG HORNBY CHASSIS & WIRING LORD OF THE ISLES R354 CALEDONIAN SINGLE R553 123 - Store Inventory

Location: Southampton, United Kingdom
Condition: Used
Current Price: £23.80 GBP
Time Left: 3d 20h 1m 40s
Bids: 0
HORNBY R553 CALEDONIAN BLUE SINGLE 4-2-2 " BODY SHELL " GWO - Auction

Location: Spalding, United Kingdom
Condition: Used
Current Price: £6.99 GBP
Time Left: 3d 23h 16m 52s
Bids: 0
Hornby Caledonian Coach Wagon OO Gauge S6339 - Auction

Location: Farnborough, United Kingdom
Condition: Used
Current Price: £4.00 GBP
Time Left: 4d 1h 37m 7s
Bids: 0
Hornby Train Set. The Caledonian R.775 in very good condition. - Auction

Location: Chatham, United Kingdom
Condition: Used
Current Price: £150.00 GBP
Time Left: 4d 3h 4m 1s
Bids: 0
Hornby Caledonian 0-4-0 Loco 640 (ex set R1174) - Auction

Location: Wallingford, United Kingdom
Condition: Used
Current Price: £10.50 GBP
Time Left: 4d 4h 50m 3s
Bids: 2
Hornby OO Gauge R016-060 Caledonian Coach Blue - Auction

Location: Leatherhead, United Kingdom
Condition: Used
Current Price: £3.99 GBP
Time Left: 4d 5h 23m 46s
Bids: 0
HORNBY R2672 CALEDONIAN CR 0-4-0 CLASS 0F PUG SADDLE TANK LOCOMOTIVE 272 pa - Store Inventory

Location: Warwick, United Kingdom
Condition: New
Current Price: £39.50 GBP
Time Left: 4d 5h 49m 10s
Bids: 0
HORNBY R057 CALEDONIAN CR 0-4-0 CLASS 0F PUG SADDLE TANK LOCOMOTIVE 270 pa - Store Inventory

Location: Warwick, United Kingdom
Condition: Used
Current Price: £24.50 GBP
Time Left: 4d 5h 49m 10s
Bids: 0
Hornby Dublo Caledonian Set. - Auction

Location: Lancaster, United Kingdom
Condition: Used
Current Price: £41.00 GBP
Time Left: 4d 6h 40m 37s
Bids: 11
Hornby R1151 Caledonian Belle Starter Train Set - New Unused - Mint Condition - Auction

Location: Rochester, United Kingdom
Condition: New
Current Price: £65.00 GBP
Time Left: 4d 6h 52m 22s
Bids: 0
Lovely Vintage Hornby 00 Gauge Caledonian Railway 314 Blue Locomotive + Wagons - Auction

Location: Wisbech, United Kingdom
Condition: Used
Current Price: £25.00 GBP
Time Left: 4d 7h 10m 48s
Bids: 0
Triang Hornby R26 R27 boxed rake of 2 - GWR Caledonian Composite and Brake vgc - Auction

Location: Wokingham, United Kingdom
Condition: Used
Current Price: £29.99 GBP
Time Left: 4d 8h 47m 5s
Bids: 0
HORNBY R354 4 MAIN BLUE WHEELS & BRASS COG LORD OF THE ISLES CALEDONIAN SINGLE - Store Inventory

Location: Southampton, United Kingdom
Condition: Used
Current Price: £14.79 GBP
Time Left: 4d 22h 16m 21s
Bids: 0
HORNBY R553 CALEDONIAN SINGLE FRONT BLUE 4 WHEEL BOGIE SILVER TREADS - Store Inventory

Location: Southampton, United Kingdom
Condition: Used
Current Price: £16.87 GBP
Time Left: 4d 22h 16m 21s
Bids: 0
HORNBY R354 4 MAIN BLUE WHEELS BRIGHT TREADS & NYLON GEAR COG CALEDONIAN SINGLE - Store Inventory

Location: Southampton, United Kingdom
Condition: Used
Current Price: £15.79 GBP
Time Left: 4d 22h 16m 21s
Bids: 0
TRIANG HORNBY R554 TENDER BASE + WHEELS CALEDONIAN SINGLE 123 R553 MATT GC - Store Inventory

Location: Southampton, United Kingdom
Condition: Used
Current Price: £16.87 GBP
Time Left: 4d 22h 16m 22s
Bids: 0
HORNBY R553 CALEDONIAN SINGLE FRONT BLUE 4 WHEEL BOGIE BLACK TYRE TREADS - Store Inventory

Location: Southampton, United Kingdom
Condition: Used
Current Price: £16.87 GBP
Time Left: 4d 22h 16m 22s
Bids: 0
Hornby R1016 CALEDONIAN LOCAL - Fixed Price

Location: Ramsgate, United Kingdom
Condition: Used
Current Price: £85.00 GBP
Time Left: 5d 3h 8m 26s
Bids: 0
HORNBY R2361 CALEDONIAN CR 0-4-0 CLASS 0F PUG SADDLE TANK LOCOMOTIVE 270 MIB pa - Store Inventory

Location: Warwick, United Kingdom
Condition: New
Current Price: £39.50 GBP
Time Left: 5d 4h 20m 30s
Bids: 0
Hornby Railways R016-060 Caledonian Coach Blue OO GAUGE - Auction

Location: Peterborough, United Kingdom
Condition: Used
Current Price: £9.95 GBP
Time Left: 5d 5h 58m 21s
Bids: 0
Hornby Railways R016-060 Caledonian Coach Blue OO GAUGE - Auction

Location: Peterborough, United Kingdom
Condition: Used
Current Price: £11.95 GBP
Time Left: 5d 5h 59m 8s
Bids: 0
Hornby Railways Ex Caledonian LMS 4-2-2 Locomotive - Auction

Location: Balerno, United Kingdom
Condition: New
Current Price: £35.00 GBP
Time Left: 5d 7h 41m 45s
Bids: 1
Hornby R3751 Caledonian Sleeper Class 87 Bo-Bo 87002 Royal Sovereign - Store Inventory

Location: Otley, United Kingdom
Condition: New
Current Price: £152.99 GBP
Time Left: 5d 9h 0m 38s
Bids: 0
NEW Hornby R3751 OO Gauge BR Class 87 002 Electric Locomotive Caledonian Sleeper - Store Inventory

Location: Stourbridge, United Kingdom
Condition: New
Current Price: £149.99 GBP
Time Left: 5d 9h 5m 47s
Bids: 0
HORNBY R1151 CALEDONIAN BELLE 00 GAUGE TRAIN SET. Used excellent condition - Auction

Location: Thornton-Cleveleys, United Kingdom
Condition: New
Current Price: £25.00 GBP
Time Left: 5d 9h 11m 20s
Bids: 0
HORNBY - R1151 - CR Caledonian Blue 4-WHEELED COACH - Auction

Location: Burnley, United Kingdom
Condition: Used
Current Price: £7.99 GBP
Time Left: 5d 10h 33m 13s
Bids: 0
HORNBY R3751 CALEDONIAN SLEEPER CLASS 87 BO-BO 87002 'ROYAL SOVEREIGN' *BRAND NE - Fixed Price

Location: Rugby, United Kingdom
Condition: New
Current Price: £152.99 GBP
Time Left: 5d 22h 10m 18s
Bids: 0
HORNBY RAILWAYS MODEL No.R2361 CALEDONIAN 0-4-0ST SADDLE TANK LOCO MIB - N/A

Location: Stourbridge, United Kingdom
Condition: New
Current Price: £20.00 GBP
Time Left: 5d 22h 32m 42s
Bids: 0
Hornby Caledonian Belle R1151, OO Gauge - Auction

Location: Newcastle, United Kingdom
Condition: Used
Current Price: £46.00 GBP
Time Left: 5d 23h 15m 51s
Bids: 0
Vintage Rake Of 2 x Hornby Dublo LMS CALEDONIAN COACHES E15770 E35173 VGC - Fixed Price

Location: Morecambe, United Kingdom
Condition: Used
Current Price: £49.00 GBP
Time Left: 6d 4h 44m 21s
Bids: 0
Hornby R2683 LMS Black 4-2-2 Caledonian Single - Auction

Location: Slough, United Kingdom
Condition: Used
Current Price: £32.00 GBP
Time Left: 6d 4h 53m 51s
Bids: 0
Hornby Caledonian Blue 1st & 3rd composite 4 wheel 00 gauge coach.  - Auction

Location: Stratford-upon-Avon, United Kingdom
Condition: Used
Current Price: £10.50 GBP
Time Left: 6d 6h 36m 15s
Bids: 0
Hornby Dublo LOCOMOTIVE HEADBOARD "THE CALEDONIAN" 10A - Fixed Price

Location: Biggar, United Kingdom
Condition: Used
Current Price: £8.95 GBP
Time Left: 6d 7h 23m 6s
Bids: 0
TRIANG, 2 X CALEDONIAN Coaches, R427 Comp & R748 Boxed - Auction

Location: Barnsley, United Kingdom
Condition: Used
Current Price: £0.99 GBP
Time Left: 6d 7h 36m 52s
Bids: 1
OO gauge. Hornby. 0-4-0 Caledonian livery Steam Locomotive & Matching Coaches. - Auction

Location: Rowley Regis, United Kingdom
Condition: Used
Current Price: £14.90 GBP
Time Left: 6d 8h 6m 56s
Bids: 1
HORNBY R2361 CALEDONIAN RAILWAY 0F CLASS 0-4-0ST LOCO No 270 in CR Blue Livery - Auction

Location: Bromley, United Kingdom
Condition: Used
Current Price: £10.00 GBP
Time Left: 6d 8h 41m 41s
Bids: 1
HORNBY CALEDONIAN RAILWAY 0-4-0T LOCO No 640 CR. With BLUE 4 WHEEL COACH... - Auction

Location: St. Andrews, United Kingdom
Condition: Used
Current Price: £14.50 GBP
Time Left: 6d 11h 20m 31s
Bids: 0
Hornby R2112 Train Pack "The Caledonian" - Limited Edition - Fixed Price

Location: Aylesbury, United Kingdom
Condition: Used
Current Price: £125.00 GBP
Time Left: 6d 23h 23m 18s
Bids: 0
R2242 Hornby Train Virgin Bo-Bo Electric Class 86 "86245 Caledonian" - Store Inventory

Location: United Kingdom
Condition: New
Current Price: £79.99 GBP
Time Left: 7d 2h 45m 45s
Bids: 0
Hornby Dublo Coach Labels The Caledonian / London - Glasgow - Fixed Price

Location: Ashington, United Kingdom
Condition: New
Current Price: £2.00 GBP
Time Left: 7d 3h 8m 49s
Bids: 0
HORNBY 00 GAUGE R26 & R27 PAIR OF CHOC & CREAM GWR CALEDONIAN COACHES - BOXED - Store Inventory

Location: Blackburn, United Kingdom
Condition: Used
Current Price: £24.99 GBP
Time Left: 7d 3h 49m 37s
Bids: 0
TRI-ANG HORNBY MODEL No. R.428 " CALEDONIAN " COMPOSITE BRAKE COACH - Store Inventory

Location: Grange-Over-Sands, United Kingdom
Condition: Used
Current Price: £32.50 GBP
Time Left: 7d 8h 9m 53s
Bids: 0
TRI-ANG HORNBY MODEL No. R.428 "CALEDONIAN" BRAKE END COACH MIB - Store Inventory

Location: Grange-Over-Sands, United Kingdom
Condition: Used
Current Price: £39.95 GBP
Time Left: 7d 8h 10m 58s
Bids: 0
TRI-ANG HORNBY MODEL No. R.427 "CALEDONIAN" COMPOSITE COACH "GREY ROOF" MIB - Store Inventory

Location: Grange-Over-Sands, United Kingdom
Condition: Used
Current Price: £39.95 GBP
Time Left: 7d 8h 12m 46s
Bids: 0
TRI-ANG RAILWAYS MODEL No R.427 "CALEDONIAN" COMPOSITE WITH GREY ROOF COACH - Store Inventory

Location: Grange-Over-Sands, United Kingdom
Condition: Used
Current Price: £30.00 GBP
Time Left: 7d 8h 15m 8s
Bids: 0
TRI-ANG RAILWAYS MODELS No.R747 / R748 LMS "ex-CALEDONIAN" PASSENGER COACH SET - Store Inventory

Location: Grange-Over-Sands, United Kingdom
Condition: Used
Current Price: £50.00 GBP
Time Left: 7d 8h 16m 22s
Bids: 0
HORNBY RAILWAYS MODEL No.R255 CALEDONIAN 0-4-0ST "LOCH NESS" SADDLE TANK LOCO - Store Inventory

Location: Grange-Over-Sands, United Kingdom
Condition: Used
Current Price: £36.95 GBP
Time Left: 7d 8h 24m 42s
Bids: 0
Hornby R2112 Train Pack The Caledonian Limited Edition Tested Superb 00 gauge OO - Store Inventory

Location: Ashbourne, United Kingdom
Condition: Used
Current Price: £119.95 GBP
Time Left: 7d 22h 53m 40s
Bids: 0
Hornby R2131 Caledonian Blue Tank locomotive 1203 Tested 00 Gauge OO Superb - Auction

Location: Ashbourne, United Kingdom
Condition: Used
Current Price: £9.95 GBP
Time Left: 7d 22h 58m 36s
Bids: 1
Hornby R3751 Caledonian Sleeper Class 87 Bo-Bo 87002 Royal Sovereign - Store Inventory

Location: Otley, United Kingdom
Condition: New
Current Price: £152.99 GBP
Time Left: 7d 23h 22m 51s
Bids: 0
Hornby R3740 Caledonian Sleeper Class 92 Co-Co 92023 - Free Postage - Store Inventory

Location: Otley, United Kingdom
Condition: New
Current Price: £73.50 GBP
Time Left: 7d 23h 22m 51s
Bids: 0
HORNBY R219 CALEDONIAN LIVERY 4 WHEEL COACH BOXED MAROON (3 AVAILABLE) - Store Inventory

Location: Plymouth, United Kingdom
Condition: Used
Current Price: £19.99 GBP
Time Left: 8d 4h 9m 20s
Bids: 0
Hornby. "The Last Single Wheeler" DCC. Fitted. Ex Caledonian Single 4-2-2. Pack. - Auction

Location: Ingatestone, United Kingdom
Condition: Used
Current Price: £95.00 GBP
Time Left: 8d 4h 28m 25s
Bids: 0
R057 Hornby Train Caledonian 0-4-0 Loco Saddle Tank - Store Inventory

Location: United Kingdom
Condition: New
Current Price: £49.99 GBP
Time Left: 8d 5h 1m 10s
Bids: 0
Hornby R3740 Class 92 Co-Co Caledonian Sleeper No: 92023 - Era 10 OO Gauge - Store Inventory

Location: Middlesbrough, United Kingdom
Condition: New
Current Price: £84.99 GBP
Time Left: 8d 6h 5m 36s
Bids: 0
Hornby R2683 LMS Black 4-2-2 Caledonian Single 14010 Limited Edition - Store Inventory

Location: Southampton, United Kingdom
Condition: Used
Current Price: £84.99 GBP
Time Left: 8d 8h 33m 56s
Bids: 0
HORNBY RAILWAYS MODEL No.R748 LMS " CALEDONIAN" COACH WITH "BLACK ROOF" MIB - Store Inventory

Location: Grange-Over-Sands, United Kingdom
Condition: Used
Current Price: £32.50 GBP
Time Left: 8d 9h 23m 39s
Bids: 0
HORNBY RAILWAYS MODEL No.R428 " CALEDONIAN" BRAKE COACH " CREAM ROOF" MIB - Store Inventory

Location: Grange-Over-Sands, United Kingdom
Condition: Used
Current Price: £45.00 GBP
Time Left: 8d 9h 23m 44s
Bids: 0
HORNBY RAILWAYS MODEL No.R428 " CALEDONIAN" BRAKE END COACH " CREAM ROOF" - Store Inventory

Location: Grange-Over-Sands, United Kingdom
Condition: Used
Current Price: £32.95 GBP
Time Left: 8d 9h 25m 8s
Bids: 0
HORNBY RAILWAYS MODEL No.R427 " CALEDONIAN" COMPOSITE COACH " CREAM ROOF" - Store Inventory

Location: Grange-Over-Sands, United Kingdom
Condition: Used
Current Price: £32.95 GBP
Time Left: 8d 9h 26m 46s
Bids: 0
TRI-ANG HORNBY MODELS No.R727 / R728 " CALEDONIAN" COACH SET "BLACK ROOF" MIB - Store Inventory

Location: Grange-Over-Sands, United Kingdom
Condition: Used
Current Price: £70.00 GBP
Time Left: 8d 9h 42m 54s
Bids: 0
Hornby Caledonian 0-4-0 Loco 640 (ex set R1174) not boxed - Store Inventory

Location: Poole, United Kingdom
Condition: Used
Current Price: £22.00 GBP
Time Left: 9d 0h 0m 55s
Bids: 0
00 gauge hornby tank Caledonian 0-4-0 - Fixed Price

Location: Irvine, United Kingdom
Condition: Used
Current Price: £35.00 GBP
Time Left: 9d 2h 42m 30s
Bids: 0
Triang Hornby R554 Blue Caledonian 4-2-2 loco tender only - oo gauge - Store Inventory

Location: London, United Kingdom
Condition: Used
Current Price: £16.99 GBP
Time Left: 9d 3h 6m 3s
Bids: 0
TRIANG HORNBY R747 R748 RAKE of 2 LMS CALEDONIAN COMPOSITE & BRAKE COACH nv - Store Inventory

Location: Warwick, United Kingdom
Condition: Used
Current Price: £39.50 GBP
Time Left: 9d 6h 5m 31s
Bids: 0
Caledonian Passenger Set on ebay US

Search For: 'hornby caledonian'
Ending Soonest
ITEM
DETAILS
Hornby R3623, LMS Caledonian Blue, Princess Coronation Class, 4-6-2, 6221 'Quee - Store Inventory

Location: Hong Kong
Condition: New
Current Price: $238.00 USD
Time Left: 5d 20h 37m 10s
Bids: 0
00 Scale - Hornby Caledonian Railway Mixed Freight Train Pack - New - Fixed Price

Location: Portland, OR, USA
Condition: New
Current Price: $140.00 USD
Time Left: 6d 13h 33m 30s
Bids: 0
LMS Caledonian Blue - Princess Coronation Class, 4-6-2, 6221 "Queen Elizabeth" - Fixed Price

Location: Decatur, GA, USA
Condition: New
Current Price: $300.00 USD
Time Left: 16d 0h 3m 51s
Bids: 0
Triang Hornby R747 LMS Maroon Caledonian Composite Coach 2643 - Store Inventory

Location: Temecula, CA, USA
Condition: Used
Current Price: $34.99 USD
Time Left: 17d 9h 3m 8s
Bids: 0
Hornby r2194 Wheel Coach Caledonian Livery Used - Fixed Price

Location: Crestview, FL, USA
Condition: Used
Current Price: $12.95 USD
Time Left: 18d 6h 47m 52s
Bids: 0
Triang Hornby OO CALEDONIAN "BLUE BELLE" Single Wheeler STEAM LOCOMOTIVE NMIB`68 - Store Inventory

Location: Netherlands
Condition: Used
Current Price: $249.99 USD
Time Left: 22d 22h 21m 15s
Bids: 0
Triang Hornby OO CALEDONIAN "BLUE BELLE" STEAM LOCOMOTIVE + Full COACH SET MB`68 - Store Inventory

Location: Netherlands
Condition: Used
Current Price: $389.89 USD
Time Left: 24d 3h 21m 20s
Bids: 0
Hornby OO "THE CALEDONIAN" STEAM LOCOMOTIVE & 3x COMPOSITE COACH Limited Ed. MIB - Store Inventory

Location: Netherlands
Condition: New
Current Price: $349.99 USD
Time Left: 26d 13h 34m 8s
Bids: 0
Hornby Dublo OO "THE CALEDONIAN" CITY OF LONDON STEAM LOCOMOTIVE + 4 COACHES Set - Store Inventory

Location: Netherlands
Condition: Used
Current Price: $299.99 USD
Time Left: 28d 12h 36m 18s
Bids: 0
Triang Hornby OO EX-CALEDONIAN LMS STEAM LOCOMOTIVE + 4 PASSENGER COACH SET MIB! - Store Inventory

Location: Netherlands
Condition: Used
Current Price: $334.99 USD
Time Left: 30d 7h 46m 21s
Bids: 0
Caledonian Passenger Set on ebay Australia

Search For: 'hornby caledonian'
Ending Soonest
ITEM
DETAILS
CALEDONIAN SLEEPER, CLASS 87, BO-BO - Fixed Price

Location: Sydney, NSW, Australia
Condition: New
Current Price: $274.99 AUD
Time Left: 0d 20h 48m 57s
Bids: 0
TRI-ANG HORNBY R748 Caledonian Brake Coach in LMS maroon - Auction

Location: Sunbury, VIC, Australia
Condition: Used
Current Price: $29.99 AUD
Time Left: 3d 21h 26m 58s
Bids: 0
TRI-ANG HORNBY R26 Caledonian Composite Coaches x 2 GWR livery (Boxed) as new - Auction

Location: Sunbury, VIC, Australia
Condition: Used
Current Price: $89.99 AUD
Time Left: 3d 21h 41m 21s
Bids: 0
Hornby OO R2610 Train Pack The Caledonian NEW - Store Inventory

Location: Melbourne, VIC, Australia
Condition: New
Current Price: $385.00 AUD
Time Left: 5d 12h 19m 47s
Bids: 0
HORNBY CALEDONIAN SLEEPER, CLASS 87, BO-BO, 87002 'ROYAL SOVEREIGN' - ERA 10 - 6 - Fixed Price

Location: Castle Hill, NSW, Australia
Condition: New
Current Price: $279.56 AUD
Time Left: 7d 14h 15m 8s
Bids: 0
Hornby OO Gauge Railways R427 Caledonian Composite Coach - Store Inventory

Location: Melbourne, VIC, Australia
Condition: Used
Current Price: $55.00 AUD
Time Left: 13d 13h 49m 57s
Bids: 0
Hornby OO R2683 Caledonian Single Class 4-2-2 14010 LMS Limited Edition NEW - Store Inventory

Location: Melbourne, VIC, Australia
Condition: New
Current Price: $150.00 AUD
Time Left: 16d 0h 20m 6s
Bids: 0
Hornby OO Caledonian Sleeper, Class 92, Co-Co, 92023 - Fixed Price

Location: Broadmeadow, NSW, Australia
Condition: New
Current Price: $169.99 AUD
Time Left: 17d 23h 16m 3s
Bids: 0
Hornby R3740 Caledonian Sleeper. Cl.92 - Fixed Price

Location: New Zealand
Condition: New
Current Price: $218.14 AUD
Time Left: 20d 15h 22m 37s
Bids: 0
Hornby Caledonian Sleeper Class 87 Bo-Bo 87002 Royal Sovereign - Era 10 - Fixed Price

Location: Booragoon, WA, Australia
Condition: New
Current Price: $279.99 AUD
Time Left: 24d 22h 6m 29s
Bids: 0
Triang Hornby OO Gauge Railways R553 Caledonian Railways 4-2-2 Locomotive Boxed - Store Inventory

Location: Melbourne, VIC, Australia
Condition: Used
Current Price: $275.00 AUD
Time Left: 28d 13h 46m 13s
Bids: 0
Hornby - Caledonian Sleeper - Class 87 Bo-Bo - 87002 Royal Sovereign - Fixed Price

Location: Underwood, QLD, Australia
Condition: New
Current Price: $289.00 AUD
Time Left: 29d 0h 17m 1s
Bids: 0