Train Set Year Details
1972 - Take-A-Ticket Train Set

Train Set:
Take-A-Ticket Train Set
(Overall Train Set page)
Category:
Train Sets

Model Information:
Electric ticket operated train set.
Sets Produced:
---
Year:
1972
Catalogue Number:
RS.616
Year Information:
The train obeys the commands of the semaphore signal on the end of the station platform. The signal arm is moved up and down by placing a railway ticket in the slots of the station roof. The electric current is cut off or restored to the track.
Publication:
Tri-ang Hornby Model Railways - Edition 18
Publication Type:
Catalogue
Publication Edition:
18th Edition

Logo & Box Design:


UK Price List:
£8.28
Aust Price List:
$28.95
Can Price List:
---
Model Ranking:
Current: 1281 -
February 2021
Previous: 676 -
January 2021
Movement:

(-605)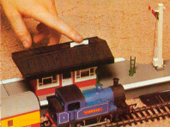 Train Set Year Details
(1)
Train Set Items
(2)
Train Set Photos & Notes
(0)
Take-A-Ticket Train Set on ebay UK

Search For: 'hornby ticket'
Ending Soonest
ITEM
DETAILS
*signed* A Long Way Down by Nick Hornby 1st/1st + flier and signed ticket - Fixed Price

Location: Derby, United Kingdom
Condition: Like New
Current Price: £19.99 GBP
Time Left: 1d 0h 20m 10s
Bids: 0
TRIANG R60 STATION PLATFORM TICKET OFFICE RAMSGATE EXIDE BOXED 1nw - Store Inventory

Location: Warwick, United Kingdom
Condition: Used
Current Price: £19.50 GBP
Time Left: 2d 4h 17m 49s
Bids: 0
TRIANG R60 STATION PLATFORM TICKET OFFICE RAMSGATE EXIDE BOXED 2nw - Store Inventory

Location: Warwick, United Kingdom
Condition: Used
Current Price: £18.50 GBP
Time Left: 2d 4h 17m 49s
Bids: 0
VINTAGE HORNBY SERIES PLATFORM TICKET MACHINE - Auction

Location: Bath, United Kingdom
Condition: Used
Current Price: £19.95 GBP
Time Left: 2d 6h 2m 57s
Bids: 0
HORNBY RAILWAYS TICKET TO RIDE OO GAUGE CATALOGUE 1981 + PRICE LIST & FLYER - Auction

Location: Weymouth, United Kingdom
Condition: Used
Current Price: £2.99 GBP
Time Left: 2d 7h 44m 44s
Bids: 0
Hornby Railways 'Ticket to ride' 1981 Catalogue Used Damaged Front Cover Detache - Auction

Location: Craigavon, United Kingdom
Condition: Used
Current Price: £2.50 GBP
Time Left: 2d 8h 56m 22s
Bids: 0
Hornby X5867 Trakmat (new & sealed), (BLUE TICKET 493) - Auction

Location: Spalding, United Kingdom
Condition: New
Current Price: £3.99 GBP
Time Left: 3d 0h 51m 55s
Bids: 0
Original Hornby O Gauge 2x Railway Platform Ticket Machines & 2x Luggage Trunks - Auction

Location: Towcester, United Kingdom
Condition: Used
Current Price: £40.00 GBP
Time Left: 3d 6h 28m 57s
Bids: 0
HORNBY OO GAUGE TICKET OFFICE IN EXCELLENT CONDITION - Store Inventory

Location: Coleford, United Kingdom
Condition: Used
Current Price: £14.99 GBP
Time Left: 3d 8h 4m 11s
Bids: 0
HORNBY OO - THOMAS THE TANK ENGINES - CLARABEL COACH R9031 - (BLUE TICKET 539) - Auction

Location: Spalding, United Kingdom
Condition: New
Current Price: £8.99 GBP
Time Left: 3d 23h 6m 18s
Bids: 0
MAINLINE RAILWAY TRACK - 4X RADIUS 2 CURVES (Same Hornby R607)(BLUE TICKET 453) - Auction

Location: Spalding, United Kingdom
Condition: Used
Current Price: £2.99 GBP
Time Left: 3d 23h 7m 8s
Bids: 0
Hornby Dublo - 3 Rail Left Hand Point - Vintage - OO Gauge - (BLUE TICKET 548) - Auction

Location: Spalding, United Kingdom
Condition: Used
Current Price: £3.99 GBP
Time Left: 3d 23h 11m 51s
Bids: 0
Hornby Dublo - 3 Rail RH Point - BOXED - Vintage - OO Gauge - (BLUE TICKET 549) - Auction

Location: Spalding, United Kingdom
Condition: Used
Current Price: £4.99 GBP
Time Left: 3d 23h 21m 52s
Bids: 0
TRIANG HORNBY R16 BR 20 TON SHORT BRAKE VAN - BROWN - (Blue Ticket 509) - Auction

Location: Spalding, United Kingdom
Condition: Used
Current Price: £1.99 GBP
Time Left: 3d 23h 21m 53s
Bids: 0
Hornby Trak Mat - X10352 - USED (BLUE TICKET 528) - Auction

Location: Spalding, United Kingdom
Condition: Used
Current Price: £2.99 GBP
Time Left: 3d 23h 27m 10s
Bids: 0
HORNBY MAGAZINE ISSUE 24 JUNE 2009 (BLUE TICKET 529) - Auction

Location: Spalding, United Kingdom
Condition: Used
Current Price: £2.99 GBP
Time Left: 3d 23h 31m 36s
Bids: 0
HORNBY - OO GAUGE - R771 - TRAKMAT - ON PRINTED PAPER - (BLUE TICKET 550) - Auction

Location: Spalding, United Kingdom
Condition: Used
Current Price: £1.99 GBP
Time Left: 3d 23h 31m 43s
Bids: 0
Hornby - Away Signal - 00 Gauge - (BLUE TICKET 544) - Auction

Location: Spalding, United Kingdom
Condition: Used
Current Price: £2.99 GBP
Time Left: 3d 23h 36m 57s
Bids: 0
Hornby - R602 - Track Power Connecting Clip - (BLUE TICKET 606) - Auction

Location: Spalding, United Kingdom
Condition: Used
Current Price: £1.00 GBP
Time Left: 3d 23h 41m 42s
Bids: 0
Hornby - Home & Away Signal - 00 Gauge - (BLUE TICKET 545) - Auction

Location: Spalding, United Kingdom
Condition: Used
Current Price: £3.99 GBP
Time Left: 3d 23h 46m 33s
Bids: 0
Hornby - R602 - Track Power Connecting Clip - (BLUE TICKET 607) - Auction

Location: Spalding, United Kingdom
Condition: Used
Current Price: £1.00 GBP
Time Left: 3d 23h 51m 17s
Bids: 0
VINTAGE TRIANG HORNBY TICKET OFFICE STATION BUILDING - Auction

Location: Leighton Buzzard, United Kingdom
Condition: Used
Current Price: £1.45 GBP
Time Left: 3d 23h 54m 4s
Bids: 0
O Gauge - Meccano Hornby Series - Rotary tipper wagon - (BLUE TICKET 467) - Auction

Location: Spalding, United Kingdom
Condition: Used
Current Price: £4.99 GBP
Time Left: 4d 0h 8m 19s
Bids: 0
Hornby - R605 Mixed WEATHERED - x4 - WEATHERED (BLUE TICKET 543) - Auction

Location: Spalding, United Kingdom
Condition: Used
Current Price: £1.89 GBP
Time Left: 4d 0h 8m 30s
Bids: 0
The Hornby Collector Magazine - issue 127 - Spring 2021 NEW - (BLUE TICKET 552) - Auction

Location: Spalding, United Kingdom
Condition: New
Current Price: £3.99 GBP
Time Left: 4d 0h 21m 42s
Bids: 0
Hornby - R605 Mixed WEATHERED - x4 - WEATHERED (BLUE TICKET 488) - Auction

Location: Spalding, United Kingdom
Condition: Used
Current Price: £0.99 GBP
Time Left: 4d 0h 27m 12s
Bids: 0
MAINLINE RAILWAY TRACK - 4X RADIUS 2 CURVES (Same Hornby R607)(BLUE TICKET 447) - Auction

Location: Spalding, United Kingdom
Condition: Used
Current Price: £3.99 GBP
Time Left: 4d 0h 28m 44s
Bids: 0
HORNBY TRACK MAT, PACK X5800 & ACCESSORIES (BLUE TICKET 642) - Auction

Location: Spalding, United Kingdom
Condition: Used
Current Price: £3.99 GBP
Time Left: 4d 0h 37m 52s
Bids: 0
HORNBY TRACK MAT - Paper - X13396 - (Blue Ticket 418) - Auction

Location: Spalding, United Kingdom
Condition: Used
Current Price: £3.99 GBP
Time Left: 4d 0h 38m 29s
Bids: 0
Hornby-Dublo C3 Controller. Untested, For spares or repair. - (BLUE TICKET 394) - Auction

Location: Spalding, United Kingdom
Condition: Used
Current Price: £5.99 GBP
Time Left: 4d 0h 42m 58s
Bids: 0
HORNBY OO GAUGE TICKET OFFICE - Auction

Location: Lincoln, United Kingdom
Condition: Used
Current Price: £2.49 GBP
Time Left: 4d 1h 5m 21s
Bids: 0
HORNBY DISNEY PIXAR TOY STORY 3 TRAIN TRACK PAPER MAT (Blue Ticket 587) - Auction

Location: Spalding, United Kingdom
Condition: Used
Current Price: £2.99 GBP
Time Left: 4d 1h 23m 52s
Bids: 0
HORNBY - THICK PAPER TRACK MAT (BLUE TICKET 526) - Auction

Location: Spalding, United Kingdom
Condition: Used
Current Price: £3.99 GBP
Time Left: 4d 1h 32m 48s
Bids: 0
Hornby R922 Intercity Mk2 Brake Coach M14052 - SPARES (1973-78)(BLUE TICKET 583) - Auction

Location: Spalding, United Kingdom
Condition: Used
Current Price: £1.79 GBP
Time Left: 4d 2h 12m 25s
Bids: 0
Hornby Dublo - Box ONLY - 2739 - 3 Straight Isolating Rails - (Blue Ticket 409) - Auction

Location: Spalding, United Kingdom
Condition: Used
Current Price: £0.99 GBP
Time Left: 4d 5h 19m 59s
Bids: 0
VINTAGE TRIANG HORNBY MODERN TICKET OFFICE STATION PLATFORM PLASTIC BUILDING OO - Auction

Location: Birmingham, United Kingdom
Condition: Used
Current Price: £0.99 GBP
Time Left: 4d 7h 41m 34s
Bids: 0
Hornby OO Gauge R473 Ticket Office, Platform Sections & Accessories - Auction

Location: Sheerness, United Kingdom
Condition: Used
Current Price: £12.00 GBP
Time Left: 4d 7h 57m 24s
Bids: 0
Hornby R582 Ticket Office & platform/ends boxed - Auction

Location: Brighton, United Kingdom
Condition: Used
Current Price: £12.99 GBP
Time Left: 4d 9h 20m 19s
Bids: 0
Hornby Triang Assorted Assessories Including Platform Ticket Office OO Gauge! - Auction

Location: Alness, United Kingdom
Condition: Used
Current Price: £9.99 GBP
Time Left: 4d 22h 12m 16s
Bids: 0
Hornby R620 - Nickel Silver - Railer/Uncoupler - (BLUE TICKET 553) - Auction

Location: Spalding, United Kingdom
Condition: Used
Current Price: £3.99 GBP
Time Left: 4d 23h 6m 37s
Bids: 0
HORNBY - R464 - PLATFORM END RAMPs x2 - OO GAUGE - (BLUE TICKET 533) - Auction

Location: Spalding, United Kingdom
Condition: Used
Current Price: £3.99 GBP
Time Left: 4d 23h 7m 4s
Bids: 0
HORNBY TRACKMAT - X10352 - OO GAUGE - (BLUE TICKET 535) - Auction

Location: Spalding, United Kingdom
Condition: Used
Current Price: £2.25 GBP
Time Left: 4d 23h 11m 14s
Bids: 0
Hornby - R613 - RIGHT HAND POINT - OO gauge - (BLUE TICKET 554) - Auction

Location: Spalding, United Kingdom
Condition: Used
Current Price: £1.99 GBP
Time Left: 4d 23h 11m 16s
Bids: 0
MAINLINE RAILWAY TRACK - 4X RADIUS 2 CURVES (Same Hornby R607)(BLUE TICKET 452) - Auction

Location: Spalding, United Kingdom
Condition: Used
Current Price: £2.99 GBP
Time Left: 4d 23h 12m 26s
Bids: 0
HORNBY R620 RAILER & UNCOUPLER STRAIGHT TRACK - OO GAUGE - (BLUE TICKET 537) - Auction

Location: Spalding, United Kingdom
Condition: Used
Current Price: £1.25 GBP
Time Left: 4d 23h 16m 53s
Bids: 0
HORNBY - R464 - PLATFORM END RAMPs x2 - OO GAUGE - (Blue Ticket 512) - Auction

Location: Spalding, United Kingdom
Condition: Used
Current Price: £3.99 GBP
Time Left: 4d 23h 16m 56s
Bids: 0
Hornby X5824 Trakmat & Instruction Pack - brand new, unopened (BLUE TICKET 476) - Auction

Location: Spalding, United Kingdom
Condition: New
Current Price: £3.99 GBP
Time Left: 4d 23h 22m 18s
Bids: 0
Hornby Track Mat - Plastic - OO Gauge - M4201 Model Railway - (Blue Ticket 314) - Auction

Location: Spalding, United Kingdom
Condition: Used
Current Price: £2.99 GBP
Time Left: 4d 23h 23m 33s
Bids: 0
HORNBY - R464 - PLATFORM END RAMP - OO GAUGE - (Blue Ticket 513) - Auction

Location: Spalding, United Kingdom
Condition: Used
Current Price: £1.99 GBP
Time Left: 4d 23h 26m 59s
Bids: 0
Hornby X5848 Trakmat & Instruction Pack - brand new, unused (BLUE TICKET 477) - Auction

Location: Spalding, United Kingdom
Condition: New
Current Price: £3.99 GBP
Time Left: 4d 23h 27m 28s
Bids: 0
HORNBY TRACKMAT - X10352 - OO GAUGE - (BLUE TICKET 534) - Auction

Location: Spalding, United Kingdom
Condition: Used
Current Price: £2.99 GBP
Time Left: 4d 23h 52m 24s
Bids: 0
Hornby Dublo - BOX ONLY - 2703 - 6 Straight Rails -One Third - (Blue Ticket 413) - Auction

Location: Spalding, United Kingdom
Condition: Used
Current Price: £0.99 GBP
Time Left: 5d 1h 4m 35s
Bids: 0
Hornby Dublo - BOX ONLY - 2738 - 3x Straight Isolating Rail - (Blue Ticket 602) - Auction

Location: Spalding, United Kingdom
Condition: Used
Current Price: £0.99 GBP
Time Left: 5d 1h 16m 48s
Bids: 0
Hornby Dublo - BOX ONLY - 270 - Straight 1/3 Terminal Rail - (Blue Ticket 601) - Auction

Location: Spalding, United Kingdom
Condition: Used
Current Price: £0.99 GBP
Time Left: 5d 1h 18m 52s
Bids: 0
Hornby Dublo - BOX ONLY - 2702 - 6 x Straight 2/3rds Rails - (Blue Ticket 603) - Auction

Location: Spalding, United Kingdom
Condition: Used
Current Price: £0.99 GBP
Time Left: 5d 1h 33m 19s
Bids: 0
Hornby Dublo - BOX ONLY - 2720 - Curved Terminal Rail L RAD - (Blue Ticket 603) - Auction

Location: Spalding, United Kingdom
Condition: Used
Current Price: £0.99 GBP
Time Left: 5d 1h 33m 28s
Bids: 0
Hornby Dublo - BOX ONLY - 2714 - Curved Terminal Rail - (Blue Ticket 595) - Auction

Location: Spalding, United Kingdom
Condition: Used
Current Price: £0.99 GBP
Time Left: 5d 1h 45m 1s
Bids: 0
Hornby ticket to ride 1981 catalogue - Auction

Location: Huddersfield, United Kingdom
Condition: Used
Current Price: £2.30 GBP
Time Left: 5d 2h 56m 54s
Bids: 0
NEW - OO GAUGE - HORNBY TRACKMAT & INSTRUCTION PACK- X10352 - (Blue Ticket 500) - Auction

Location: Spalding, United Kingdom
Condition: New
Current Price: £3.99 GBP
Time Left: 5d 4h 4m 49s
Bids: 0
Hornby R582 Ticket Office - Auction

Location: Dudley, United Kingdom
Condition: Used
Current Price: £19.99 GBP
Time Left: 5d 7h 25m 2s
Bids: 0
HORNBY DUBLO 4-6-0 "CARDIFF CASTLE" 2221 Insts.G'tee,Test Tag, Exc.+ Boxed - Auction

Location: Hull, United Kingdom
Condition: Used
Current Price: £50.00 GBP
Time Left: 5d 7h 25m 10s
Bids: 1
VINTAGE Hornby 0 gauge Metal (Tin) Ticket Office Rare Item - Auction

Location: Andover, United Kingdom
Condition: Used
Current Price: £4.99 GBP
Time Left: 5d 7h 41m 27s
Bids: 0
Hornby Visitors Centre Tickets Bundle Joblot For Art Project Scalextric Trains - Auction

Location: Bristol, United Kingdom
Condition: Used
Current Price: £2.49 GBP
Time Left: 5d 8h 12m 27s
Bids: 0
Hornby R473 Model Railway Ticket Office OO Gauge - Auction

Location: Roslin, United Kingdom
Condition: Used
Current Price: £0.99 GBP
Time Left: 5d 8h 43m 24s
Bids: 0
OO JOB LOT HORNBY 2X SIGNAL BOXES WAITING ROOM TICKET OFFICE BUILDING - Fixed Price

Location: Stafford, United Kingdom
Condition: Used
Current Price: £32.99 GBP
Time Left: 5d 22h 44m 37s
Bids: 0
HORNBY RAILWAYS TICKET TO RIDE 00 GUAGE CATALOGUE 1981 - Auction

Location: Chester le Street, United Kingdom
Condition: Used
Current Price: £6.99 GBP
Time Left: 6d 6h 9m 2s
Bids: 0
HORNBY TINPLATE PLATFORM TICKETS MACHINE 1930's RAILWAY ACCESSORY - Auction

Location: Leatherhead, United Kingdom
Condition: Used
Current Price: £10.00 GBP
Time Left: 6d 7h 3m 27s
Bids: 0
Lyddle End Ticket Office 8720 and Platform Shelter 8088 - Auction

Location: Royston, United Kingdom
Condition: New
Current Price: £7.60 GBP
Time Left: 6d 7h 9m 19s
Bids: 1
HORNBY "0" GAUGE TINPLATE MODEL ( PART OF GIFT SET) "PLATFORM TICKET MACHINE" - Store Inventory

Location: Grange-Over-Sands, United Kingdom
Condition: Used
Current Price: £35.00 GBP
Time Left: 6d 7h 52m 36s
Bids: 0
RARE FRENCH HORNBY "0" GAUGE TINPLATE "PLATFORM TICKET MACHINE" - Store Inventory

Location: Grange-Over-Sands, United Kingdom
Condition: Used
Current Price: £60.00 GBP
Time Left: 6d 7h 53m 11s
Bids: 0
MECCANO HORNBY DINKY "PART SET" OF MODEL No.GS4 TICKET MACHINE BROWN "RARE" - Store Inventory

Location: Grange-Over-Sands, United Kingdom
Condition: Used
Current Price: £70.00 GBP
Time Left: 6d 7h 57m 40s
Bids: 0
Hornby Station Ticket Office - Auction

Location: Canterbury, United Kingdom
Condition: Used
Current Price: £4.95 GBP
Time Left: 6d 22h 56m 18s
Bids: 0
HORNBY TICKET OFFICE AND PLATFORM SET IN V.G.C.CLEAN - Store Inventory

Location: Coleford, United Kingdom
Condition: Used
Current Price: £19.99 GBP
Time Left: 7d 10h 53m 28s
Bids: 0
HORNBY R460 R464 STATION PLATFORM TICKET OFFICE END RAMPS & SIGNAL BOX 3ny - Store Inventory

Location: Warwick, United Kingdom
Condition: Used
Current Price: £49.50 GBP
Time Left: 8d 5h 30m 50s
Bids: 0
Ticket Machines v2 for Hornby Bachmann Model Railway Station - OO HO 1:76 1:87 - Fixed Price

Location: Gillingham, United Kingdom
Condition: New
Current Price: £5.99 GBP
Time Left: 8d 6h 22m 3s
Bids: 0
GENUINE HORNBY DUBLO WRENN CHOKE WITH WIRE AND CARBON BRUSH TAG - Fixed Price

Location: Wigan, United Kingdom
Condition: New
Current Price: £8.00 GBP
Time Left: 9d 3h 25m 9s
Bids: 0
Vintage Hornby Duplo Miscellaneous Train Items -Catalogue/Trak-Mat/Tickets/Other - Auction

Location: Bristol, United Kingdom
Condition: Used
Current Price: £3.25 GBP
Time Left: 9d 6h 40m 52s
Bids: 0
Hornby station with ticket office building and platform with ramps - Fixed Price

Location: Twickenham, United Kingdom
Condition: Used
Current Price: £20.00 GBP
Time Left: 10d 8h 6m 39s
Bids: 0
HORNBY HOBBIES SKALEDALE 2005 - TICKET OFFICE- VGC - Fixed Price

Location: Darwen, United Kingdom
Condition: Used
Current Price: £30.00 GBP
Time Left: 10d 8h 57m 47s
Bids: 0
Hornby Series Penny name Label printing and Platform Ticket machine O gauge - Store Inventory

Location: Lytham St. Annes, United Kingdom
Condition: Used
Current Price: £39.97 GBP
Time Left: 11d 1h 38m 45s
Bids: 0
Hornby/Meccano Locomotive Tested Tag Pre-War with Tested Slip. Very Rare - Fixed Price

Location: Ferndown, United Kingdom
Condition: Used
Current Price: £39.95 GBP
Time Left: 11d 2h 22m 31s
Bids: 0
OO Gauge Ticket Machines - Model Railway - Suits Hornby - OO Scale (2 Pack) - Fixed Price

Location: Gillingham, United Kingdom
Condition: New
Current Price: £5.99 GBP
Time Left: 11d 6h 53m 45s
Bids: 0
Hornby R501 PLATFORM and TICKET OFFICE - Fixed Price

Location: Sale, United Kingdom
Condition: Used
Current Price: £16.50 GBP
Time Left: 11d 7h 49m 41s
Bids: 0
Ticket Machines for Hornby Model Railway Station - OO Gauge / HO Scale 2 Pack - Fixed Price

Location: Gillingham, United Kingdom
Condition: New
Current Price: £5.99 GBP
Time Left: 12d 1h 20m 34s
Bids: 0
HORNBY "TICKET TO RIDE" RAILWAY CATALOGUE & PRICE LIST 1981 IN V.G.C. - Store Inventory

Location: Coleford, United Kingdom
Condition: Used
Current Price: £7.99 GBP
Time Left: 12d 1h 32m 53s
Bids: 0
Pay & Display Ticket Vending Machine for Hornby Model Railway Station Car Park - Fixed Price

Location: Gillingham, United Kingdom
Condition: New
Current Price: £3.99 GBP
Time Left: 13d 1h 43m 54s
Bids: 0
Pay & Display Ticket Machine / Parking Meter suits Hornby Model Railway OO Gauge - Fixed Price

Location: Gillingham, United Kingdom
Condition: New
Current Price: £3.99 GBP
Time Left: 13d 1h 59m 31s
Bids: 0
MERIT TICKET BOX & COLLECTOR FOR HORNBY TRIANG RAILWAYS OO GAUGE - Fixed Price

Location: Stoke-on-Trent, United Kingdom
Condition: Used
Current Price: £6.99 GBP
Time Left: 13d 5h 42m 58s
Bids: 0
2x Hornby Railway Scalextric Airfix Corgi - Visitor Centre Ticket - Margate Kent - Fixed Price

Location: Sidcup, United Kingdom
Condition: Used
Current Price: £0.99 GBP
Time Left: 13d 21h 25m 5s
Bids: 0
Hornby OO Gauge Station Waiting Room Ticket Office Canopy & Figures R472 - Fixed Price

Location: Corby, United Kingdom
Condition: Used
Current Price: £17.95 GBP
Time Left: 14d 6h 45m 30s
Bids: 0
Hornby OO Gauge Station Platform Waiting Room Ticket Office Single Canopy R472 - Fixed Price

Location: Corby, United Kingdom
Condition: Used
Current Price: £14.95 GBP
Time Left: 14d 6h 52m 14s
Bids: 0
Hornby OO Gauge York Station Waiting Room Ticket Office Single Canopy R472 - Fixed Price

Location: Corby, United Kingdom
Condition: Used
Current Price: £14.95 GBP
Time Left: 14d 6h 53m 56s
Bids: 0
Hornby OO Gauge Station Platform Waiting Room Ticket Office Single Canopy R472 - Fixed Price

Location: Corby, United Kingdom
Condition: Used
Current Price: £14.95 GBP
Time Left: 14d 6h 54m 42s
Bids: 0
Hornby OO Gauge Station Platform Waiting Room Ticket Office Single Canopy R472 - Fixed Price

Location: Corby, United Kingdom
Condition: Used
Current Price: £13.95 GBP
Time Left: 14d 6h 55m 22s
Bids: 0
S5228 HORNBY TRIANGPACK 10 8BA TAG WASHER T13B - Fixed Price

Location: Bristol, United Kingdom
Condition: New
Current Price: £1.50 GBP
Time Left: 15d 1h 14m 49s
Bids: 0
OO Gauge Hornby Accessories Police Box Phone Box Enquires Box Ticket Machine AA - Fixed Price

Location: Preston, United Kingdom
Condition: Used
Current Price: £75.00 GBP
Time Left: 15d 3h 34m 41s
Bids: 0
TRIANG HORNBY R585 R460 R464 STATION PLATFORM CANOPY TICKET OFFICE END RAMPS 2ny - Store Inventory

Location: Warwick, United Kingdom
Condition: Used
Current Price: £74.50 GBP
Time Left: 15d 5h 49m 22s
Bids: 0
TRIANG HORNBY R585 R460 R464 STATION PLATFORM CANOPY TICKET OFFICE END RAMPS 1ny - Store Inventory

Location: Warwick, United Kingdom
Condition: Used
Current Price: £59.50 GBP
Time Left: 15d 5h 49m 23s
Bids: 0
Take-A-Ticket Train Set on ebay US

Search For: 'hornby ticket'
Ending Soonest
Take-A-Ticket Train Set on ebay Australia

Search For: 'hornby ticket'
Ending Soonest