Model Year Details
1982 - Class 25 (Type 2) Bo-Bo Locomotive

D7571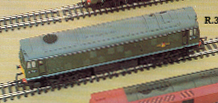 Model:
Class 25 (Type 2) Bo-Bo Locomotive
(Overall Model page)
Running Number:
D7571
Category:
Diesel Electric Locomotives

Locomotive Class:
Class 25 (Type 2)

Designer:
British Railways
Class Information:
An elaboration of the earlier Class 24 design also built with Sulzer power plants, the Class 25 saw minor appearance differences with both modest speed and horsepower increases. Numerous Class 25 locomotives primarily saw service on the Midland and Scottish Regions of British Railways. They also saw service on the Western Region as interim replacements for the Class 35 Hymek locomotives upon withdrawal in 1972.
More...
Weight:
72 tons
Purpose:
Light Passenger & Freight
Wheel Arrangement:
BO-BO

Model Information:
---
Models Produced:
* 4,700
* Information from
Triang & Hornby, The Story of Rovex, Volumes 1, 2 and 3 - Pat Hammond
Company:
B.R. -
British Railways
Logo:
B.R. Late Crest
Logo Years:
1956 - 1967

Livery:
B.R. Green

Livery Details:
Brunswick green with orange and black lining with yellow lettering.
Company Information:
British Railways came into existence in 1948 when the dominating four British railway companies amalgamated. Steam traction on British Railways ended in 1968 and the system was re-branded as British Rail.
Year:
1982
Catalogue Number:
R.327
Year Information:
The headcode board on this model lights up in the direction of travel.
Model Motor:
Ringfield
Publication:
Hornby Railways 28th Edition 1982 Catalogue OO Scale
Publication Type:
Catalogue
Publication Edition:
28th Edition

Logo & Box Design:


UK Price List:
£16.95
Aust Price List:
---
Can Price List:
---
Model Ranking:
Current: 845 -
February 2021
Previous: 508 -
January 2021
Movement:

(-337)
Model Year Details
(4)
Related Service Sheets
(7)
| NO | SERVICE SHEET NAME | ISSUE DATE |
| --- | --- | --- |
| 106 | 4 Wheel Powered Bogies | June 1978 |
| 106 (Back) | 4 Wheel Powered Bogies - Back | June 1978 |
| 107 | Diesel Loco Class 25 - R.068, R.072 | June 1978 |
| 107 (Back) | Diesel Loco Class 25 - R.068, R.072 - Back | June 1978 |
| HR1982 | Locomotive Operation And Maintenance 1982 (Front) | 1982 |
| HR1982 (Back) | Locomotive Operation And Maintenance 1982 (Back) | 1982 |
| HR1982 T5&6 | Locomotive Operation And Maintenance 1982 (Type 5 & 6) | 1982 |
Model Photos & Notes
(0)
Class 25 (Type 2) Bo-Bo Locomotive on ebay UK

Search For: 'hornby 25'
Ending Soonest
ITEM
DETAILS
WWS 4mm Light Green Flock Static Grass Hornby Peco Railway Scenery - Store Inventory

Location: Ammanford, United Kingdom
Condition: New
Current Price: £3.20 GBP
Time Left: 0d 5h 35m 7s
Bids: 0
WWS 4mm Dark Green Flock Static Grass Hornby Peco Railway Scenery - Store Inventory

Location: Ammanford, United Kingdom
Condition: New
Current Price: £3.20 GBP
Time Left: 0d 5h 37m 19s
Bids: 0
WWS 4mm Brown Flock Static Grass Hornby Peco Railway Scenery - Store Inventory

Location: Ammanford, United Kingdom
Condition: New
Current Price: £3.20 GBP
Time Left: 0d 5h 41m 54s
Bids: 0
Hornby or alike Locomotive / coach Bogies Mixed lot 25 items - Fixed Price

Location: United Kingdom
Condition: Used
Current Price: £75.00 GBP
Time Left: 0d 6h 8m 52s
Bids: 0
S9668/3 # hornby triang spares class 25 domino headcodes H7C - Store Inventory

Location: Bristol, United Kingdom
Condition: New
Current Price: £1.50 GBP
Time Left: 0d 6h 13m 43s
Bids: 0
WWS 4mm Wild Meadow Flock Static Grass Hornby Peco Railway Scenery - Store Inventory

Location: Ammanford, United Kingdom
Condition: New
Current Price: £4.49 GBP
Time Left: 0d 6h 17m 13s
Bids: 0
Model Railway Peco or Hornby Point Motor etc Wire 1 x 25m Roll 7/0.2mm 1.4A Blue - Store Inventory

Location: Halifax, United Kingdom
Condition: New
Current Price: £5.22 GBP
Time Left: 0d 7h 27m 55s
Bids: 0
Model Railway Peco or Hornby Point Motor etc Wire 1 x 25m Roll 7/0.2mm 1.4A Grey - Store Inventory

Location: Halifax, United Kingdom
Condition: New
Current Price: £5.22 GBP
Time Left: 0d 7h 49m 3s
Bids: 0
Hornby 00 scale model railways catalogue 25th Edition 1979 - Store Inventory

Location: Colne, United Kingdom
Condition: Used
Current Price: £3.90 GBP
Time Left: 0d 7h 50m 21s
Bids: 0
Model Railway Peco or Hornby Point Motor etc Wire 1 x25m Roll 7/0.2mm 1.4A Brown - Store Inventory

Location: Halifax, United Kingdom
Condition: New
Current Price: £5.22 GBP
Time Left: 0d 8h 23m 15s
Bids: 0
Model Railway Peco or Hornby Point Motor etc Wire 1 x 25m Roll 7/0.2mm 1.4A Pink - Store Inventory

Location: Halifax, United Kingdom
Condition: New
Current Price: £6.36 GBP
Time Left: 0d 8h 50m 46s
Bids: 0
Hornby Railways Catalogue 25th Edition '00' Scale 1979 - Auction

Location: Basildon, United Kingdom
Condition: Good
Current Price: £1.10 GBP
Time Left: 0d 9h 30m 48s
Bids: 0
Model Railway Peco or Hornby Point Motor etc Wire 1x25m Roll 7/0.2mm 1.4A Purple - Store Inventory

Location: Halifax, United Kingdom
Condition: New
Current Price: £5.27 GBP
Time Left: 0d 9h 34m 36s
Bids: 0
Model Railway Peco or Hornby Point Motor etc Wire 1x 25m Roll 7/0.2mm 1.4A Black - Store Inventory

Location: Halifax, United Kingdom
Condition: New
Current Price: £5.22 GBP
Time Left: 0d 10h 6m 49s
Bids: 0
Model Railway Peco or Hornby Point Motor etc Wire 1x 25m Roll 7/0.2mm 1.4A Green - Store Inventory

Location: Halifax, United Kingdom
Condition: New
Current Price: £4.94 GBP
Time Left: 0d 10h 19m 54s
Bids: 0
HORNBY RAILWAYS CATALOGUE 25th Edition (1979) 00/HO Model Railways - Auction

Location: Newcastle upon Tyne, United Kingdom
Condition: Used
Current Price: £7.99 GBP
Time Left: 0d 10h 47m 31s
Bids: 0
oo gauge Hornby - Engineering Dept. 25T Hopper Wagon - Fixed Load - unboxed - Store Inventory

Location: Great Yarmouth, United Kingdom
Condition: Used
Current Price: £14.95 GBP
Time Left: 0d 11h 1m 33s
Bids: 0
oo gauge Hornby - 25T Hopper Wagon - Engineering Department - good unboxed - Store Inventory

Location: Great Yarmouth, United Kingdom
Condition: Used
Current Price: £16.95 GBP
Time Left: 0d 11h 33m 57s
Bids: 0
25 ASSORTED TRIANG HORNBY MERIT OO GAUGE GRADIENT & MILEAGE NOTICE SIGNS etc - Auction

Location: Sawbridgeworth, United Kingdom
Condition: Used
Current Price: £5.00 GBP
Time Left: 0d 12h 2m 41s
Bids: 0
Hornby Railways 1975 - 25th Year Anniversary Edition - Excellent Condition - Auction

Location: Burgess Hill, United Kingdom
Condition: Used
Current Price: £5.00 GBP
Time Left: 0d 12h 11m 37s
Bids: 0
Hornby/airfix 25 Ton Lowmac With Crate Load V.G.C. (boxed) - Auction

Location: Jarrow, United Kingdom
Condition: Used
Current Price: £12.99 GBP
Time Left: 0d 12h 59m 29s
Bids: 0
00 Gauge Hornby Class 25 Diesel Locomotive (R.327) in BR Green Livery  - Auction

Location: Edinburgh, United Kingdom
Condition: Used
Current Price: £32.00 GBP
Time Left: 0d 13h 33m 59s
Bids: 11
Hornby class 25. Weathered B.R green livery. 25 043 - Auction

Location: Sheffield, United Kingdom
Condition: Used
Current Price: £34.50 GBP
Time Left: 0d 14h 8m 29s
Bids: 0
Hornby Railways 1979 Catalogue Used Damaged 25th Edition - Auction

Location: Craigavon, United Kingdom
Condition: Used
Current Price: £2.50 GBP
Time Left: 0d 16h 0m 52s
Bids: 0
HORNBY CLASS 25 GREEN LOCO BODY ONLY - No.2 - Store Inventory

Location: Winsford, United Kingdom
Condition: Used
Current Price: £29.75 GBP
Time Left: 0d 17h 12m 6s
Bids: 0
OO gauge - Catalogue - Hornby Railways - 25th edition - Auction

Location: Herne Bay, United Kingdom
Condition: Used
Current Price: £2.45 GBP
Time Left: 1d 2h 25m 4s
Bids: 0
Hornby Railways '00' Catalogue - 25th Edition 1979 - 64 pages - Auction

Location: Harrow, United Kingdom
Condition: Used
Current Price: £3.50 GBP
Time Left: 1d 3h 48m 31s
Bids: 0
1979 Hornby Railways '00' Scale Model Catalogue 25th Edition - Store Inventory

Location: Bristol, United Kingdom
Condition: Used
Current Price: £3.00 GBP
Time Left: 1d 4h 15m 51s
Bids: 0
HORNBY NON POWERED R072 CLASS 25 BR GREEN SULZER DIESEL DUMMY SPOT HEADCODES - Store Inventory

Location: Southampton, United Kingdom
Condition: Used
Current Price: £35.40 GBP
Time Left: 1d 7h 43m 55s
Bids: 0
HORNBY R072 CLASS 25 BR GREEN SULZER DIESEL D7596 BODY BLANK HEADCODES - Store Inventory

Location: Southampton, United Kingdom
Condition: Used
Current Price: £21.40 GBP
Time Left: 1d 7h 48m 27s
Bids: 0
HORNBY X2 NEW BULBS FOR DIESEL CLASS 25 TRAIN LIGHT UP HEAD NUMBERS BULBS - Store Inventory

Location: Bristol, United Kingdom
Condition: New
Current Price: £2.49 GBP
Time Left: 1d 8h 16m 56s
Bids: 0
Hornby 1979 Catalogue (25th Ed) with writing on the from cover plus price list - Store Inventory

Location: Bexley, United Kingdom
Condition: Used
Current Price: £5.99 GBP
Time Left: 1d 8h 19m 22s
Bids: 0
Hornby 1979 Catalogue (25th Ed) with price list - Store Inventory

Location: Bexley, United Kingdom
Condition: Used
Current Price: £6.99 GBP
Time Left: 1d 8h 25m 38s
Bids: 0
Hornby Dublo in Railway Art 5 Prints 22, 25, 27, 28 & 29. Signed and Limited. - Fixed Price

Location: Nuneaton, United Kingdom
Condition:
Current Price: £75.00 GBP
Time Left: 1d 8h 36m 38s
Bids: 0
Hornby Dublo in Railway Art 3 Prints Ref 25,27 & 29. Signed and Limited Numbers - Fixed Price

Location: Nuneaton, United Kingdom
Condition: New
Current Price: £45.00 GBP
Time Left: 1d 8h 40m 56s
Bids: 0
Hornby R280 Catalogue (1979) 25th Edition - loose page and price list - Store Inventory

Location: Bexley, United Kingdom
Condition: Used
Current Price: £5.99 GBP
Time Left: 1d 10h 11m 48s
Bids: 0
Hornby 1979 25th edition catalogue used read more - Auction

Location: Brighton, United Kingdom
Condition: New
Current Price: £4.90 GBP
Time Left: 1d 10h 36m 3s
Bids: 0
HORNBY CATALOGUE 25TH EDITION 1979 - Fixed Price

Location: Bedford, United Kingdom
Condition: Used
Current Price: £5.99 GBP
Time Left: 1d 13h 16m 31s
Bids: 0
Hornby R072 Diesel Locomotive OO BR Class 25 D7596 Directional Lit Number header - Auction

Location: Hitchin, United Kingdom
Condition: Used
Current Price: £39.00 GBP
Time Left: 1d 14h 3m 37s
Bids: 0
The Hornby book of trains 25 year edition prototypes and models  - Auction

Location: Braintree, United Kingdom
Condition: Used
Current Price: £3.00 GBP
Time Left: 1d 16h 26m 0s
Bids: 0
Hornby Model Railway Catalogue 1979 25th edition with price list - Store Inventory

Location: Leigh-on-Sea, United Kingdom
Condition: Used
Current Price: £9.99 GBP
Time Left: 2d 0h 58m 6s
Bids: 0
OO Gauge Hornby Class 25. 25247 BR Blue. - Auction

Location: Ilminster, United Kingdom
Condition: Used
Current Price: £21.00 GBP
Time Left: 2d 3h 42m 53s
Bids: 5
Hornby Railways "00" catalogue, 1979, 25th anniversary edition - Auction

Location: Shipley, United Kingdom
Condition: Used
Current Price: £5.50 GBP
Time Left: 2d 7h 29m 19s
Bids: 0
Hornby Detailed Class 25 In BR Green Livery - Auction

Location: Royston, United Kingdom
Condition: Used
Current Price: £24.99 GBP
Time Left: 2d 8h 58m 7s
Bids: 0
HORNBY RAILWAYS 00 GAUGE MODEL CATALOGUE 1979 / 25TH EDITION - Auction

Location: Hartlepool, United Kingdom
Condition: Used
Current Price: £4.95 GBP
Time Left: 2d 9h 36m 10s
Bids: 0
Hornby Railways OO Gauge Catalogue 25th Edition, 1979 - Store Inventory

Location: Reading, United Kingdom
Condition: Used
Current Price: £2.75 GBP
Time Left: 2d 10h 30m 28s
Bids: 0
Hornby Catalogues Nos. 24 - 1978// 25 - 1979// 30 - 1984. - Auction

Location: Morpeth, United Kingdom
Condition: Used
Current Price: £7.50 GBP
Time Left: 2d 10h 31m 50s
Bids: 0
Genuine Hornby Spare Part X 1087 Wire Lead Assembly Class 25 R 068 R 072 - Fixed Price

Location: Wigan, United Kingdom
Condition: New
Current Price: £5.00 GBP
Time Left: 2d 11h 36m 58s
Bids: 0
Hornby 00 Gauge BR Class 25 Disesel Locomotive - Boxed - Auction

Location: Barnstaple, United Kingdom
Condition: Used
Current Price: £38.00 GBP
Time Left: 2d 11h 39m 11s
Bids: 0
Hornby Tri-ang 00 gauge wagons - choose your item(s) - Fixed Price

Location: Bedford, United Kingdom
Condition: Used
Current Price: £10.00 GBP
Time Left: 2d 12h 29m 47s
Bids: 0
Scalextric Hornby Subaru Impreza Car No25 Rally Wales The Sun Tested Working - Auction

Location: Studley, United Kingdom
Condition: Used
Current Price: £20.00 GBP
Time Left: 2d 12h 34m 16s
Bids: 6
HORNBY X8440 S2290 11 TEETH 3 POLE RINGFIELD SPUR GEAR TRAIN CLASS 25 29 31 35 - Store Inventory

Location: Bristol, United Kingdom
Condition: New
Current Price: £1.99 GBP
Time Left: 2d 12h 57m 14s
Bids: 0
10 HORNBY X8440 S2290 11 TEETH 3 POLE RINGFIELD SPUR GEAR TRAIN CLASS 25 29 31 - Store Inventory

Location: Bristol, United Kingdom
Condition: New
Current Price: £16.99 GBP
Time Left: 2d 13h 5m 7s
Bids: 0
Oxford Diecast 1:76 Cars and Vans - Your Choice (Suits Hornby Model Trains) - Store Inventory

Location: Ashton-under-Lyne, United Kingdom
Condition: Used
Current Price: £7.99 GBP
Time Left: 2d 15h 9m 34s
Bids: 0
Oxford Diecast 1:76 Cars and Vans - Your Choice (Suits Hornby Model Trains) - Store Inventory

Location: Ashton-under-Lyne, United Kingdom
Condition: Used
Current Price: £7.99 GBP
Time Left: 2d 15h 9m 34s
Bids: 0
Oxford Diecast 1:76 Cars and Vans - Your Choice (Suits Hornby Model Trains) - Store Inventory

Location: Ashton-under-Lyne, United Kingdom
Condition: Used
Current Price: £7.99 GBP
Time Left: 2d 15h 9m 34s
Bids: 0
Hornby Railways "OO" Catalogue 1979 25th Edition (S25) - Auction

Location: Halesowen, United Kingdom
Condition: Used
Current Price: £1.99 GBP
Time Left: 2d 15h 16m 8s
Bids: 0
Hornby Railways '00' Catalogue 1979 - 25th edition. - Fixed Price

Location: Newton Abbot, United Kingdom
Condition: Used
Current Price: £3.00 GBP
Time Left: 2d 15h 39m 26s
Bids: 0
R877 Hornby OO 4mm BR Class 25 Diesel Bodyshell Unused - Auction

Location: United Kingdom
Condition: New
Current Price: £12.99 GBP
Time Left: 2d 15h 47m 52s
Bids: 0
Hornby OO Gauge Class 25 BR Green "D7571" Diesel Locomotive - Auction

Location: Spalding, United Kingdom
Condition: Used
Current Price: £14.25 GBP
Time Left: 2d 16h 3m 25s
Bids: 3
Hornby Railways Catalogue 25th Edition - Fixed Price

Location: Andover, United Kingdom
Condition: Used
Current Price: £4.50 GBP
Time Left: 3d 2h 21m 46s
Bids: 0
3 X MODEL RAILWAY HORNBY CATALOGUE 79 25th Ed TRACK PLANS 76 CONSTRUCTOR MAG 79 - Auction

Location: Tonbridge, United Kingdom
Condition: Used
Current Price: £4.99 GBP
Time Left: 3d 6h 22m 29s
Bids: 0
HORNBY JINTY 3F 0-6-0 BR BRb BLK RELINED RENUMBERED 47521 START £25.00 - Auction

Location: Gloucester, United Kingdom
Condition: Used
Current Price: £25.00 GBP
Time Left: 3d 7h 41m 10s
Bids: 0
HORNBY JINTY 3F 0-6-0 RELINED RENUMBERED BR BRb BLK No47261 START £25.00 - Auction

Location: Gloucester, United Kingdom
Condition: Used
Current Price: £25.00 GBP
Time Left: 3d 7h 47m 6s
Bids: 0
Hornby Magazine Issue 25 July 2009 - Auction

Location: Droitwich, United Kingdom
Condition: Used
Current Price: £4.90 GBP
Time Left: 3d 7h 52m 46s
Bids: 0
1979 Hornby Railways R280 OO MODEL RAILWAY CATALOGUE 25th Edition no price list - Auction

Location: St. Neots, United Kingdom
Condition: Used
Current Price: £1.75 GBP
Time Left: 3d 10h 9m 24s
Bids: 0
OO Gauge Hornby R087 4 plank wagon 'H.Hotson' Elmbridge 25 boxed - Store Inventory

Location: Warrington, United Kingdom
Condition: Used
Current Price: £19.50 GBP
Time Left: 3d 10h 40m 8s
Bids: 0
Hornby Dublo 3 Rail LT25 48158 8F 2-8-0 Loco & Tender VG Serviced. - Fixed Price

Location: Orpington, United Kingdom
Condition: Used
Current Price: £99.95 GBP
Time Left: 3d 10h 52m 42s
Bids: 0
Hornby , Bachman nickel silver /steel oo gauge track x 25 - Auction

Location: York, United Kingdom
Condition: Used
Current Price: £1.99 GBP
Time Left: 3d 11h 16m 44s
Bids: 0
HORNBY TRIANG X1082 DIRECTIONAL LIGHT DIODE HST 125 CLASS 25 31 43 47 TRAINS ECT - Store Inventory

Location: Bristol, United Kingdom
Condition: New
Current Price: £1.99 GBP
Time Left: 3d 11h 25m 59s
Bids: 0
Hornby R072 Class 25 Diesel D7596 BR Green. Boxed - Auction

Location: Middlesbrough, United Kingdom
Condition: Used
Current Price: £33.00 GBP
Time Left: 3d 12h 5m 50s
Bids: 0
HORNBY R3069 MIDLAND 0-4-0 IND LOCO No 11 HORNBY CC 2011 BOXED START £25.00 - Auction

Location: Gloucester, United Kingdom
Condition: Used
Current Price: £25.00 GBP
Time Left: 3d 12h 47m 29s
Bids: 0
HORNBY R9052 THOMAS TANK ENGINES PREOWNED "JAMES BRAKE COACH START £25.00 - Auction

Location: Gloucester, United Kingdom
Condition: Used
Current Price: £25.00 GBP
Time Left: 3d 12h 47m 29s
Bids: 0
Hornby 00 Gauge Class 25 Diesel Locomotive D7596 In BR Green Livery- R072 - Auction

Location: Macclesfield, United Kingdom
Condition: Used
Current Price: £29.50 GBP
Time Left: 3d 12h 54m 46s
Bids: 0
HORNBY R327 B.R. CLASS 25 DIESEL IN GREEN (LIVERY) IN ORIGINAL BOX - Auction

Location: Stratford-upon-Avon, United Kingdom
Condition: Used
Current Price: £35.99 GBP
Time Left: 3d 13h 6m 34s
Bids: 0
Tamiya Acrylic Paints 10ml XF Full Range Model Paint Jars Revell, Airfix, Hornby - Store Inventory

Location: Neath, United Kingdom
Condition: New
Current Price: £3.90 GBP
Time Left: 3d 13h 20m 41s
Bids: 0
Tamiya Acrylic Paints 10ml XF Full Range Model Paint Jars Revell, Airfix, Hornby - Store Inventory

Location: Neath, United Kingdom
Condition: New
Current Price: £2.95 GBP
Time Left: 3d 13h 22m 32s
Bids: 0
25 PIECES HORNBY & LIMA 00 GAUGE STEEL TRACK. POWER CLIPS & CROSSING See Des (S) - Auction

Location: Gainsborough, United Kingdom
Condition: Used
Current Price: £9.50 GBP
Time Left: 3d 14h 15m 37s
Bids: 0
Hornby 25 Ton Lowmac Wagon With Tarpaulined Car Load V.G.C. - Auction

Location: Jarrow, United Kingdom
Condition: Used
Current Price: £15.99 GBP
Time Left: 3d 14h 30m 39s
Bids: 0
Hornby Scalextric Model Motor Racing Catalogue 25th Edition 1983 Worn Condition - Fixed Price

Location: Bournemouth, United Kingdom
Condition: Used
Current Price: £3.95 GBP
Time Left: 3d 14h 37m 17s
Bids: 0
Hornby Class 25 D7596 BR Green Livery - Auction

Location: Chatteris, United Kingdom
Condition: Used
Current Price: £14.55 GBP
Time Left: 3d 15h 43m 12s
Bids: 6
Collection of Hornby Newlestters from 2000/2001 - Issues 14-25 (but not 20) - Auction

Location: Petersfield, United Kingdom
Condition:
Current Price: £0.99 GBP
Time Left: 4d 2h 58m 56s
Bids: 0
HORNBY RAILWAYS CATALOGUE. 1979 ( 25th EDITION) - Auction

Location: Camberley, United Kingdom
Condition: Used
Current Price: £6.50 GBP
Time Left: 4d 6h 17m 59s
Bids: 0
Hornby 00 Gayge R.877 BR Bo-Bo Diesel Class 25 Weathered - Fixed Price

Location: Filey, United Kingdom
Condition: Used
Current Price: £44.99 GBP
Time Left: 4d 6h 57m 9s
Bids: 0
Hornby S9669/1 Used Class 25 Chassis Frame (Red Buffer Beam) - Store Inventory

Location: Middlesbrough, United Kingdom
Condition: New
Current Price: £4.99 GBP
Time Left: 4d 7h 35m 27s
Bids: 0
Hornby R643 Half Curve: 2nd Radius Track Arc 11.25* OO Gauge - Store Inventory

Location: Middlesbrough, United Kingdom
Condition: New
Current Price: £2.50 GBP
Time Left: 4d 8h 2m 10s
Bids: 0
HORNBY DUBLO LT25 BODY ONLY for 2 RAIL BR 2-8-0 CLASS 8F LOCOMOTIVE 48109 1nx - Store Inventory

Location: Warwick, United Kingdom
Condition: Used
Current Price: £19.50 GBP
Time Left: 4d 9h 45m 1s
Bids: 0
Vintage Hornby Railway Brochure Catalogue Trains Model Track 1979 25th Edition - Fixed Price

Location: Cheadle, United Kingdom
Condition: Used
Current Price: £5.90 GBP
Time Left: 4d 9h 45m 43s
Bids: 0
Hornby Railways Catalogue 1979 Edition 25. - Auction

Location: United Kingdom
Condition: Good
Current Price: £3.00 GBP
Time Left: 4d 11h 7m 2s
Bids: 0
Hornby Railways Catalogue 25th Edition '00' Scale 1979 Very Good Condition - Fixed Price

Location: Abergavenny, United Kingdom
Condition: Good
Current Price: £4.99 GBP
Time Left: 4d 11h 23m 56s
Bids: 0
Hornby OO R068 Class 25 25247 in BR blue (B305) AHX - Fixed Price

Location: London, United Kingdom
Condition: Used
Current Price: £38.50 GBP
Time Left: 4d 12h 0m 17s
Bids: 0
Lotus 25 Monaco GP 1963 Jack Brabham Hornby 226 C4083 - Fixed Price

Location: Falmouth, United Kingdom
Condition: New
Current Price: £42.18 GBP
Time Left: 4d 12h 17m 25s
Bids: 0
Hornby S9668/2 Class 25 Headcode 8H44 (Pk2) (a Pair) - Store Inventory

Location: Middlesbrough, United Kingdom
Condition: New
Current Price: £1.50 GBP
Time Left: 4d 13h 19m 34s
Bids: 0
FlushGlaze Windows SE-08 Hornby Class 25 Diesel OO Gauge - Store Inventory

Location: Middlesbrough, United Kingdom
Condition: New
Current Price: £3.25 GBP
Time Left: 4d 13h 29m 5s
Bids: 0
Peters Spares PS25 Triang Hornby Replacement S2128 Buffers 4.3mm (Pk4) Blackened - Store Inventory

Location: Middlesbrough, United Kingdom
Condition: New
Current Price: £4.50 GBP
Time Left: 4d 15h 5m 20s
Bids: 0
Hornby TRIANG OO GAUGE TR TRANSCONTINENTAL PASSENGER CAR 10724 R24/25 - Auction

Location: Banbridge, United Kingdom
Condition: Used
Current Price: £9.00 GBP
Time Left: 4d 15h 41m 22s
Bids: 0
JOB LOT OF OO/HO GAUGE HORNBY DUBLO TRACKS RUST ON THEM L4 ((D25) - Store Inventory

Location: Torquay, United Kingdom
Condition: Used
Current Price: £15.00 GBP
Time Left: 4d 17h 40m 52s
Bids: 0
HORNBY 25 241 BR BLUE SULZER DIESEL DOUBLE ARROW LOGO LOCO BODY GC - Store Inventory

Location: Southampton, United Kingdom
Condition: Used
Current Price: £21.20 GBP
Time Left: 5d 5h 58m 46s
Bids: 0
Class 25 (Type 2) Bo-Bo Locomotive on ebay US

Search For: 'hornby 25'
Ending Soonest
ITEM
DETAILS
Micro Hyper-Cars Race Slot Car Set (1: 64 Scale) - Fixed Price

Location: Kyle, TX, USA
Condition: New
Current Price: $111.36 USD
Time Left: 0d 7h 21m 5s
Bids: 0
Arnold Hornby HN2216 N Scale Locomotive Diesel GE U25C Burlington Route - 561 - Fixed Price

Location: Fort Myers Beach, FL, USA
Condition: New
Current Price: $156.99 USD
Time Left: 0d 14h 11m 24s
Bids: 0
Arnold Hornby HN2201 N Scale Locomotive, Diesel, GE U25C Northern Pacific #2520 - Fixed Price

Location: Fort Myers Beach, FL, USA
Condition: New
Current Price: $156.99 USD
Time Left: 0d 14h 11m 56s
Bids: 0
Arnold Hornby HN2221 N Scale Diesel Loco GE U25C Louisville & Nashville #1500 - Fixed Price

Location: Fort Myers Beach, FL, USA
Condition: New
Current Price: $156.99 USD
Time Left: 0d 14h 13m 14s
Bids: 0
HORNBY RIVAROSSI HR2532 GE U25C HO Diesel Locomotive Pennsylvania #6514 - Auction

Location: Ridgefield, NJ, USA
Condition: New
Current Price: $99.99 USD
Time Left: 3d 13h 22m 40s
Bids: 0
HORNBY RIVAROSSI HR2534 GE U25C HO Diesel Locomotive Pennsylvania #6519 - Auction

Location: Ridgefield, NJ, USA
Condition: New
Current Price: $99.99 USD
Time Left: 3d 13h 31m 0s
Bids: 0
HORNBY LIMA R643 Track Curved Radius 17 1/4in 11,25° 1:87 - Fixed Price

Location: Italy
Condition: New
Current Price: $3.59 USD
Time Left: 4d 16h 32m 7s
Bids: 0
P-200-039, U25C AND GP18, 3 NOTE HORN BY AHM RIVAROSSI HO CAB ROOF MOUNT NEW - Auction

Location: Portsmouth, VA, USA
Condition: New
Current Price: $3.49 USD
Time Left: 4d 20h 17m 10s
Bids: 0
R628 Rail Courbe 852mm 11.25° HORNBY JOUEF Train HO 1/87 - Fixed Price

Location: France
Condition: New
Current Price: $4.50
Time Left: 6d 11h 23m 19s
Bids: 0
HORNBY RIVAROSSI HR2534 GE U25C HO Diesel Locomotive Pennsylvania #6519 - Fixed Price

Location: Lewiston, NY, USA
Condition: New
Current Price: $179.97 USD
Time Left: 9d 11h 30m 56s
Bids: 0
HORNBY RIVAROSSI HR2536 GE U25C HO Diesel Locomotive Atlantic Coast Line #3012 - Fixed Price

Location: Lewiston, NY, USA
Condition: New
Current Price: $151.97 USD
Time Left: 9d 11h 31m 0s
Bids: 0
HORNBY RIVAROSSI HR2538 GE U25C HO Diesel Locomotive Atlantic Coast Line #3016 - Fixed Price

Location: Lewiston, NY, USA
Condition: New
Current Price: $174.97 USD
Time Left: 9d 11h 31m 3s
Bids: 0
Micro Hyper-Cars Race Slot Car Set (1: 64 Scale) - Fixed Price

Location: Miami, FL, USA
Condition: New
Current Price: $111.36 USD
Time Left: 9d 12h 39m 26s
Bids: 0
Micro Hyper-Cars Race Slot Car Set (1: 64 Scale) - Fixed Price

Location: Miami, FL, USA
Condition: New
Current Price: $107.26 USD
Time Left: 10d 16h 49m 30s
Bids: 0
P-200-039, U25C AND GP18, 3 NOTE HORN BY AHM RIVAROSSI HO CAB ROOF MOUNT NEW - Store Inventory

Location: Portsmouth, VA, USA
Condition: New
Current Price: $9.99 USD
Time Left: 12d 14h 50m 12s
Bids: 0
#25 REPRODUCTION HORNBY/LIONEL FIGURE PAPER BOY RUNNING TO CATCH CUSTOMER - Fixed Price

Location: USA
Condition: Used
Current Price: $9.99 USD
Time Left: 15d 9h 18m 37s
Bids: 0
FASCICULE HACHETTE HORNBY DU N°1 au N°70 au choix SANS VOITURE NI WAGON NI TRAIN - Store Inventory

Location: France
Condition: Used
Current Price: $2.49
Time Left: 15d 11h 27m 22s
Bids: 0
VK-25AE Weather Resistant 8 ohm Paging Horn by Viking Electronics - Store Inventory

Location: Austin, TX, USA
Condition: New
Current Price: $31.35 USD
Time Left: 16d 11h 57m 12s
Bids: 0
JOUEF / HORNBY CARDAN (25,5 MM) POUR LOCOMOTIVE TYPE CC 14000 - Store Inventory

Location: France
Condition: New
Current Price: $3.50
Time Left: 17d 2h 58m 23s
Bids: 0
JOUEF / HORNBY CARDAN 25 MM POUR LOCOMOTIVE TYPE BB 22200 - Store Inventory

Location: France
Condition: New
Current Price: $3.80
Time Left: 18d 12h 14m 7s
Bids: 0
Stunning Antique Oil Still Life Painting Of Dahlias By Alice Gibson Hornby - Fixed Price

Location: Melville, NY, USA
Condition:
Current Price: $1,500.00 USD
Time Left: 18d 16h 12m 20s
Bids: 0
Hornby H0 Diesel Locomotive 25 247 Der British Rail Epoch 3/5 Dc Very Good - Fixed Price

Location: Germany
Condition: Used
Current Price: $105.54 USD
Time Left: 19d 3h 19m 28s
Bids: 0
Micro Hyper-Cars Race Slot Car Set (1: 64 Scale) - Fixed Price

Location: Miami, FL, USA
Condition: New
Current Price: $109.16 USD
Time Left: 19d 11h 4m 43s
Bids: 0
648P Hornby France Signal à Damiers en Tôle Hauteur 25.4 cm O Zéro - Store Inventory

Location: France
Condition: Used
Current Price: $23.00
Time Left: 20d 12h 24m 51s
Bids: 0
Vintage Judy Hornby 1970s Chiffon Suit 3 PC French Riviera Mod Glam Suit SZ 6 - Store Inventory

Location: Miami, FL, USA
Condition:
Current Price: $34.49 USD
Time Left: 20d 14h 52m 33s
Bids: 0
R643 Rail Courbe 438mm 11.25° HORNBY JOUEF Train HO 1/87 - Store Inventory

Location: France
Condition: New
Current Price: $4.50
Time Left: 21d 6h 25m 31s
Bids: 0
grande aventure du train le tombereau à caisse type bois hornby série m n25 - Store Inventory

Location: France
Condition: Used
Current Price: $11.99
Time Left: 21d 6h 57m 59s
Bids: 0
Hornby RS 659 LMS Cattle Truck No 2 8 Wheel O Scale Model Freight Train B70-25 - Store Inventory

Location: Freeport, NY, USA
Condition: Used
Current Price: $75.00 USD
Time Left: 22d 11h 9m 24s
Bids: 0
HORNBY RIVAROSSI HR2532 GE U25C HO Diesel Locomotive Pennsylvania #6514 - Fixed Price

Location: Lewiston, NY, USA
Condition: New
Current Price: $156.97 USD
Time Left: 22d 20h 19m 39s
Bids: 0
Micro Hyper-Cars Race Slot Car Set (1: 64 Scale) - Fixed Price

Location: Miami, FL, USA
Condition: New
Current Price: $109.90 USD
Time Left: 23d 0h 5m 44s
Bids: 0
Micro Hyper-Cars Race Slot Car Set (1: 64 Scale) - Fixed Price

Location: Miami, FL, USA
Condition: New
Current Price: $111.06 USD
Time Left: 23d 2h 21m 2s
Bids: 0
Micro Hyper-Cars Race Slot Car Set (1: 64 Scale) - Fixed Price

Location: Miami, FL, USA
Condition: New
Current Price: $110.86 USD
Time Left: 23d 3h 19m 33s
Bids: 0
608H: Original Hornby 0 Gauge Train Name Boards 'Coachboards' Multi Listing - Store Inventory

Location: Ireland
Condition: Used
Current Price: £8.99 GBP
Time Left: 23d 5h 49m 21s
Bids: 0
SCALEXTRIC HORNBY SPORT 1/32 SLOT CAR STRAIGHT 350mm TRACK ...G25 - Store Inventory

Location: Woodway, TX, USA
Condition: Used
Current Price: $10.00 USD
Time Left: 27d 21h 38m 2s
Bids: 0
Class 25 (Type 2) Bo-Bo Locomotive on ebay Australia

Search For: 'hornby 25'
Ending Soonest
ITEM
DETAILS
Hornby Class 25 BR Blue D5768 - Auction

Location: Mooroolbark, VIC, Australia
Condition: Used
Current Price: $90.00 AUD
Time Left: 1d 7h 58m 49s
Bids: 0
Hornby Class 25 BR Blue - Auction

Location: Mooroolbark, VIC, Australia
Condition: Used
Current Price: $90.00 AUD
Time Left: 1d 8h 0m 23s
Bids: 0
TRI-ANG HORNBY R25 Pair of grey Vista Dome Coaches with green seating - Auction

Location: Sunbury, VIC, Australia
Condition: Used
Current Price: $37.99 AUD
Time Left: 3d 4h 36m 35s
Bids: 0
HORNBY RAILWAYS R2121 BR green Class 25 BoBo Diesel loco - Auction

Location: Sunbury, VIC, Australia
Condition: Used
Current Price: $79.99 AUD
Time Left: 3d 6h 13m 21s
Bids: 0
HORNBY O GAUGE 1924-25 LMS No.1 MILK TRAFFIC WAGON. Grey / Green. - Store Inventory

Location: Bowral, NSW, Australia
Condition:
Current Price: $80.00 AUD
Time Left: 10d 3h 49m 20s
Bids: 0
Hornby Dublo OO Gauge Railways 3 Rail LT25 LMR 8F 2-8-0 Freight Locomotive Boxed - Store Inventory

Location: Melbourne, VIC, Australia
Condition: Used
Current Price: $365.00 AUD
Time Left: 11d 6h 45m 44s
Bids: 0
HORNBY O GAUGE 1924-25 T-2 NO.1 LMS CATTLE WAGON . Grey / Olive Green. - Store Inventory

Location: Bowral, NSW, Australia
Condition:
Current Price: $80.00 AUD
Time Left: 17d 4h 24m 15s
Bids: 0