Model Year Details
2004 - Princess Royal Class Locomotive - Princess Louise

6204

Model:
Princess Royal Class Locomotive - Princess Louise
(Overall Model page)
Running Number:
6204
Category:
Steam Locomotives

Locomotive Class:
Princess Class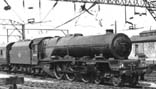 Designer:
Sir William Stanier
Class Information:
Introduced in 1933, the Princess Class was the first Pacific type locomotive built by the London Midland & Scottish Railway. Purpose designed to cope with the increasing traffic and loads associated with the prestigious "Royal Scot" London to Glasgow passenger service.
More...
Weight:
159 tons
Purpose:
Express Passenger
Wheel Arrangement:
4-6-2
Wheel Arrangement Name:
Pacific

Model Information:
Length - 299mm.
Models Produced:
---
Company:
L.M.S. -
London Midland & Scottish Railway
Logo:
L.M.S. Crest
Logo Years:
1923 - 1947

Livery:
L.M.S. Crimson

Livery Details:
Crimson lake with yellow lettering and black lining.
Company Information:
The biggest of Britains big four post grouping railway companies formed in 1923. Made up from 34 company lines including the Caledonian, Midland and Somerset & Dorset Joint Railways. Express trains from London to Glasgow were a feature of this company.
Year:
2004
Catalogue Number:
R.2313
Year Information:
Sprung buffers, cab detail.
Model Motor:
Five pole skew wound.
Publication:
Hornby OO Scale Model Railways - 50 - Fiftieth Anniversary Edition 2004
Publication Type:
Catalogue
Publication Edition:
50th Edition

Logo & Box Design:


UK Price List:
---
Aust Price List:
---
Can Price List:
---
Model Ranking:
Current: 1231 -
February 2020
Previous: 1116 -
January 2020
Movement:

(-115)
Model Year Details
(3)
Model Photos & Notes
(0)
Princess Royal Class Locomotive - Princess Louise on ebay UK

Search For: 'hornby louise'
Ending Soonest
ITEM
DETAILS
Hornby 00 R3711 Princess Royal 4-6-2 46206 PRINCESS MARIE LOUISE DCC Ready Blue - Auction

Location: Harrogate, United Kingdom
Condition: New
Current Price: £110.00 GBP
Time Left: 1d 10h 13m 55s
Bids: 0
LIMITED EDITION HORNBY R205 LMS PRINCESS CLASS "PRINCESS MARIE LOUISE" CERT 104 - Store Inventory

Location: Hertford, United Kingdom
Condition: Used
Current Price: £56.00 GBP
Time Left: 2d 13h 36m 30s
Bids: 0
Hornby R2051 LMS Princess Class Ltd Edt Princess Marie-Louise Near Mint Boxed - Fixed Price

Location: United Kingdom
Condition: Used
Current Price: £124.99 GBP
Time Left: 4d 10h 28m 40s
Bids: 0
Hornby LMS & BR Princess & Duchess Class 4-6-2 Locomotives - Your Choice - Store Inventory

Location: Ashton-under-Lyne, United Kingdom
Condition: Used
Current Price: £99.99 GBP
Time Left: 7d 5h 57m 30s
Bids: 0
Hornby Loco R3711 BR Princess Royal 4-6-2 46206 'PrincessMarie Louise' - Era 4 - Fixed Price

Location: United Kingdom
Condition: New
Current Price: £170.99 GBP
Time Left: 8d 1h 43m 35s
Bids: 0
Hornby R2070 BR Ex-LMS 46204 Princess Class Ltd Edt Princess Louise MINT BOXED - Fixed Price

Location: United Kingdom
Condition: Used
Current Price: £104.99 GBP
Time Left: 8d 7h 19m 51s
Bids: 0
Fern and Horn by Marie-Louise Gay (author) - Fixed Price

Location: Oxford, United Kingdom
Condition: New
Current Price: £12.72 GBP
Time Left: 8d 12h 17m 37s
Bids: 0
Hornby R3711 BR Princess Royal 4-6-2 46206 Princess Marie Louise - Store Inventory

Location: Otley, United Kingdom
Condition: New
Current Price: £170.99 GBP
Time Left: 11d 10h 29m 51s
Bids: 0
Hornby R3711 BR Princess Royal 4-6-2 46206 Princess Marie Louise - Store Inventory

Location: Otley, United Kingdom
Condition: New
Current Price: £170.99 GBP
Time Left: 11d 10h 59m 42s
Bids: 0
Crown of Horn by Cooper, Louise Paperback Book The Cheap Fast Free Post - Store Inventory

Location: United Kingdom
Condition: Very Good
Current Price: £7.99 GBP
Time Left: 11d 17h 32m 45s
Bids: 0
Hornby R2070 BR 4-6-2 Locomotive "Princess Louise" Princess Class , BRAND NEW! - Store Inventory

Location: Lincoln, United Kingdom
Condition: New
Current Price: £99.99 GBP
Time Left: 12d 5h 17m 52s
Bids: 0
Hornby Princess Royal Princess Louise 46204. New and boxed - Fixed Price

Location: Twickenham, United Kingdom
Condition: New
Current Price: £89.00 GBP
Time Left: 12d 13h 9m 29s
Bids: 0
Hornby BR green Princess Royal Princess Louise 46204. Limited edition. New boxed - Fixed Price

Location: Twickenham, United Kingdom
Condition: New
Current Price: £83.00 GBP
Time Left: 12d 13h 9m 29s
Bids: 0
Hornby R2051 Princess Marie Louise Top Link Locomotive OO Train Limited Edition - Fixed Price

Location: Stoke-on-Trent, United Kingdom
Condition: Used
Current Price: £84.95 GBP
Time Left: 13d 7h 5m 18s
Bids: 0
HORNBY R2051 LMS 4-6-2 PRINCESS CLASS 6209 PRINCESS MARIE LOUISE, BRAND NEW! - Fixed Price

Location: Gainsborough, United Kingdom
Condition: New
Current Price: £86.99 GBP
Time Left: 14d 4h 12m 20s
Bids: 0
R3711 Hornby OO Gauge BR, Princess Royal, 4-6-2, 46206 'Princess Marie Louise' - Fixed Price

Location: United Kingdom
Condition: New
Current Price: £184.29 GBP
Time Left: 16d 4h 26m 29s
Bids: 0
R3711X Hornby OO Gauge BR, Princess Royal, 46206 'Princess Marie Louise' - Era 4 - Fixed Price

Location: United Kingdom
Condition: New
Current Price: £198.83 GBP
Time Left: 16d 4h 26m 36s
Bids: 0
Hornby OO R2711 - BR, Princess Royal 4-6-2 46206 'Princess Marie Louise' Era 4 - Fixed Price

Location: Frome, United Kingdom
Condition: New
Current Price: £189.99 GBP
Time Left: 16d 5h 13m 45s
Bids: 0
Crown of Horn by Cooper, Louise Paperback Book The Cheap Fast Free Post - Store Inventory

Location: United Kingdom
Condition: Acceptable
Current Price: £7.99 GBP
Time Left: 17d 16h 59m 6s
Bids: 0
HORNBY OO GAUGE R2559 BR PRINCESS CLASS 46204 PRINCESS LOUISE STEAM LOCO (OS14) - Store Inventory

Location: Sheffield, United Kingdom
Condition: Used
Current Price: £99.50 GBP
Time Left: 19d 7h 19m 47s
Bids: 0
Hornby R3711 Princess Royal 4-6-2 BR No: 46206 Princess Marie Louise - Era 4 OO - Store Inventory

Location: Middlesbrough, United Kingdom
Condition: New
Current Price: £189.99 GBP
Time Left: 19d 10h 9m 51s
Bids: 0
Hornby R3711, OO gauge,Princess Class 4-6-2 Loco, 6206 'Princess Marie Louise' - Store Inventory

Location: Manchester, United Kingdom
Condition: New
Current Price: £179.50 GBP
Time Left: 26d 7h 0m 36s
Bids: 0
Hornby Princess Louise 46204 - Fixed Price

Location: Batley, United Kingdom
Condition: Used
Current Price: £65.00 GBP
Time Left: 27d 8h 7m 4s
Bids: 0
HORNBY 00 GAUGE - R2313 - LMS 4-6-2 "PRINCESS LOUISE" 6204 STEAM LOCOMOTIVE! - Store Inventory

Location: Bradford, United Kingdom
Condition: Used
Current Price: £89.99 GBP
Time Left: 27d 8h 23m 12s
Bids: 0
Hornby LMS black Princess Marie Louise 6206 Limited Edition. New boxed - Fixed Price

Location: Twickenham, United Kingdom
Condition: New
Current Price: £89.00 GBP
Time Left: 28d 14h 13m 27s
Bids: 0
Princess Royal Class Locomotive - Princess Louise on ebay US

Search For: 'hornby louise'
Ending Soonest
ITEM
DETAILS
Crown of Horn by Cooper, Louise Paperback Book The Fast Free Shipping - Fixed Price

Location: USA
Condition: Very Good
Current Price: $14.79 USD
Time Left: 9d 10h 52m 56s
Bids: 0
STILL MODERNISM: PHOTOGRAPHY, LITERATURE, FILM By Louise Hornby - Hardcover Mint - Fixed Price

Location: USA
Condition: Like New
Current Price: $62.49 USD
Time Left: 10d 0h 13m 3s
Bids: 0
Fern and Horn by Marie-Louise Gay: New - Fixed Price

Location: Sparks, NV, USA
Condition: Brand New
Current Price: $12.27 USD
Time Left: 10d 2h 22m 40s
Bids: 0
Still Modernism: Photography, Literature, Film by Louise Hornby: New - Fixed Price

Location: Sparks, NV, USA
Condition: Brand New
Current Price: $70.94 USD
Time Left: 13d 2h 21m 45s
Bids: 0
Hornby R051 LMS 4-6-2 Locomotive Princess Marie Louise Collectors Quality - Store Inventory

Location: Daly City, CA, USA
Condition: New
Current Price: $79.99 USD
Time Left: 16d 12h 25m 14s
Bids: 0
Fern and Horn by Marie-Louise Gay (English) Hardcover Book Free Shipping! - Fixed Price

Location: Fairfield, OH, USA
Condition: Brand New
Current Price: $16.79 USD
Time Left: 17d 22h 15m 19s
Bids: 0
Fern and Horn by Marie-Louise Gay 9781773062266 | Brand New | Free US Shipping - Fixed Price

Location: USA
Condition: Brand New
Current Price: $17.17 USD
Time Left: 21d 5h 57m 54s
Bids: 0
Roni Horn by Louise Neri; Thierry de Duve; Roni Horn; Lynne Cooke - Fixed Price

Location: Aurora, IL, USA
Condition: Good
Current Price: $13.08 USD
Time Left: 22d 7h 45m 52s
Bids: 0
Still Modernism : Photography, Literature, Film, Hardcover by Hornby, Louise,... - Fixed Price

Location: Jessup, MD, USA
Condition: Brand New
Current Price: $74.89 USD
Time Left: 27d 0h 59m 23s
Bids: 0
Princess Royal Class Locomotive - Princess Louise on ebay Australia

Search For: 'hornby louise'
Ending Soonest
ITEM
DETAILS
Hornby Br Princess Royal 4-6-2 46206 Princess Marie Louise - Era 4 - Fixed Price

Location: Booragoon, WA, Australia
Condition: New
Current Price: $329.99 AUD
Time Left: 8d 21h 50m 22s
Bids: 0
Hornby R3711X BR Princess Royal 4-6-2 46206 Princess Marie Louise - Era 4 New - Fixed Price

Location: Box Hill, VIC, Australia
Condition: New
Current Price: $359.99 AUD
Time Left: 9d 22h 43m 32s
Bids: 0
Hornby R3711 BR Princess Royal 4-6-2 46206 Princess Marie Louise - Era 4 Brand N - Fixed Price

Location: Box Hill, VIC, Australia
Condition: New
Current Price: $339.99 AUD
Time Left: 13d 19h 20m 13s
Bids: 0
Hornby OO BR 4-6-2 'Princess Marie Louise' 46206 - Fixed Price

Location: Broadmeadow, NSW, Australia
Condition: New
Current Price: $309.99 AUD
Time Left: 14d 21h 10m 57s
Bids: 0
Hornby R3711 BR Blue Princess Royal Class Princess Marie Louise No.46206 BNIB - Store Inventory

Location: Dee Why, NSW, Australia
Condition: New
Current Price: $420.00 AUD
Time Left: 15d 4h 20m 30s
Bids: 0