Model Note
My Brilliant Class 37
Type: Review
Author: Andrew Menner
Location: Melbourne, Australia
Date: 21 Jan 2005

Note: My favourite locomotive on my layout! Over 30 years old and still going strong, hope you like the picture and here is more info on the Class 37.
A direct descendant of pioneer LMS locos 10000-1, the 37 class with its more even distribution of weight and hence lesser axle load, has been a useful and dependable member of the BR diesel-electric fleet.
These locomotives have survived much longer than similar powered locomotives of the same vintage due to their versatility and reliability.
With styling loosely based on American cab-units, and with loud English Electric engines; these handsome locomotives are very popular with British railfans, and are embedded into fond memories of loco-hauled commuter services.
Several members of the class were fitted with heating for passenger work, and these hard working locomotives have also displayed their suitablity to freight working.
These popular machines have been among the most common sights on the railways of Great Britain.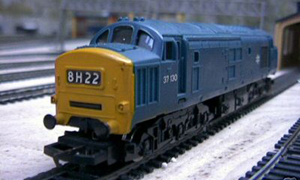 Related Model
Category: Diesel Electric Locomotives
Model: Class 37 (Type 3) Co-Co Locomotive
Years Released: 1977 1978 1979
Class: Class 37 (Type 3)
Livery: B.R. Blue