Train Set Year Details
1974 - Inter-City Mail Action Set

Train Set:
Inter-City Mail Action Set
(Overall Train Set page)
Category:
Train Sets

Model Information:
This Action Train Set features an Operating Royal Mail Coach which automatically picks up the mail bags from the lineside Collection Post and delivers them into the Mail Reception. Complete with Silver Seal wheels from 1975.
Sets Produced:
* 45,600
* Information from
Triang & Hornby, The Story of Rovex, Volumes 1, 2 and 3 - Pat Hammond
Year:
1974
Catalogue Number:
R.544
Year Information:
Contains Power Clip, Tunnel, Large Oval of System 6 Track with Uncoupling Ramp. 1974 set does not have a power supply.
Publication:
Hornby Railways - OO Gauge Scale Model Catalogue:Edition 20
Publication Type:
Catalogue
Publication Edition:
20th Edition

Logo & Box Design:


UK Price List:
£14.50
Aust Price List:
---
Can Price List:
---
Model Ranking:
Current: 557 -
April 2020
Previous: 753 -
March 2020
Movement:

(+196)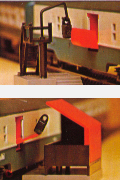 Train Set Year Details
(3)
Train Set Items
(4)
Train Set Photos & Notes
(0)
Inter-City Mail Action Set on ebay UK

Search For: 'hornby mail set'
Ending Soonest
ITEM
DETAILS
Hornby tri-ang, oo Gauge,  Lot 75, R402 Operating Mail Coach set - see picture - Auction

Location: Shoreham-by-Sea, United Kingdom
Condition: Used
Current Price: £13.13 GBP
Time Left: 0d 2h 16m 57s
Bids: 4
Hornby GWR R.440  Roal Mail Coach Set - Auction

Location: Malvern, United Kingdom
Condition: Used
Current Price: £28.50 GBP
Time Left: 0d 2h 53m 24s
Bids: 0
Vintage Hornby Night Mail Express train set plus carriage and petrol tanker - Auction

Location: Brighton, United Kingdom
Condition: Used
Current Price: £65.00 GBP
Time Left: 0d 18h 0m 22s
Bids: 4
Hornby dublo T. P. O. Mail Van Set - Auction

Location: Portland, United Kingdom
Condition: Used
Current Price: £30.00 GBP
Time Left: 1d 0h 1m 47s
Bids: 0
Hornby Dublo T.P.O. Mail Van Set - Auction

Location: Romford, United Kingdom
Condition: Used
Current Price: £6.20 GBP
Time Left: 1d 0h 23m 31s
Bids: 0
Horny Dublo T.P.O. Mail Van Set (Three Rail) Vintage - Auction

Location: Ferryside, United Kingdom
Condition: Used
Current Price: £2.00 GBP
Time Left: 1d 23h 51m 24s
Bids: 1
HORNBY - Complete R4155 - LMS TPO OPERATING ROYAL MAIL COACH SET, 30246 - Auction

Location: Burnley, United Kingdom
Condition: Used
Current Price: £14.99 GBP
Time Left: 2d 4h 15m 46s
Bids: 0
HORNBY DUBLO - Ref.2400 - OPERATING TPO ROYAL MAIL COACH SET, W807 - Auction

Location: Burnley, United Kingdom
Condition: Used
Current Price: £14.99 GBP
Time Left: 2d 4h 16m 33s
Bids: 0
Hornby R542 "Duchess Mail Train Set" track pack, old shop stock,1980,boxed. - Auction

Location: Seaview, United Kingdom
Condition: Used
Current Price: £130.00 GBP
Time Left: 2d 20h 33m 56s
Bids: 0
Hornby R413 royal mail coach set accessories catch post hook sack 4 x bases - Auction

Location: Plymouth, United Kingdom
Condition: Used
Current Price: £2.99 GBP
Time Left: 3d 0h 59m 44s
Bids: 0
Hornby Dublo 3-Rail Royal Mail Van Set - Unboxed - OO +62 pieces of 3 rail track - Auction

Location: Hebburn, United Kingdom
Condition: Used
Current Price: £20.00 GBP
Time Left: 3d 3h 12m 10s
Bids: 0
Hornby 6201 Princess Elizabeth unboxed from a Train Set FREE UK POST - Fixed Price

Location: United Kingdom
Condition: Used
Current Price: £109.99 GBP
Time Left: 3d 6h 4m 51s
Bids: 0
Triang hornby railways ,royal mail coach set,R23,boxed - Auction

Location: Northampton, United Kingdom
Condition: Used
Current Price: £24.99 GBP
Time Left: 3d 19h 9m 4s
Bids: 0
Lima L 107206 Class 47 r/n 47549 'Royal Mail' I/C Executive grey ex-set - Fixed Price

Location: Bristol, United Kingdom
Condition: New
Current Price: £65.00 GBP
Time Left: 3d 19h 43m 5s
Bids: 0
Hornby Percy and the Mail Train Set R9284 - Brand New - Store Inventory

Location: Otley, United Kingdom
Condition: New
Current Price: £95.00 GBP
Time Left: 4d 23h 9m 4s
Bids: 0
G.B. 2003 Transports of Delight set on Royal Mail First Day Cover, Hornby cds - Fixed Price

Location: Pinner, United Kingdom
Condition:
Current Price: £3.75 GBP
Time Left: 5d 1h 29m 49s
Bids: 0
HORNBY DUBLO T.P.O. MAIL VAN SET IN ORIGINAL CONDITION WITH MAIL BAGS AND LEAFLE - Auction

Location: High Wycombe, United Kingdom
Condition: Used
Current Price: £35.00 GBP
Time Left: 5d 5h 12m 35s
Bids: 0
Collection,job lot tri-ang and hornby coaches plus royal mail set. - Auction

Location: Bristol, United Kingdom
Condition: Used
Current Price: £19.99 GBP
Time Left: 5d 20h 27m 52s
Bids: 0
HORNBY DUBLO 3 RAIL LNER ARTICULATED COACH SET POST WAR - Auction

Location: United Kingdom
Condition: Used
Current Price: £245.00 GBP
Time Left: 6d 1h 50m 19s
Bids: 0
Hornby Dublo Mail Van Set. Boxed - Auction

Location: Dronfield, United Kingdom
Condition: Used
Current Price: £10.00 GBP
Time Left: 6d 2h 32m 8s
Bids: 0
PECO SL-36 - 1 x 00 Gauge Peco/Hornby Setrack Laying Width Tool R 1st Class Post - Store Inventory

Location: Halifax, United Kingdom
Condition: New
Current Price: £1.87 GBP
Time Left: 6d 17h 11m 39s
Bids: 0
Hornby Percy and the Mail Train Set R9284 - Brand New - Auction

Location: Coventry, United Kingdom
Condition: New
Current Price: £80.00 GBP
Time Left: 6d 18h 45m 51s
Bids: 0
Triang Hornby R402 Operating Royal Mail Coach Set - Auction

Location: Wallingford, United Kingdom
Condition: Used
Current Price: £25.00 GBP
Time Left: 6d 23h 51m 23s
Bids: 0
Lima Class 47 r/n 47476 'Night Mail' in Parcels red ex-set in mint condition. - Fixed Price

Location: Bristol, United Kingdom
Condition: New
Current Price: £55.00 GBP
Time Left: 7d 18h 26m 3s
Bids: 0
HORNBY RAILWAYS R541 INTERCITY 125 TRAIN SET HST 43011 43010 2 BR MKIII 3 POST - Fixed Price

Location: London, United Kingdom
Condition: Used
Current Price: £159.00 GBP
Time Left: 8d 18h 55m 13s
Bids: 0
Hornby-Dublo 2400 T.P.O. Mail Van Set boxed A (H) - Store Inventory

Location: Saxmundham, United Kingdom
Condition: Used
Current Price: £14.99 GBP
Time Left: 8d 21h 0m 16s
Bids: 0
Hornby Dublo-32099 TPO mail van set-missing instructions-xcelent/boxed-c1959 - Store Inventory

Location: Alfreton, United Kingdom
Condition: Used
Current Price: £34.95 GBP
Time Left: 8d 23h 5m 30s
Bids: 0
Hornby Dublo Mail Van Set Boxed - Store Inventory

Location: Market Drayton, United Kingdom
Condition: Used
Current Price: £89.99 GBP
Time Left: 11d 3h 50m 4s
Bids: 0
Hornby R1223 - Freightmaster 00 Gauge Train Set - Tracked 48 Post - Store Inventory

Location: Halifax, United Kingdom
Condition: New
Current Price: £69.99 GBP
Time Left: 13d 21h 29m 5s
Bids: 0
PECO KIT 2 - 3 x Sets 30mm Extension Pin Kit - Hornby R8014 Point Motor 1st Post - Store Inventory

Location: Halifax, United Kingdom
Condition: New
Current Price: £6.63 GBP
Time Left: 14d 2h 10m 46s
Bids: 0
Hornby R083 3 x Clip on Buffer Stops 00 Gauge Fits Some Other 00 Track T2nd Post - Store Inventory

Location: Halifax, United Kingdom
Condition: New
Current Price: £11.69 GBP
Time Left: 14d 14h 59m 12s
Bids: 0
Vintage Hornby Dublo T.P.O Mail Van set 2400 - Boxed - Store Inventory

Location: Cranbrook, United Kingdom
Condition: Used
Current Price: £25.00 GBP
Time Left: 15d 16h 52m 55s
Bids: 0
Hornby R083 1 x Clip on Buffer Stops 00 Gauge Fits Other Track -Tracked 48 Post - Store Inventory

Location: Halifax, United Kingdom
Condition: New
Current Price: £6.59 GBP
Time Left: 17d 15h 6m 28s
Bids: 0
HORNBY RAILWAYS R.402 OPERATING ROYAL MAIL COACH SET, 00, 99% MIB! - Fixed Price

Location: Skipton, United Kingdom
Condition: Used
Current Price: £24.99 GBP
Time Left: 17d 22h 29m 26s
Bids: 0
Hornby R083 Buffer Stops x 6 - New Boxed Stock - Tracked 48 Post - Store Inventory

Location: Halifax, United Kingdom
Condition: New
Current Price: £18.99 GBP
Time Left: 19d 19h 11m 33s
Bids: 0
Hornby R083 3 x Clip on Buffer Stops 00 Gauge Fits Some Other 00 Track -T48 Post - Store Inventory

Location: Halifax, United Kingdom
Condition: New
Current Price: £11.69 GBP
Time Left: 19d 19h 11m 33s
Bids: 0
Hornby R083 2 x Clip on Buffer Stops 00 Gauge Fits Some Other 00 Track -T48 Post - Store Inventory

Location: Halifax, United Kingdom
Condition: New
Current Price: £8.99 GBP
Time Left: 19d 19h 11m 33s
Bids: 0
HORNBY R8015 - 1 x Point Motor Housing with Base Plate - Tracked 48 Post - Store Inventory

Location: Halifax, United Kingdom
Condition: New
Current Price: £13.25 GBP
Time Left: 21d 0h 28m 25s
Bids: 0
Hornby R909 00 Gauge Track Supports UK POST FREE - Fixed Price

Location: United Kingdom
Condition: New
Current Price: £27.88 GBP
Time Left: 21d 16h 34m 31s
Bids: 0
Hornby R909 2 x Sets 9 ea Grey Plastic Elevated Track Support System - T48 Post - Store Inventory

Location: Halifax, United Kingdom
Condition: New
Current Price: £24.25 GBP
Time Left: 22d 0h 17m 54s
Bids: 0
Hornby LMS Maroon Brake 3rd Class Used Model Railway - From Night Mail set - Fixed Price

Location: Swindon, United Kingdom
Condition: Used
Current Price: £17.99 GBP
Time Left: 22d 20h 43m 6s
Bids: 0
Hornby R8232 DCC Point De Isolation Clips x 20 - (2 Required Per Point) 1st Post - Store Inventory

Location: Halifax, United Kingdom
Condition: New
Current Price: £8.99 GBP
Time Left: 22d 23h 46m 32s
Bids: 0
MULTI-LIST SELECTION OF ORIGINAL 1950s MECCANO MAGAZINE TOY ADVERTS FREE UK P/P - Store Inventory

Location: Ipswich, United Kingdom
Condition: New
Current Price: £1.95 GBP
Time Left: 23d 0h 3m 51s
Bids: 0
Hornby R114 LMS 7414 Locomotive Maroon from Night Mail Set Used - Fixed Price

Location: Swindon, United Kingdom
Condition: Used
Current Price: £29.99 GBP
Time Left: 23d 18h 50m 38s
Bids: 0
1 x Extension Pin Kit Set - 30mm for Hornby R8014 Standard Point Motor 1st Post - Store Inventory

Location: Halifax, United Kingdom
Condition: New
Current Price: £4.25 GBP
Time Left: 24d 21h 55m 19s
Bids: 0
3 x Extension Pin Kit Set - 30mm for Hornby R8014 Standard Point Motor 1st Post - Store Inventory

Location: Halifax, United Kingdom
Condition: New
Current Price: £6.25 GBP
Time Left: 24d 22h 13m 35s
Bids: 0
6 x Extension Pin Kit Set - 30mm for Hornby R8014 Standard Point Motor 1st Post - Store Inventory

Location: Halifax, United Kingdom
Condition: New
Current Price: £11.25 GBP
Time Left: 24d 23h 4m 15s
Bids: 0
9 x Extension Pin Kit Set - 30mm for Hornby R8014 Standard Point Motor 1st Post - Store Inventory

Location: Halifax, United Kingdom
Condition: New
Current Price: £14.25 GBP
Time Left: 24d 23h 8m 12s
Bids: 0
12 x Extension Pin Kit Set - 30mm for Hornby R8014 Standard Point Motor 1st Post - Store Inventory

Location: Halifax, United Kingdom
Condition: New
Current Price: £17.25 GBP
Time Left: 24d 23h 12m 14s
Bids: 0
36 x Extension Pin Kit Set - 30mm for Hornby R8014 Standard Point Motor 1st Post - Store Inventory

Location: Halifax, United Kingdom
Condition: New
Current Price: £42.25 GBP
Time Left: 24d 23h 22m 16s
Bids: 0
Triang Hornby R323 Operating Royal Mail Coach Set with M24001 & M34000 Coaches - Fixed Price

Location: Oakham, United Kingdom
Condition: Used
Current Price: £27.50 GBP
Time Left: 24d 23h 31m 52s
Bids: 0
12 x Hornby Collection Royal Mail Operating Coach Set Rolling Stock 00 Gauge/H40 - Store Inventory

Location: Arbroath, United Kingdom
Condition: Used
Current Price: £149.99 GBP
Time Left: 25d 17h 13m 30s
Bids: 0
Hornby Dublo 00 Gauge Duchess Of Montrose Royal Mail Train Set - Store Inventory

Location: Arbroath, United Kingdom
Condition: Used
Current Price: £129.99 GBP
Time Left: 25d 17h 14m 14s
Bids: 0
Extension Pin Kit Set x 5 - 30mm for Hornby R8014 Standard Point Motor 1st Post - Store Inventory

Location: Halifax, United Kingdom
Condition: New
Current Price: £8.99 GBP
Time Left: 26d 0h 7m 17s
Bids: 0
PECO KIT 2 - 5 x Sets 30mm Extension Pin Kit - Hornby R8014 Point Motor 1st Post - Store Inventory

Location: Halifax, United Kingdom
Condition: New
Current Price: £9.53 GBP
Time Left: 26d 0h 9m 56s
Bids: 0
hornby triang r402 operating royal mail coach set in original box - Fixed Price

Location: New Milton, United Kingdom
Condition: Used
Current Price: £20.00 GBP
Time Left: 26d 1h 40m 30s
Bids: 0
HORNBY DUBLO TPO MAIL VAN SET BOX ONLY 1950S/60S - Store Inventory

Location: Tunbridge Wells, United Kingdom
Condition: Used
Current Price: £23.99 GBP
Time Left: 26d 2h 8m 6s
Bids: 0
OO Gauge - HORNBY RAILWAYS R.401 Operating Royal Mail Coach Set - Boxed - Fixed Price

Location: Luton, United Kingdom
Condition: Used
Current Price: £21.50 GBP
Time Left: 26d 19h 58m 46s
Bids: 0
Vintage Hornby OO Gauge - TPO Mail Van Set - Boxed Dublo 3 Rail Triple Track HO - Fixed Price

Location: United Kingdom
Condition: Used
Current Price: £17.50 GBP
Time Left: 27d 3h 47m 31s
Bids: 0
Vintage model railway Hornby TPO mail van train set 3400 with box, leaflet oo - Fixed Price

Location: Shepton Mallet, United Kingdom
Condition: Used
Current Price: £24.99 GBP
Time Left: 27d 8h 0m 56s
Bids: 0
Woodland Scenics D231 - Trackside Scale Set H0 Gauge=1/87 Scale 1st Class Post - Store Inventory

Location: Halifax, United Kingdom
Condition: New
Current Price: £12.25 GBP
Time Left: 27d 21h 57m 25s
Bids: 0
Hornby Intercity Inter City Royal Mail Train Set R 179 - Fixed Price

Location: United Kingdom
Condition: Used
Current Price: £140.00 GBP
Time Left: 28d 0h 21m 0s
Bids: 0
VINTAGE TRI-ANG/HORNBY OO GAUGE OPERATING ROYAL MAIL COACH SET SACKS / BAGS X 4 - Fixed Price

Location: United Kingdom
Condition: Used
Current Price: £9.99 GBP
Time Left: 28d 17h 33m 55s
Bids: 0
Hornby Percy & The Mail Train Set R9284 - Fixed Price

Location: Ringwood, United Kingdom
Condition: New
Current Price: £99.99 GBP
Time Left: 28d 19h 12m 43s
Bids: 0
HORNBY O GAUGE Set No 2 Milk Cans and Truck with Box FREE U.K. Post - Fixed Price

Location: Ringwood, United Kingdom
Condition: Used
Current Price: £55.00 GBP
Time Left: 28d 21h 25m 44s
Bids: 0
HORNBY O GAUGE Set No. 1 LUGGAGE and Sack Truck with Box FREE U.K. Post - Fixed Price

Location: Ringwood, United Kingdom
Condition: Used
Current Price: £69.00 GBP
Time Left: 28d 21h 34m 35s
Bids: 0
DINKY TOYS Set No.51 Station Staff with Original Box FREE U.K. Post - Fixed Price

Location: Ringwood, United Kingdom
Condition: Used
Current Price: £55.00 GBP
Time Left: 28d 22h 47m 19s
Bids: 0
Hornby OO Gauge Electric Train Set - Night Mail Express - R899 - Fixed Price

Location: Bradford, United Kingdom
Condition: Used
Current Price: £139.90 GBP
Time Left: 29d 4h 54m 53s
Bids: 0
Hornby R8232 - 20 x DCC Point Clips - 2 Required Per Point - 1st Class Post - Store Inventory

Location: Halifax, United Kingdom
Condition: New
Current Price: £8.99 GBP
Time Left: 29d 22h 50m 14s
Bids: 0
Hornby R1237 Night Mail Travelling Post Office new Train Set ! - Store Inventory

Location: Kidderminster, United Kingdom
Condition: New
Current Price: £74.99 GBP
Time Left: 29d 23h 0m 35s
Bids: 0
Inter-City Mail Action Set on ebay US

Search For: 'hornby mail set'
Ending Soonest
Inter-City Mail Action Set on ebay Australia

Search For: 'hornby mail set'
Ending Soonest