Model Note
1975 - Locomotive Care & Maintenance
Type: Maintenance
Author: Andrew Menner
Location: Melbourne, Australia
Date: 20 Feb 2005

Note: A fantastic picture of a G.W.R. Pannier Tank with the body cut away, so you can see the insides of the model locomotive. Shows an X.04 motor. Picture taken from Page 19 of the 1975 Hornby Railways catalogue.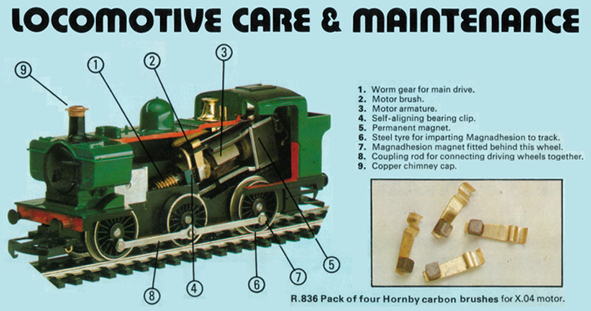 Related Model
Category: Steam Locomotives
Model: Class 57XX Pannier Tank Locomotive
Years Released: 1972 1973 1973c 1974 1975 1976 1977 1978 1979
Class: Class 57XX
Livery: G.W.R. Green