Train Set Details
G.W.R. Mixed Traffic Train Set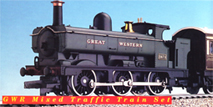 Years Released: 1990 1991 1992 1993 1995 1996 (Train Set Year pages)
Set released for 6 years.
Train Set:
G.W.R. Mixed Traffic Train Set
Category:
Train Sets

Model Information:
Oval of track with siding and buffer stop, single track level crossing, railer, trackside accessories, power connecting clip and mains power controller.
(1993 only) Supersound unit included requiring 2 AA 1.5 volt batteries.
Wagons may differ from those illustrated.
Sets Produced:
* 22,000
* Information from
Triang & Hornby, The Story of Rovex, Volumes 1, 2 and 3 - Pat Hammond
Logo & Box Style:

1990
1991
1992
1993
1995
1996
Model Ranking:
Current: 47 -
October 2023
Previous: 23 -
September 2023
Movement:

(-24)




Train Set Year Details
(6)
Train Set Items
(7)
Train Set Photos & Notes
(0)
Train Set Catalogue Information
| YEAR | INFORMATION |
| --- | --- |
| 1990 | This set contains vintage vehicles from the old days on the Great Western. The engine and coaches are ornately decorated while the inscription Saltney on the brake van suggests the location is around the Chester area. |
| 1991 | The beautifully decorated locomotive is fitted with the Hornby patented SSPP (Super Strong Pulling Power) chassis drive system and makes light work of hauling the five vehicle train. The trackside accessories included add interest to setting up and realism to the completed layout. |
| 1992 | The track layout includes a point and siding. If the train is reversed smoothly into the siding, vehicles may be detached automatically by stopping when their couplings are immediately over the ramp of the uncoupler track. They may later be collected by pushing them further into the siding to recouple. |
| 1993 | A fine model of a typical Great Western branch line train. The point and siding, equipped with an uncoupling track, enables one or more vehicles to be detached from the train and picked up later. |
| 1995 | Full of characteristic charm found only in GWR locomotives, the powerful Pannier if reversed smoothly into the siding makes easy work of shunting. By gently reversing and then stopping the wagons over the uncoupling ramp, the vehicles may automatically be disconnected and left in the siding. |
| 1996 | You can capture with this set, those halcyon days of yesteryear when the pace of life was more trainquil and it seemed the summers went on forever. The GWR (Great Western Railway) locomotives caught the mood of the times with their characteristic charm. The deceptively powerful Pannier tank in this set is no exception and makes easy work of hauling the varied assortment of wagons around the track and past the level crossing. The siding features a railer/uncoupler track which allows the more adventurous to try their hand at shunting. |
Catalogue Images
(6)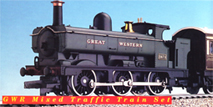 R.694 G.W.R. Mixed Traffic Train Set - 1990


R.694 G.W.R. Mixed Traffic Train Set - 1991


R.694 G.W.R. Mixed Traffic Train Set - 1992


R.865 G.W.R. Mixed Traffic Train Set - 1993


R.694 G.W.R. Mixed Traffic Train Set - 1995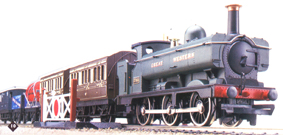 R.694 G.W.R. Mixed Traffic Train Set - 1996
G.W.R. Mixed Traffic Train Set on ebay US

Search For: 'hornby mixed'