Train Set Year Details
1981 - Evening Star Super Goods Set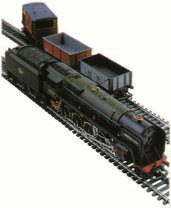 Train Set:
Evening Star Super Goods Set
(Overall Train Set page)
Category:
Train Sets

Model Information:
The famous Evening Star heads up a long train of 8 wagons threading their way out of the sidings, across the gated roadway and onto the main line. In another siding up the line the Goods Shed awaits the wagon loads. It can be that real with Hornby.
Sets Produced:
* 10,000
* Information from
Triang & Hornby, The Story of Rovex, Volumes 1, 2 and 3 - Pat Hammond
Year:
1981
Catalogue Number:
R.539
Year Information:
Contains Oval of 2nd Radius Track with two Points, Sidings and Buffer Stops, Level Crossing, Goods Shed and Power Controller.
Publication:
Hornby Railways Ticket to ride - OO Gauge Catalogue 1981
Publication Type:
Catalogue
Publication Edition:
27th Edition

Logo & Box Design:


UK Price List:
£64.95
Aust Price List:
---
Can Price List:
---
Model Ranking:
Current: 929 -
September 2020
Previous: 806 -
August 2020
Movement:

(-123)
Train Set Year Details
(2)
Train Set Items
(9)
Train Set Photos & Notes
(0)
Evening Star Super Goods Set on ebay UK

Search For: 'hornby super set'
Ending Soonest
ITEM
DETAILS
Hornby 1970s , Clockwork Train set , Super Set R533 Retro - Auction

Location: Hornchurch, United Kingdom
Condition: Used
Current Price: £3.00 GBP
Time Left: 1d 4h 29m 58s
Bids: 1
TRIANG/HORNBY R.456 SUPER 4 TRACK STRAIGHT SIDEWALLS SET IN VGC - Store Inventory

Location: Coleford, United Kingdom
Condition: Used
Current Price: £19.99 GBP
Time Left: 1d 22h 0m 24s
Bids: 0
Hornby railways Clockwork Super Set (for Parts or not working) - Fixed Price

Location: Halifax, United Kingdom
Condition: Used
Current Price: £8.00 GBP
Time Left: 2d 21h 3m 10s
Bids: 0
Vintage Hornby R533 Railways Clockwork Super Set - still has KEY, 1 car missing - Auction

Location: Rossendale, United Kingdom
Condition: Used
Current Price: £6.90 GBP
Time Left: 4d 15h 48m 17s
Bids: 1
Scalextric C1369 International Super GT Set - Fixed Price

Location: Welling, United Kingdom
Condition: New
Current Price: £89.50 GBP
Time Left: 4d 18h 46m 31s
Bids: 0
TRIANG HORNBY R483 SUPER-4 DOUBLE CURVES X 12 EXCELLENT REFURBISHED            - Auction

Location: King's Lynn, United Kingdom
Condition: Used
Current Price: £7.99 GBP
Time Left: 5d 2h 33m 6s
Bids: 0
TRIANG/HORNBY R402 OPERATING ROYAL MAIL COACH SET FOR SUPER 4 TRACKS IN BOX. - Auction

Location: Coleford, United Kingdom
Condition: Used
Current Price: £19.99 GBP
Time Left: 5d 3h 2m 19s
Bids: 0
HORNBY RAILWAYS No.R696 BR Class 43 125 HST "XPT SUPER" TRAIN SET MIB "RARE" - Store Inventory

Location: Hereford, United Kingdom
Condition: Used
Current Price: £189.00 GBP
Time Left: 6d 16h 44m 33s
Bids: 0
Hornby Portline R2268 Super Detailed Southern Region Locomotive New from Set - Fixed Price

Location: London, United Kingdom
Condition: New
Current Price: £109.95 GBP
Time Left: 7d 16h 36m 39s
Bids: 0
CUSTOM DCC LIGHT SET FOR HORNBY SUPER DETAIL CLASS 08 / 09 DIESEL SHUNTER - Fixed Price

Location: United Kingdom
Condition: New
Current Price: £18.99 GBP
Time Left: 13d 20h 13m 45s
Bids: 0
TRIANG/HORNBY R.456 SUPER 4 STRAIGHT SIDEWALLS TWO BOXED SETS - Fixed Price

Location: Nottingham, United Kingdom
Condition: Used
Current Price: £55.00 GBP
Time Left: 15d 18h 37m 46s
Bids: 0
CUSTOM DC ANALOGUE LIGHT SET FOR HORNBY SUPER DETAIL CLASS 08 MODELS - Fixed Price

Location: United Kingdom
Condition: New
Current Price: £18.99 GBP
Time Left: 18d 17h 10m 19s
Bids: 0
TRIANG/HORNBY R.456 SUPER 4 TRACK STRAIGHT SIDEWALLS X 2 SETS GOOD USED - Store Inventory

Location: Coleford, United Kingdom
Condition: Used
Current Price: £24.99 GBP
Time Left: 18d 23h 37m 28s
Bids: 0
TRIANG/HORNBY R.457 & R.453 SUPER 4 TRACK SUPPORT PIER SETS GOOD USED (2 BOXED) - Store Inventory

Location: Coleford, United Kingdom
Condition: Used
Current Price: £24.99 GBP
Time Left: 19d 0h 13m 27s
Bids: 0
TRIANG/HORNBY R.453 SUPER 4 TRACK HIGH LEVEL SUPPORT PIERS X 4 - Store Inventory

Location: Coleford, United Kingdom
Condition: Used
Current Price: £7.99 GBP
Time Left: 19d 0h 16m 56s
Bids: 0
Hornby Clockwork Super Set R533 Retro 1970s/80s Complete with Key and Box VGC - Fixed Price

Location: Nottingham, United Kingdom
Condition: Used
Current Price: £25.00 GBP
Time Left: 21d 1h 18m 21s
Bids: 0
HORNBY NEW X8429 COUPLING ROD SET FOR A3/A4 SUPER DETAIL. - Fixed Price

Location: Wolverhampton, United Kingdom
Condition: New
Current Price: £5.99 GBP
Time Left: 22d 21h 14m 14s
Bids: 0
HORNBY RAILWAYS No.R696 BR Class 43 125 HST "XPT SUPER" TRAIN SET MIB "RARE" - Store Inventory

Location: Grange-Over-Sands, United Kingdom
Condition: Used
Current Price: £395.00 GBP
Time Left: 23d 3h 53m 23s
Bids: 0
HORNBY 00 GAUGE - R696 - SUPER SET 'INTERCITY XPT' TRAIN SET AUSTRALIAN LIVERY - Store Inventory

Location: Bradford, United Kingdom
Condition: Used
Current Price: £299.99 GBP
Time Left: 27d 13h 25m 29s
Bids: 0
HORNBY SCALEXTRIC SUPER SALOONS SET MERCEDES DAIM v CALIBRA OPEL LINE - Store Inventory

Location: Sandhurst, United Kingdom
Condition: Used
Current Price: £34.99 GBP
Time Left: 27d 18h 20m 32s
Bids: 0
Evening Star Super Goods Set on ebay US

Search For: 'hornby super set'
Ending Soonest
Evening Star Super Goods Set on ebay Australia

Search For: 'hornby super set'
Ending Soonest